Jafar says: Read my lips and come to grips with the reality!


This article is a stub and is in need of expansion. You can help Villains Wiki by expanding it.                       



Click To Help DIO!

DIO has declared that this article has stopped in time, and any and all information on it may be outdated.
Help improve this article by checking and updating it's info wherever necessary
And now time resumes!

✓



Click to help Cruella!

This scum Elmore Prisoners is driving Cruella insane!
IT MUST BE REWRITTEN OR ADDED TO!!
So sayeth the great Lord of Darkness Sauron, or he will send Darth Vader to terminate you.

Help improve this article by rewriting, expanding, updating the poorly written text of the article. ✓
The Elmore Prisoners are recurring characters in The Amazing World Of Gumball, they were first seen in The Finale. They are a group of criminals.
Goblin
Goblin is a supporting character in The Amazing World Of Gumball, He is a serious man with a cruel nature
He is voiced by Alex Jordan and Kerry Shale.
Dolphin Man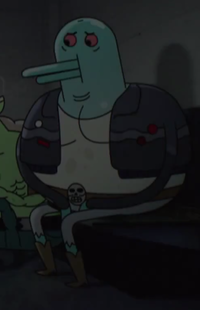 Dolphin Man is a background character in the show, he is shown to be very rude and obnoxious towards others
He is voiced by Stefan Aston Frank.
Spray Paint Bottle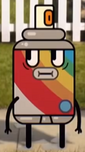 Spary Paint Bottle is a background character on the show, he is very polite and soft-spoken
He is voiced by Teresa Gallagher and Hugo Harold-Harrison.
Butterknife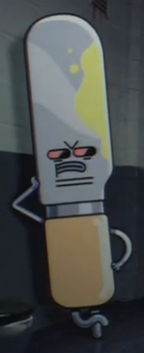 Butterknife is a background character in the show, he speaks with a british accent
He is vocied by guest star Matt Hargreaves
Gallery