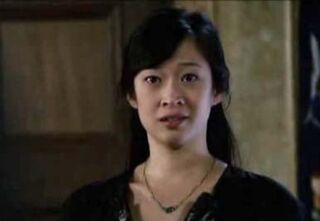 Emma Kim was a female villainess who appeared in the Law & Order franchise.
She was portrayed by Camille Chen.
Biography
In the season 20 episode "Just A Girl in the World" when detectives Lupo and Bernard are investigating the murder of an Asian female named Daisy Chao, they discover that Emma reported to another police precinct that she was assaulted by a livery driver.
As the detectives investigate, Lupo starts to become attracted to her and he ends up spending the night at her home. When she picks out her assailant, Nestor Maldonado in a line-up, her ID of him is thrown out in court after it's revealed that Lupo made physical contact with her during the line-up by holding her hand. During court, Emma reveals that she suffers from chronic kidney disease.
When Lupo stays over at Emma's home, he discovers a red Victoria's Secret babydoll in her closet which is revealed to have been purchased using Daisy Chao's gift card. When the detectives speak to Jim Anderson (Daisy's fiance), he tells them that Emma came to speak to him about her medication for her kidney disease and that he gave her money from Daisy's account.
After a wired conversation between Lupo and Emma, Emma is arrested for obstruction. Her DNA is later found on a feminine hygiene wipe that Daisy discovered in a trash can. It is also revealed that Emma's DNA tested negative for the gene that causes chronic kidney disease.
As the investigation continues, it is revealed that Emma conned a man who worked at a realty brokerage in Boston by taking him for $17,000, claiming it was to cover medical expenses for a heart problem. It was also discovered that she used the same scam on another man as well.
The man also mentions that he got a phone call from Daisy about Emma. The detectives believe that Daisy was onto Emma's schemes and murdered her because of it. Emma is later charged with murdering Daisy.
During court, Emma claims that Lupo pressured her into having sex & trying to make her incriminate herself in Daisy's murder. During A.D.A. Michael Cutter's cross-examination of her, Emma falsely accuses the judge of forcing her to have sex with him in his chambers.
When Cutter questions Emma again on the stand, making her out to be a manipulative person, Emma breaks down on the stand, telling Cutter that he wants "this" as she moves her hand on her crotch. When Cutter steps away from the stand, Emma tells him not to walk away from her. She then claims that she is sick and begs for someone to help her which makes her look crazy.
In the end, Emma is found guilty of murdering Daisy Chao.