Jurassic World: Dominion Dominates Fandom Wikis - The Loop
Play Sound

✓
| | |
| --- | --- |
| | This Article Contains Spoilers - WARNING: This article contains major spoilers. If you do not wish to know vital information on plot / character elements in a story, you may not wish to read beyond this warning: We hold no responsibility for any negative effects these facts may have on your enjoyment of said media should you continue. That is all. |
| | | |
| --- | --- | --- |
| " | Knock, knock, human. | " |
| | ~ Belos revealing that he had already completed the door, as well as his most famous quote. | |
| | | |
| --- | --- | --- |
| " | Those barbarians. Those- Those WITCHES! It doesn't matter. I just need to live long enough to see this through... and you're going to help me, Collector. | " |
| | ~ Philip Wittebane's true feelings on the witches - including his true intentions 400 years ago. | |
| | | |
| --- | --- | --- |
| " | It does feel good to hear another human say that name. I had to change it when "Philip" was run out of too many towns. I told you once before, "Luzura": perhaps, we were destined to meet. | " |
| | ~ Belos after revealing himself as Philip Wittebane to Luz. | |
Philip Wittebane, later known as Emperor Belos, is the main antagonist of the Disney Channel animated series The Owl House.
The second human to come to the Demon Realm (behind his late older brother Caleb), he is the emperor of the Boiling Isles and the overseer of the Emperor's Coven who created the Coven System for categorizing magic into specific disciplines instituted by himself in preparation for the "Day of Unity", which would seemingly create "a utopia free of wild magic".
However, in due part to his history as a witch hunter back on Earth, his true goal is to use the Day of Unity to eradicate witches from existence due to his belief that they're a threat to humanity. He is the arch-nemesis of Luz Noceda, the former boss of Lilith Clawthorne, Kikimora, and the Collector, and the creator of Hunter and his predecessors.
In the present, he is voiced by Matthew Rhys, who also played The Conductor in Infinity Train, while in the past he is voiced by Alex Lawther.
Biography
Entering the Boiling Isles
| | | |
| --- | --- | --- |
| " | Fellow citizens! We are born into chaos. Our lives anger the Titan. My own family has been hurt by the darkness of wild magic. I have seen the healing light! It shines in nine hues! | " |
| | ~ Belos preaching "the Titan's teachings" to the people of the Boiling Isles. | |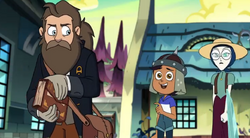 In the 1600s, over a century before the start of the series, Belos started out as an ordinary human witch hunter from Gravesfield, Connecticut named Philip Whittebane when he and Caleb, his older brother, were lured into the Demon Realm by a witch. To his anger, Caleb fell in love with the witch and apparently impregnated her. This culminated in the brotherd engaging in a knife fight, ending with Philip killing Caleb. Enraged, the witch cursed Philip, forcing him to consume the souls of palismen to stay alive.
Throughout his stay in the Demon Realm, he learned of the Collector and would acquire companions during his journey and would remorselessly sacrifice them for his advancement. He would then recreate the events in ways to make himself seem more heroic than he was. As revealed in "Elsewhere and Elsewhen", when he met a time-traveling Luz and Lilith, he tried to sacrifice them only for him to receive a broken nose from an angry Lilith. After making a deal with the Collector (who was trapped in the Titan), Philip created the "Day of Unity" as a cover for eradicating witches and demons to save humanity from "evil" whilst also freeing the Collector. He then made a series of Grimwalkers and appointed them as the "Golden Guard". At some point, he was forced to fashion a new identity when negative word-of-mouth caused him to be "run out of too many towns".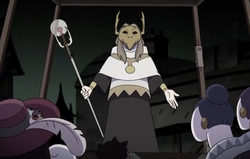 From there, Philip, as Belos, would go from village to village claiming to speak on behalf of the Titan and inviting the villagers to join covens and imparts them with sigils which temporarily immobilize them (which disappoints Belos, since he wanted them to kill them). In one instance, Belos destroyed a village in a false flag operation presented as an attack by wild magic. He would then routinely kill the Golden Guard who question his actions, under the claim that they would betray him. At some point he constructed a palace as a symbol of unity and collected a vast array of magical artifacts he kept there.
Assigning a New Ally
| | | |
| --- | --- | --- |
| " | Bring the Owl Lady to me by twilight, she'll join the Emperor's Coven and in return I'll heal her little curse. But if you fail, you will be stripped of your rank and banished from my coven. You do know what happens to covenless witches, don't you? | " |
| | ~ Emperor Belos threatening Lilith Clawthorne if she fails to capture Eda, while also lying that he will heal her if she does. | |
When the prodigious Lilith Clawthorne came along, Belos offered to make her the leader of the Emperor's Coven and help heal her equally-prodigious sister Eda from the curse Lilith cast upon her. In exchange, Lilith was assigned to capture Eda so Belos could induct the rogue witch into a coven. He was first mentioned at the end of "Convention". Belos is presumably The Emperor previously mentioned as being protected by the Emperor's Coven and who rules over the Boiling Isles. Kikimora mentions the Emperor's name to Lilith during a conference and that the Emperor has assigned Lilith in the capture of Eda in exchange for a 15,200 dollar reward.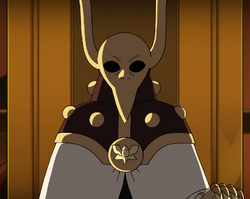 In "Wing It Like Witches", he was mentioned by Lilith when she tells Eda that the Emperor has big plans for her. In "Agony of a Witch", he fully appears as he waits for Lilith to capture Eda and threatens a severe punishment if she fails him again. He also appears when Lilith and Eda are battling each other. In "Young Blood, Old Souls", Emperor Belos is revealed to have lied to Lilith about promising to cure her sister and is instead sentencing her to be petrified, a punishment usually reserved for the worst criminals.
While it is publicly stated that she would be the first one to receive the sentence in 30 years, there are shots of more witches and demons petrified, meaning that he had done so in secrecy. It is revealed that the Day of Unity involves the human realm and that Belos sought Eda for her key portal. When Luz and King arrive to rescue Eda alongside a redeemed Lilith, Belos fights against Luz. Despite him being more powerful, Luz succeeds at striking a blow, making a scratch in his mask, to which he states his amusement. He made it clear that he doesn't have any intention of waging war against humanity, since it is too boorish by the Titan's will.
Awaiting the Human Realm
| | | |
| --- | --- | --- |
| " | You probably think we want to invade the Human Realm. But the Titan's will is not so boorish! You'll understand soon. Tick-tock, human, Owl Lady doesn't have much time left. | " |
| | ~ Belos forces Luz into giving him the portal. | |
Forcing the young girl into making a choice of giving up the key portal or have Eda get transformed into stone, Luz gives him the case containing it, but she also craftily added fire glyphs to the case, making it into a time bomb that detonates once she was out of range. He glares at Luz menacingly and Luz glares at him back. Unbeknownst to Luz, Emperor Belos still had the broken parts of the portal in order to make a portal dimension, and he sends someone (who is an Owl Spy) to watch the inhabitants of the owl house.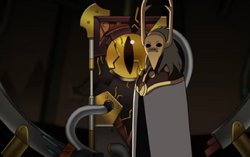 Emperor Belos first appeared to the end of the series premiere episode "Separate Tides," where he is seen finishing building the portal as he puts back his mask on, saying "Knock, knock, human." He was later mentioned by the Golden Guard at the end of "Escaping Expulsion," when he makes a deal with Alador and Odalia Blight that he will be having all of their Abominations. He was mentioned by Gwendolyn in "Keeping Up A-fear-ances," when she is interacting with her daughter, Eda, explaining that she was aware of the petrification ceremony.
He was seen at the beginning of "Hunting Palismen" when he invited the leaders of the nine covens to view the day of Unity. However, his curse began to act up and he was escorted into the empty throne room where his curse activates and he briefly becomes a mud monster. He then takes a palisman from the Golden Guard and inhales its essence to keep the curse at bay. It's then revealed that he is the Golden Guard's uncle and he asks him to go get him more palismen. His face was finally shown in "Eclipse Lake" when Hunter was having a conversation about the door he tried to open. He also reveals to Hunter that he has been to the human realm before and looks forward to seeing it again.
Revealing His True Identity
| | | |
| --- | --- | --- |
| " | Please, do me kindness and call me by my real name. | " |
| | ~ Belos/Philip tries to force Luz into calling him by his true name. | |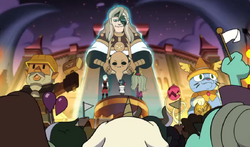 In "Follies at the Coven Day Parade" he is mentioned several times, most prominently by Terra Snapdragon, who reveals he's looking forward to meeting Luz. He then makes a grand announcement to the public, revealing his plans for the Day of Unity. He reveals that it will create a utopia free of wild magic. After his speech, he reveals his face to the public for the first time ever, taking off his mask, and thanking them for their support. As he looks like a kindly old man, the crowd's immediately support and cheer for him.
In "Hollow Mind", Luz and Hunter are accidentally trapped in Belos' mind in a botched attack by Raine Whispers, Darius, and Eberwolf. As they inspect his memories under the guidance of his inner form, they are pursued by his beast form, made out of the spirits of the palismen he absorbed. Eventually, Inner Belos captures and harnesses the beast. At this point, Hunter had found out about the fates of his predecessors. Disappointed, Belos sinks him into the ground in an attempt to kill him. Turning his attention to Luz, he reveals his true identity as Philip Wittebane and attempts to kill her too, only to be stopped by Hunter as he and Luz escape from his mind, albeit with Luz completely guilt-ridden for unknowingly helping him in the past and Hunter gravely traumatized.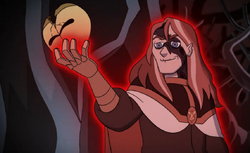 In "Labyrinth Runners", it is further shown how far Belos' cruelty is willing to go, as shown through Graye, Philip also wants to kill children, proving that no one can escape his wrath. In the same episode two coven scouts revealed that Belos' is looking for Hunter, under the pretense that he is lost and Belos is very worried about him, not knowing that Hunter ran away after discovering the horrifying truth of his "uncle" and his intentions, and that in reality Belos wants to kill him. By "Oh Titan, Where Art Thou", he has branded Luz, Eda, King, Hooty, and Lilith as wanted criminals and has gone to great lengths to ensure that the Day of Unity is successful, since he is not taking any chances after Luz's trip into his mind. He also planned for Eda to be petrified for good and to have Luz brought to him for as of now unknown purposes.
Enacting the Day of Unity to an Undesired Outcome
| | | |
| --- | --- | --- |
| " | We don't belong here! | " |
| | ~ Belos to Luz in his beast form. | |
In "Clouds on the Horizon", one day before the Day of Unity, Belos and the Collector are seen conversing to each other as they watch the Boiling Isles' inhabitants come to the Titan's skull. Later in the episode, it is revealed that he is apparently in league with Odalia Blight, promising that she and the Blight family will live aristocratic lives after the Day of Unity. By the episode's end, Luz sneaks onto Kikimora's ship as it flies towards the skull, intent on saving Eda from Belos.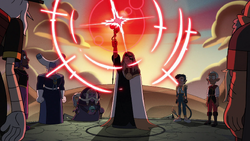 Eventually, in "King's Tide", the Day of Unity arrives and Belos initiates the Draining Spell, reaping the magic of every coven-branded witch on the Boiling Isles with the intent of killing them. Not wanting him to reveal his secret powers to others, he then betrays the Collector and drops his mirror down a pit in the Titan's skull. At that moment, Luz arrives at the skull and engages Belos in combat, only to be easily trounced as he attempts to petrify her. However, Luz talks her way out of getting killed and tricks him into getting branded with a coven sigil for incentive to end the Draining Spell.
This backfires, however, as Belos ragefully transforms into his beast form and goes berserk, rampaging through the skull as he attempts to kill Luz. While her friends arrive to help her, they are nonetheless powerless to stop him or the Draining Spell. However, Kikimora, whose offer to help Belos was rejected by him, brings King to the pit to free the Collector from his mirror, allowing him to stop Belos in his tracks. In revenge for his betrayal, the Collector "plays tag" with Belos by touching him with one single finger, causing his mutant body to be blown into the skull's wall, rendering him nothing more than a splatter of green sludge.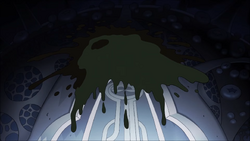 As Luz and her friends escape to the Portal to Earth when the Collector undoes the Draining Spell and destroys the skull, however, a sentient drop of Belos' remains falls on Hunter's shoulder and is brought to the Human Realm with him, technically causing him to achieve his return to Earth and leading to the possibility of his return and revenge against the protagonists. In the end credits of said episode, one of these sludgy blobs latches onto the door that once connected the two realms and closes it.
Appearance
"
Gus: You know, I think he does it 'cause he's shy. He's just evil and shy. It happens!
Willow: I heard there's just a mirror underneath. The real emperor was society all along.
Gus: Maybe he's so handsome, people have a hard time focusing on what he says. I get it! I can relate. Luz, you've seen Belos up close! What's he like under... all that?
Luz: Oh, I never got a good look...
Amity: I heard he's scarred from wild magic!
"
~ Gus, Willow, Luz, and Amity discussing the then-publicly unrevealed appearance of Belos.
Belos is an elderly human with a fair complexion, cornflower-blue eyes and long, rough-looking, ash-blond hair reaching past his shoulders. He has wrinkly lips and a notch on his left ear similar to his nephew Hunter's. Most prominently though, he has a large, basil-green scar, running across his face and down his neck with holes that seem to be eroding it, an indication of how severely his unknown illness is affecting him. "Hollow Mind" implies that he sliced his own ears so they could resemble witch ears.
He wears a mask with two long upward-facing horns. His eyes are hollow through the mask, creating the appearance of having empty eye sockets. He wears a large white and brown cape with gold trim. His eyes can glow light blue, as shown when Luz Noceda cracks the right side of his mask and exposes one of them.
As revealed in the episode "Hollow Mind", his beast form is that of a skeletal figure made out of green sludge with dark patches. His eyes are sunken in and glow blue, his nose is nothing but a hole, and his mouth is shaped in a toothy gape and often glows blue. Two horns resembling those on his mask are attached to his head, as is a long mane of completely grey hair. All over his body are at least eight blue eyes with light irises.
Personality
| | | |
| --- | --- | --- |
| " | You're such a hypocrite! You talk big about protecting humanity, but after everything you've done, you're barely human yourself. | " |
| | ~ Luz scolds Belos/Philip for his hypocritical behavior. | |
As the ruling body of the Boiling Isles, Belos at first appears to be a calm and collected man, but is intolerant of failure as evidenced by Lilith's consistent failures at capturing the Owl Lady. He also threatens her with harsh punishment, reminding her about what happens to witches who were without a coven. As a demonstration of his authority, Belos had petrified several witches and demons. Belos is a charismatic manipulator who ingratiates himself to the populace. As revealed in "Hollow Mind," Belos staged attacks on villages to manipulate the witches and demons to join his coven systems, uncaring that it could have led to dozens of deaths. Despite him being a controlling force who ruled the Isles with an iron fist, it at first appeared that Belos had a soft spot for his nephew Hunter, the current Golden Guard. However, as the series would progress, it is revealed that Belos sees him as nothing more than a useful tool who he kept in line by claiming the Titan had plans for him.
From the events displayed in "Hollow Mind," Belos killed his own brother when he fell in love with a witch in a rage. As such, it can be speculated that he created a series of Grimwalkers in his likeness as a way of getting him back. However, Belos' "love" can be seen as toxic, since he was completely repulsed by his brother's likeness for witches and his own beliefs and killed him when Belos was unable to control him, who likely opposed his plans. Whenever a grimwalker had expressed signs of rebellion, he would kill them and nonchalantly create another one. The Collector themselves takes note of this and accuses Belos of taking enjoyment out of creating grimwalkers only to destroy them. Belos initially denies it, but his brief grin explicitly affirms the Collector's suspicions.
His most defining trait by far is his narcissism. When he was Philip Whittebane, he was a witch hunter who was the byproduct of an overly zealous society during the Colonial Era. As such, Belos has a holier than thou mentality and is fully convinced that his genocidal crusade against witches is a righteous task that would free humanity from evil. It could also be the reason as to why he murdered his brother: when his brother fell for a witch, Belos disavowed him as a sibling and had no qualms with killing him in a violent rage. Because of his narcissism, he can never perceive that his actions could be monstrous, best exemplified when he blows off Luz calling him "evil" by retorting that he couldn't reason with crazy. His prejudicial view of witches, seeing them as creatures incapable of independent thought or feelings and being around them for centuries, has likely warped him into a sociopath, thinking that the beings around him are beneath him.
Quotes
Season 1
Season 2
Journal Entries
Trivia
The Emperor's name is misspelled as "Bellows" in the closed captioning.
The word "belos" means "beautiful" in several Iberian and Mediterranean languages, such as Portuguese, Galician, and Corsican. This is considered ironic, given his true face is revealed to be disfigured with an eroding scar running across his face.
In "Agony of a Witch", it's revealed that whenever members of the Emperor's Coven don't succeed in things, they get expelled from the coven as seen when he is talking to Lilith about Eda.

It could be implied that he kills anyone who is in the Emperor's Coven who doesn't follow his Coven System.

Despite his evil nature, his voice actor Matthew Rhys considers him to just be misunderstood. How/if this plays out in the future remains to be seen.[1]

Though there is also a chance he might've been making a sarcastic joke, given the laconic wording of the post.
As of "Hunting Palisman", this does seem to be playing out though as Emperor Belos is being presented as a Well-Intentioned Extremist who lost his family to wild magic and wants to get rid of it because he genuinely thinks it's dangerous, though how this will play out in the future remains to be seen.

In "Elsewhere and Elsewhen", however, it is heavily suggested this might not even actually be the case, with it being confirmed he wrote himself in his entries to sound better than he actually was and that wild magic being dangerous isn't even true.

This is taken further in "Hollow Mind" as several paintings within Belo's mindscape shows that his ideologies in wild magic being dangerous is entirely a lie, as he is willing to destroy villages with potion bombs to make the witches believe the bombs are the work of wild magic.

Before the events of "Elsewhere and Elsewhen", it was heavily theorized that Belos is actually a human who first came to the Boiling Isles, most commonly being theorized to either be Philip Wittebane or his brother.

The strong element to support this is that his staff lacks a palisman. In the Season 2 episode "Keeping Up A-fear-ances", Gwendolyn Clawthorne relays a story to Luz about how there was a human that appeared in the Boiling Isles and left, leaving information behind about a substance called Titan's Blood. From there, it could be explained that the human in question was Belos.
In the episode "Through the Looking Glass Ruins", it is highly theorized that Philip Wittebane, the human that first came to the Boiling Isles and creator of the portal to the human realm and Belos are the same person.
When his face is finally revealed in the episode "Eclipse Lake", his ears appear to be much rounder than a normal witch's, and they seem to resemble human ears to some extent. The common counterpoint to that comparison is the fact that his ears are smaller and less pronounced than other witches' ears, the implication being that Belos likely modified his ears to further blend in with the Boiling Isles. Much like Hunter, according to this theory, it would mean that he is incapable of performing natural magic. This is also strengthened by the fact that Belos's staff is very much like Hunter's artificial magic staff.
In the episode "Yesterday's Lie", it is possible that Belos is also one of the brothers that found Gravesfield, Luz's hometown. Belos' face resembles the statue of Philip while the statue of Philip's brother resembles Hunter.
Philip and Belos share a lot in common: both have the goals of wanting to return to the human realm, both have similar faces, both have similar voice accents, and because Philip is a human, he could not perform magic and Belos has only been seen performing magic with the help of his staff and hasn't yet used a spell circle.
As of "Elsewhere and Elsewhen", this theory was seemingly confirmed with Philip being seen draining palisman quite similarly to how Belos does, not to mention he also seems to be cursed much like the emperor. It is also worth noting that Belos's voice begins to overlap Philip's at the end of the episode.
The episode "Hollow Mind" officially confirms this theory.

It's revealed in "Elsewhere and Elsewhen" that the Boiling Isles was a far more pleasant and friendlier place when Belos first arrived, implying that his manipulative and deceitful nature is what turned the isles into the Social Darwinistic and more callous society it is today.

It's also probable that he established anti-wild propaganda to make people believe that wild magic is bad so he could become emperor and created the Coven System to control the species he loathes so much. This fact is confirmed in the episode "Hollow Mind", but it is also revealed that the Coven System has far more sinister intentions as it's also a means for Belos to conduct a draining spell, which would eventually drain all magic from the entire Boiling Isles, killing all witches and demons in the process.
According to the pictures in the background of his mind, it is highly hinted that he and his brother eventually come to blows over their difference ideology regarding witches, to the point that Philip killed his own brother.

In Hollow Mind, there are a series of paintings within the background of Belos's mindscape that show glimpses of his past as Philip. In it, he was close with another boy who greatly resembles Hunter (implied to be his brother) and was given a hand carved mask that resembles his current one. The two were eventually brought to the demon realm by another witch after the boy showed an interest in magic. Despite being born in the 17th century where witchcraft and anything that closely resembled was greatly hated and persecuted, the brother greatly adapted to the demon realm, whereas Philip had a hard time adjusting. It shows that the brother eventually fell in love with another witch and possibly impregnated her, much to Philip's disapproval and scorn. At some point, Philip began to mutate into his monstrous state and was still accepted by his brother. Philip and his brother ended up fighting for a yet unknown reason and Philip ends up killing his brother in cold blood, leading to Philip being cursed by a witch after attempting to flee.

It's also implied that while he was a good kid and close with his brother, spending centuries with his prejudice against witches and demons and living a life being surrounded by them, along with the "betrayal" of his brother has gradually developed the sociopathic narcissistic behavior he has today.

In "King's Tide", Belos is actually surprised when Luz brings up the fact his entire plan would be idiotic as no-one on Earth would believe him; plus there's no such thing as witch hunters anymore. Belos was actually stunned for a moment, as he seriously considered only being seen as a crazy old man; he trusted Luz's words as she had no incentive to lie to him.
References
External Link

Villains

Villains