Jafar says: Read my lips and come to grips with the reality!


This article is a stub and is in need of expansion. You can help Villains Wiki by expanding it.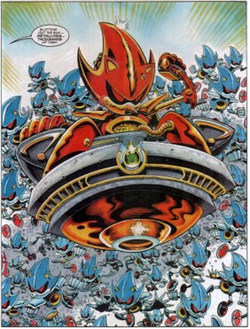 Emperor Metallix is a large red and gold Metallix robot from Sonic the Comic. Sonic the Comic was the United Kingdom's official Sonic magazine - in contrast to Archie: both had very different canons and as such Emperor Metallix is considered an original character.
History
Emperor Metallix was based on the Metal Sonic Kai transformation in Knuckles Chaotix but does not share the same backstory nor the same purpose (a trait shared by Metallix, who while based on Metal Sonic is also a unique character). Emperor Metallix was built by Metallix rather than Dr. Robotnik and became the leader of the Brotherhood of Metallix, who ultimately became independent of Robotnik and had very different ideas on the future of Mobias. Emperor Metallix was permanently attached to a large anti-gravity throne with teleportation capabilities - which alongside his coloration marks him from the other Metallix, who were designed to be badnik versions of Sonic.
Trivia
Unlike other Metallix robots that have powers based on Sonic the Hedgehog's powers, Emperor Metallix has its own powers.
Community content is available under
CC-BY-SA
unless otherwise noted.