Obi-Wan Finale - The Loop
Play Sound
Jafar says: Read my lips and come to grips with the reality!


This article is a stub and is in need of expansion. You can help Villains Wiki by expanding it.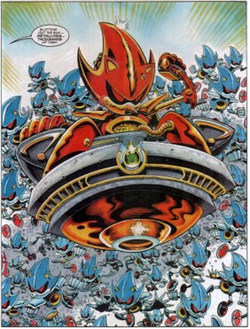 Emperor Metallix is a major antagonist in the British comic series Sonic the Comic by Fleetway Editions, appearing as the main antagonist of the Brotherhood of Metallix arc.
He is the leader of the Brotherhood of Metallix, and is a sentient robot that has free will. Due to his power and sentience, He went rogue, completely betraying Robotnik's orders and instead plotted to become the ruler of Mobius by himself. He is also the archenemy of the Omni-Viewer.
Biography
Emperor Metallix was built by various Metallixes, who were put in charge of creating the ultimate Sonic Badnik, but when Emperor Metallix was created, he ultimately became independent of Robotnik and had very different ideas on the future of Mobius. Emperor Metallix was permanently attached to a large anti-gravity throne with teleportation capabilities - which alongside his coloration marks him from the other Metallix, who were designed to be Badnik versions of Sonic.
Powers and Abilities
Aside from being able to command the Metallixes, The Emperor himself has no actual powers, as he was clearly not designed for combat. However, he is able to teleport around using his throne, but is mostly stationary. His only means of offense are by commanding his minions to attack for him, and does not ever fight by himself. His greatest power, however, is his vast intellect, being able to come up with schemes superior to that of Robotnik himself.
Trivia
Unlike other Metallix robots that have powers based on Sonic the Hedgehog's powers, Emperor Metallix has its own powers.
Emperor Metallix is loosely based on Metal Sonic Kai, the final boss of Knuckles' Chaotix.
The idea of an Emperor came from the Daleks from Doctor Who. Nigel Kitching did not initially mean to rip off the Daleks, but once he noticed the similarity he decided to run with it rather than tweak it into something different.
Emperor Metallix is like name Metallix, well known for being the main antagonist of Alvin-Earthworm's reboot series; Super Mario Bros Z. Here, he is referred to as Metallix, and was the combined form of Mecha Sonic, Metal Sonic, Silver Sonic, and various other robots.