Wiki Targeted (Entertainment)
Play Sound

✓
This Villain was proposed and approved by Villains Wiki's Pure Evil Proposals Thread. Any act of removing this villain from the category without a Removal Proposal shall be considered vandalism (or a futile "heroic" attempt of redemption) and the user will have high chances of being terminated blocked. You cannot make said Removal Proposal without permission from an admin first.
Additional Notice: This template is meant for admin maintenance only. Users who misuse the template will be blocked for a week minimum.

| | | |
| --- | --- | --- |
| " | We shall change the Earth that is full of light into our cold and dark EMPIRE! | " |
| | ~ Emperor Zeba to his followers | |
Emperor Zeba is the ruler of the Underground Empire Tube and the primary antagonist of Hikari Sentai Maskman. He is a mysterious figure who usurped control of Tube after killing off its original rulers, the Igam family. He desires to rule both the underground and the surface world and, to this end, seeks to spread darkness all across the surface in order to terraform it to be like the environment of Tube.
He was voiced by the late Seizō Katō, who also played several other Tokusatsu villains, most notably Dai Satan in Kyoryu Sentai Zyuranger, General Jark in Kamen Rider Black RX and Alien Mefilas in Ultraman and Ultraman Mebius.
History
Past
Zeba was originally Lethal Doggler II, the son of the original Lethal Doggler, a beast that terrorized the underground until being slain by the Igam family. Though Lethal Doggler was fatally injured, it was able to spawn a single heir just before dying. Upon being born Lethal Doggler II devoured its parent's body to gain more power, inheriting its desire to rule over the underground. Lethal Doggler II then took up the identity of Zeba and began his crusade of vengeance against the Tube.
Zeba overthrew the Igam family and took control of the Tube Empire, reforming it from a peaceful kingdom into a militaristic and oppressive state. Zeba killed every member of the Igam family except for their twin daughters, Igam and Iyal, whom he spared to raise as agents of his regime. However, Zeba learned from a prophecy that the two daughters would be his downfall and thus kept them apart for most of their lives, raising Igam to be his second-in-command and successor. Under Zeba's reign, a cult of personality around himself was constructed and the kingdom began preparation for a war with the surface world.
Hikari Sentai Maskman
Desiring to add the surface world to his dominion, Zeba sent Iyal to the surface as a spy to scout it for invasion, though this backfired when Iyal fell in love with Takeru and warned him of the Tube invasion. Right before having tube begin their attack, Zeba sent a Doggler Beast to retrieve Ial and had her locked away as punishment for her treason against him. Under Zeba's direction, Tube's military forces launched an advance attack on the surface world, plundering and laying waste to entire cities. After the attack was fought off by the Maskmen, Zeba chose to punish Ial for helping the enemy by sealing her within the frozen crypt.
As Tube's invasion went on, Zeba sought to hold onto power within Tube by destroying any traces that could lead back to his true identity. When two ninjas of the Fu Clan stole a crown which contained a recorded message revealing his true identity, Zeba sent his forces to destroy it. Though the ninjas were able to play the message on the crown, it was destroyed before it could get to the part where Zeba's secret was revealed.
Zeba would later welcome a new ally into Tube in the form of the thief knight Kiros, promising to give Kiros the frozen Ial if he defeated the Maskmen. However, Kiros would soon prove troublesome when he sought to unseal Lethal Doggler from its tomb. Fearing his identity would be uncovered if Lethal Doggler's tomb was excavated, Zeba sent his forces to stop Kiros. However it was too late, and Kiros blew open the tomb, releasing its guardian Haniwa Doggler in the process. After Haniwa Doggler was defeated, it was discovered that Lethal Doggler's coffin was empty, though there were still no clues that connected back to Zeba.
Later on though, Ial and Takeru came into possession of an orb which contained a message revealing Zeba's true identity. With his final plans imminent, Zeba sent Anagmas to destroy the orb so his identity would remain secret. Before Anagmas could stop them though, Takeru and Ial were able to activate the orb and play the message inside of it. They learned of Zeba's true identity as the second Lethal Doggler, but before they could learn how to stop him the orb was destroyed by Anagmas.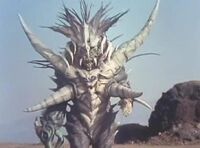 Despite losing Commander Baraba and Anagmas, Zeba's plans remained on course. His final plan involved raising the Underground Castle to the surface and destroying it so its explosion would cause the "Evil Particles" he had stored inside to spread across the surface world and cover it in darkness. Igam soon discovered that Zeba was planning on sacrificing everyone inside the Underground Castle and went to confront him, only for Zeba to mock her for not realizing he was using her sooner before exiting the scene. Thanks to the sacrifice of Oyobu, the Underground Castle reached the surface and levitated into the sky. Traveling to the surface, Zeba prepared to destroy the Underground Castle but was confronted the Maskman. Zeba fought the team and quickly gained the advantage due to fighting them in his own Dark Aura domain, using his mystical powers to overwhelm. However, Iyal and Igam combine their powers with the Igam Royal Pendant and combine that with the five combined Auras of the Maskman to expose Zeba's true form as Lethal Doggler II.
His identity exposed, Lethal Doggler II attacked the Maskmen, only to be repelled before being blasted by the Jet Cannon. However, Lethal Doggler II was not only able to survive but absorbed the energies of the blast to enlarge himself. The Maskmen summoned Galaxy Robo to fight the gigantic Lethal Doggler II and finished him off, ending his cruel reign over the underground.
Personality
When it comes to leadership, Zeba rules with a stern iron fist, compelling others to follow him through force and fear. At all times, Zeba maintains an eerily calm demeanor. Though he is prone to fury, he rarely flinches in his tone and possesses a rigid, commanding aura when delivering orders to his subordinates. His cool demeanor can slip when something that threatens him personally comes up, such as when his true identity came close to being discovered. He is also incredibly wrathful and unforgiving towards his subordinates, frequently shocking the members of his inner circle as a way of punishing them. At the same time however, he is willing to give his generals a final chance to redeem themselves rather than just executing them outright, as shown with how he spared Commander Baraba after he was able to claim the Underground Royal Sword.
Zeba is a cold and monstrous beast throughout the show despite him showcasing his human appearance for almost the whole show. His depravity even shows when he poisoned an entire village of people to test out a biological weapon, poisoning all the people in the city. Upon that he himself warmongers, encouraging a war between humanity and the underground and always pushes to instigate fighting in the first place. Zeba also finds harming people amusing as shown when Akira is put into a death match and other events like that. Most of all his totalitarianism and slavery of his own people show that to him people are disposable and makes them lower than where he stands. Compassion to even his most loyal minions is lacking since he froze princess Ial in ice when she displeased him and in the first place separated both of them to save himself from impending doom. At the end he is a dark warmonger from the underground who is monstrous in every aspect of his existence.
Gallery

Villains
Underground Empire Tube
Emperor Zeba | Prince Igam | Commander Baraba | Oyobu | Fumin | Anagmas | Ungler Soldiers | Kiros
Earth Imperial Beasts: Igua Doggler | Capila Doggler | Skull Doggler | Drilla Doggler | Doll Doggler | Saber Doggler | Magne Doggler | Bagil Doggler | Zora Doggler | Shinobi Doggler | Garaga Doggler | Akame Doggler | Geruge Doggler | Gamaro Doggler | Giba Doggler | Garubo Doggler | Igara Doggler | Horn Doggler | Dokuro Doggler | Kimen Doggler | Majin Doggler | Ryu Doggler | Henge Doggler | Jiruga Doggler | Beam Doggler | Rock Doggler | Deathga Doggler | Devil Doggler | Ragon Doggler | Lens Doggler | Gra Doggler | Gigira Doggler | Guron Doggler | Haniwa Doggler | Nimen Doggler | Mezume Doggler | Time Doggler | Magma Doggler | Bard Doggler | Hariga Doggler | Kinoga Doggler | Gizee Doggler | Yoroi Doggler | Gamesu Doggler | Godai Doggler | Lethal Doggler | Spin Doggler | Baruga Doggler | Jigoku Doggler