Jurassic World: Dominion Dominates Fandom Wikis - The Loop
Play Sound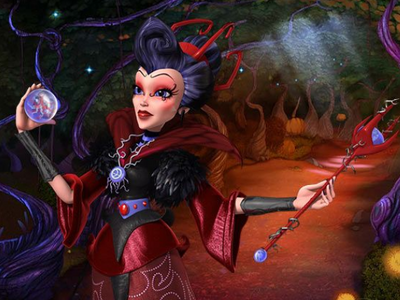 Enchantra Yagami is the main antagonist of the Indian-American-Irish-French-Canadian cartoon Sabrina: Secrets of a Teenage Witch. She constantly tries to make Sabrina's life in the world of the humans bad and pressure her enough for her to live in Witch World permanently in fear that all of her own immense magical power and strength will be gone forever. 
She was voiced by Kathleen Barr, who voiced Eris, Lydia and Laverna in the Barbie movies, Lorelei and Barb Payne in Polly Pocket and Trixie Lulamoon in the My Little Pony: Friendship is Magic franchise.
She is an extremely powerful sorceress of great strength at increasingly higher magic levels. Her innate magical aura is colored crimson red just like her son's. In order to prevent any illness and disease, she uses hand-sanitize whenever she can. In Chariots of Fear, she has Sabrina and Shinji take the journey of ten thousand steps until they find their way back to Witch School. She intended for them to form a bond of friendship and romance by finally working together as a team, but had failed once again. She did not appear in one day as she was on a cruise to the river of blood.
She has an older sister named Spella, who is just as power-crazed and powerfully magical as she is and who manages to banish her to the human world in the story It was revealed that she, like Sabrina, had been clumsy when she was much younger. In her much younger years, she was in the same classes with Zelda and Hilda, but had hardly ever talked to them, as she mispronounces their names, much to Zelda's annoyance. She is also shown to be racist towards humans, using the slur "nitches" to refer to them.
Trivia
In this version, Shinji Yagami (a character in the manga) is evil and is Enchantra's son, thus making her the witch equivalent to Japanese.

verse Villains
Archie & Riverdale
Aliens | Betsy | Coach Clyde | Chuck Orgle | Dr. Arachnid | Dorsa Finn | Glebo | Maladonia Demon | Medlock | Maria Naut | Mr. Avericci | Mustang | Nilnewz | Paul Boucher | Potato Aliens | Prad and Whitney | Queen Cockroach | Riverdale Reaper | Scarlet Helsing | Stanley 9000 | The Genie | The Great Potato | Vampronica | Vinnie Wells | Alice Cooper | Archie Andrews | Andre | Arthur Adams | Black Hood | Blossom Family | Bret Weston Wallis | Cassidy Bullock | Chad Gekko | Charles Smith | Chic Cooper | Chuck Clayton | Claudius Blossom | Clifford Blossom | Darla Dickenson | Dodger Dickenson | Donna Sweett | Dreyfus Starkweather | Edgar Evernever | Elio Grande | Evelyn Evernever | FP Jones | Francis DuPont | Gargoyle Gang | Gargoyle King | Geraldine Grundy | Ghoulies | Gladys Jones | Hermione Lodge | Hermosa Lodge | Hiram Lodge | Holden Honey | Joan Berkeley | Jonathan | Kurtz | Malachai | Marty Mantle | Michael Matthews | Mustang | Nick St. Clair | Paul Boucher | Penny Peabody | Penelope Blossom | Percival Pickens | Reggie Mantle | Rose Blossom | Sheriff Michael Minetta | Sister Woodhouse | Small Fry Boucher | Southside Serpents | Sugarman | Sweet Pea | Tall Boy | Trash Bag Killer | Warden Norton
Sabrina the Teenage Witch & Chilling Adventures of Sabrina
Satan | Father Blackwood | Madame Satan | Weird Sisters (Prudence Blackwood, Agatha Night) | Batibat | Dorian Gray | Bartel | Plague Kings (Beelzebub, Asmodeus, Purson) | Jerathmiel | Mehitable | The Pagans (Pan, Circe, Nagaina) | Caliban | Jimmy Platt | Green Man | Katrina Spellman | Anirbas | Libby Chessler | Jezebelda Spellman | Drell | Irma Spellman | Brad Alcero | Tim the Witchsmeller | Gem Stone | Cassandra | Wish Spirit | Enchantra Yagami | Shinji Yagami | Spella Yagami

Sonic the Hedgehog
Dr. Eggman | Dr. Robotnik | Snively | Metal Sonic | Mecha Knuckles | Tails Doll | Eggman Empire | Team Dark (Shadow the Hedgehog, Rouge the Bat, E-123 Omega) | Hooligans (Fang the Sniper, Bean the Dynamite, Bark the Polarbear) | Babylon Rogues (Jet the Hawk, Wave the Swallow, Storm the Albatross) | A.D.A.M. | Agunus | Anti-Geoffrey St. John | Auto Automaton | Auto-Fiona | Benedict | Black Death | Boomer Walrus | Brass Knuckles | Breezie the Hedgehog | Brutus Kintobor | Bzzzz | CD-ROM Ram | Captain Claw | Captain Metal Claws | Colin Kintobor | Combot | Comic Book Bots | Commander Brutus | Crocbot | Croctobot | D.R.A.T. | DYNAMAC | Dimitri | Doctor Finitevus | Downtown Ebony Hare | Drago Wolf | Dr. Finitevus | E.V.E | Eel Capone | Egg Sweeper | Emperor Metallix | Enerjak | Evil One | Ferron | Fiona Fox | Flame Legion | Flying Frog | Foxxy | French Frirus | Frost Legion | General Helmut Von Stryker | Grand Chief Whip | Grimer Wormtongue | Hired Mussels | Hunter | Iron Dominion | Iron King | Iron Queen | Ivanna Robotina | Ivo Robughnik | Johnny Snively | Kage Von Stryker | Kid Cruel | King Gong | Kodos | Kragok | Krudzu | Lien-Da | Lightning Lynx | Luger the Echidna | Mammoth Mogul | Marxio Brothers | Mathais Poe | Mecha Sally | Mechanaut | Menniker | Metal Scourge | Metal Sonic Troopers | Metallix | Miles "Tails" Prower | Misty-Re | Moritori Rex | Mr. Beta | Mr. Delta | Mr. Gamma | Ms. Alpha | Nusgau | Octobot | Order of Ixis | Overlord | Patch | Plasma | Proker Metallix | Predator Hawk | Princess Alicia Acorn | Professor Egg | Pseudo Sonic | Rabbot-Zilla | Raiju Clan | Rendfield T. Rodent | Robolactus | Rosy the Rascal | Rykor | Sallactor | Scourge the Hedgehog | Sergeant Simian | Serpentius | Shadowbots | Silver Snively | Sub-Boss | Suguna | Super Scourge | Super Sonic | Syntar | Termite-Nator | The Enchantress | Trogg | Universalamander | Wing Dingo | Xenin | Xorda | Yagyu Ninja | Zan