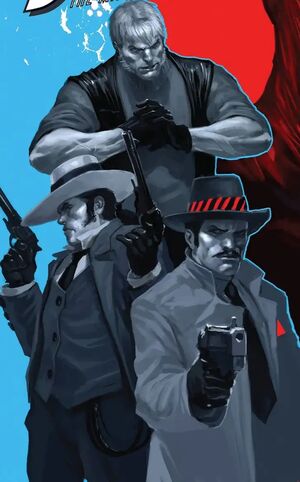 The Enforcers are a trio of hitmen from Marvel Comics. They originally worked for the Big Man, and worked as his enforcers in convincing criminals and mobsters to work for him. They battled Spider-man, who was trying to foil the Big Man's empire.
Later they worked for supervillains such as Green Goblin, Sandman, and Crime Master in attempts to trap and destroy Spider-man.
Spectacular Spider-Man
The Enforcers also appeared in
The Spectacular Spider-man
TV series. They worked under
Tombstone
and were enlisted to take down Spider-man. After their first defeat, they returned as the New Enforcers, with high-tech battle-suits made by the
Tinkerer
. Montana took on his former role as the
Shocker
and Fancy Dan became Ricochet, while Ox just stayed with his regular name.
Noir
In this version The Enforcers were much darker. The Noir Enforcers took place during the Great Depression, and was a mob. Instead of the Big Man being the leader of the Enforcer, Norman Osborn is the leader. The Enforcers were also the ones that were responsible for Uncle Ben's murder. One of the member; Vulture ate Uncle Ben alive. Other members include; Hammerhead, Ox, Fancy Dan, and Montana.
Members
Original Members
Montana was the field-leader and tech-expert of the team. He had a southern accent, and was extremely skilled with a lasso, moving it like a living thing.
Fancy Dan was the stealth and martial arts expert of the team. He was rather short, but could move swiftly and with skill. He had a black belt in judo and karate. He was also a skilled gunman.
Ox was the muscle of the team. He had top human strength and endurance, and was a skilled fighter.
Community content is available under
CC-BY-SA
unless otherwise noted.