Spider-Man: No Way Home Trailer Dropped - The Loop
Play Sound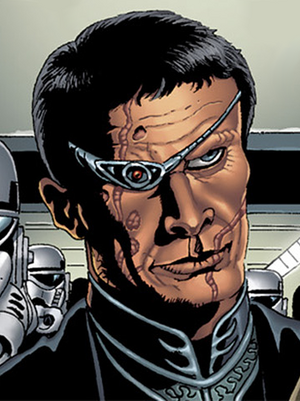 Ennix Devian is the main antagonist of the Star Wars Legends comic miniseries Crimson Empire III: Empire Lost.
He was created by Mike Richardson and Paul Gulacy.
Biography
Ennix Devian once served the Galactic Empire and was trained by Darth Vader himself, losing an eye as a reminder of a failure. He served Emperor Palpatine as a hitman. Following the Emperor's death, Devian turned his back on the Imperial Remnant led by Gilad Pellaeon and formed his own faction, the Restored Empire, presenting himself as the heir of Palpatine and preparing to take control of the Empire.
In 13 ABY, with Pellaeon conducting peace talks with the New Republic, Devian decided it was time to make his move. He sent assassins to Coruscant to kill Chief of State Leia Organon Solo and her family but they were defeated by her chief of security Mirith Sinn. Devian also hired Boba Fett to find Kir Kanos, the last surviving member of Palpatine's Royal Guard, and bring him to him. He dressed Kanos in his old crimson robes, using him as a symbol of his link with Palpatine. He demonstrated his prowess by duelling one of his troopers, Lonkin, but when Lonkin knocked him down, Devian killed him to prove his superiority, leaving Kanos disgusted.
Devian revealed his plan to detonate a quantity of zinethium on Coruscant, devastating the New Republic. Kanos stole a shuttle to warn them but Devian had predicted this and placed the zinethium aboard the shuttle. Luke Skywalker piloted the shuttle away from Coruscant so it exploded safely. Devian abandoned his base when the New Republic detected it, leaving behind a booby trap that wiped out their ground forces.
Devian disrupted the peace talks between the Empire and the New Republic, having his men kill the Imperial representative, Feena D'Aasta. As he planned, this resulted in Pellaeon sending his fleet against the New Republic and leaving his base undefended. Devian personally let his troops to attack the Empire in the Battle of Orinda, leading a ground assault and confronting Pellaeon permanently. However, his fleet was defeated by reinforcements led by Baron D'Asta, who confronted Devian with what appeared to be Feena (actually a clone).
With his troops defeated by this turn of events, Devian fled and attempted to reach his shuttle but was pursued by Kanos. The two of them fought and Devian appeared to gain the upper hand, stabbing Kanos through the shoulder. However, as he stopped to savour the moment, Kanos rallied and impaled Devian through the chest, killing him.