Jurassic World: Dominion Dominates Fandom Wikis - The Loop
Play Sound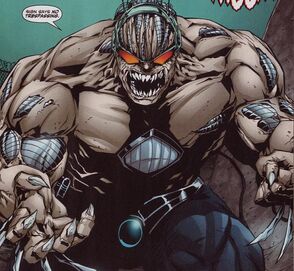 Click To Help Darkseid!

Darkseid has declared that this article requires immediate Cleanup in order to meet a higher standard.
Help improve this article by improving formatting, spelling and general layout - least it fall victim to an Omega Effect


✓



Click to help Cruella!

This scum Equus is driving Cruella insane!
IT MUST BE REWRITTEN OR ADDED TO!!
So sayeth the great Lord of Darkness Sauron, or he will send Darth Vader to terminate you.

Help improve this article by rewriting, expanding, updating the poorly written text of the article. ✓
Equus was a prototype for the OMAC Project, he and Superman combated each other during "The Vanishing", where one million people disappeared from Earth along with Lois Lane. The Vanishing occurred somewhere in the Middle East. During his investigation, Superman's encounter with Equus was a bit more than he could chew since Equus' claws were actually capable of slicing through Superman's skin. The fight between them ended when General Nox, a leader of a rebellion that was taking place in the Middle East, deactivated Equus. Nox informs Superman that the King in a certain section of the Middle East used a peculiar device which caused The Vanishing. Superman stands down for a moment until he learns that Nox will execute King along with his family and members of the King's cabinet. Superman tells Nox that the king must stand trial but Nox decides to reactivate Equus. Superman's rematch with Equus turned out better when he ripped Equus' right arm, and defeated him.
Superman then turns his attention to Nox but Equus was down and out yet. Nox was impressed by Superman's determination so he orders Equus to stand down but Equus refused to acknowledge Nox's orders anymore. Equus informs Nox that he was paid to aid the general's rebellion just so he can get close to the device. Equus maneuvers past Superman and takes the device from Nox. Equus activates the device and he disappears along with 300,000 more people from the planet. Superman returns to the Fortress of Solitude and learns that the device acts as a Phantom Zone projector but the device transports people to a place called Metropia, a paradise dimension that is an exact opposite of the Phantom Zone. Superman also learns from Emil Hamilton that his colleague Elias Orr made Equus psychotic by enlarging his amygdale in order to subject Equus to cybernetic enhancements. This process that Orr conducted on Equus became common practice for candidates in the OMAC Project. Superman recreates the same dimensional rift to Metropia and discovers the Vanishing victims are being tormented by Equus along with General Zod. Superman defeats Zod and shuts down Equus by exposing structural weaknesses in Equus' cybernetic enhancements with his X-ray vision.
Orr rebuilds Equus at a decommissioned Nebraska Air Force base in Fort Halprin. Equus now acts as Orr's errand boy/ bodyguard. When Orr learns that Karate Kid and Triplicate Girl are near his secret base of operations, Orr is told by his benefactor Desaad, to have Equus kill the two heroes. Equus tracked the heroes to a train that was heading to Benkelman, Nebraska so he severs apart of the railroad in order to cause a derailment. Fortunately, Supergirl was in the area and she managed to prevent the derailment with Triplicate Girl. As for Karate Kid, he defeated Equus when he sliced one of Equus' arms off with a powerful karate chop. Equus' arm was reattached by Orr and in response to Equus' failure; Orr sends a prototype OMAC that resembles Buddy Blank to destroy Karate Kid but this mission turns out to be a failure since Karate Kid returned to his own time with Triplicate Girl. Later on, Orr clones Equus and Wildebeest to create a small battalion that distracts the Teen Titans from aiding Cyborg who was being beaten by the Cyborg Revenge Squad. Cyborg and the Teen Titans were victorious in defeating Orr along with his cybernetic monsters but Equus makes another appearance during Prometheus' last stand against the Justice League
Powers
Equus is superhumanly strong, capable of fighting on-par with Superman on several occasions. He was also capable of using a railroad car as a weapon with no effort at all. He can also heal from grievous injuries (like amputated limbs) at an alarming rate and withstand such injuries in the first place. His claws are extremely sharp, capable of piercing even Kryptonian skin.
Villains
Comics
Alex Luthor | Amanda Waller | Amazo | Anomaly | Anti-Monitor | Atlas | Atomic Skull | Ballser | Bane | Barbatos | Bernadeth | Bertron | Bizarro | Black Adam | Black Banshee | Black Mercies | Black Zero | Blanque | Blackrock | Blaze | Bloodsport | Bloody Mary | Brainiac | Bruno Mannheim | Boss Moxie | Bug-Eyed Bandit | Captain Boomerang | Captain Cold | Catwoman | Cheetah | Chemo | Chessure | Circe | Clayface | Coldcast | Commander Gor | Composite Superman | Cyborg Superman | Cythonna | Dabney Donovan | Dark Knights | Darkseid | Dax Novu | Deathstroke | Desaad | Deuce & Charger | Dev-Em | Devilance | The Devastator | Doctor Light | Doctor Manhattan | Doctor Polaris | Donna Troy | Doomsday | Earth-Man | Eclipso | The Enchantress | Epoch | Equus | Eradicator | Eradicator (Dark Multiverse) | Ernest Smalley | Eve Teschmacher | Faora Hu-Ul | Fastbak | Female Furies | Fifth-Dimensional Imps | Forgotten Villains | Francis Redhorn | Funky Flashman | Galactic Golem | Gilotina | Gorilla Grodd | Granny Goodness | Green Man | Glorious Godfrey | Gzptlsnz | H'El | Heat Wave | Hector Hammond | Hellgrammite | Helspont | Hfuhruhurr | Imperiex | Intergang | Jax-Ur | Joker | Jon Lane Kent | Justice League of Earth | Kaizen Gamorra | Kalibak | Kanto | Karkull | Killer Croc | King Shark | Kobra Cult | Ku Klux Klan | Lashina | Last Sun | Legion of Super-Villains | Lex Luthor | Livewire | Lobo | Mad Harriet | Magpie | Major Disaster | Major Force | Malice Vundabar | Manchester Black | Mandrakk | Mantis | Master Jailer | Masters of Disaster | Match | Maxima | Maxwell Lord | Mercy Graves | Metallo | Mister Oz | Mongal | Mongul | Mongul II | Morgaine Le Fey | Morgan Edge | Mr. Freeze | Mxyzptlk | Neron | Neutron | Nick O' Teen | Nimrod The Hunter | Overman | Parademons | Parallax | Parasite | Phantom Zoners | Planeteer | Plasmus | Plastique | Prankster | Preus | Princess Zala Jor-El | Prometheus | Psycho-Pirate | Queen Bee | Queen of Fables | Rampage | Rogol Zaar | Reverse-Flash | Royal Flush Gang | Samuel Lane | Scarecrow | Secret Society of Super Villains | Shockwaver | Shrapnel | Silver Banshee | Sinestro | Sleez | Solomon Grundy | Subjekt-17 | Suicide Squad | Superboy-Prime | Superdoom | Superman Revenge Squad | Superman (Earth-2) | Superman (The Dark Side) | The SuperMan | Spellbinder | Steppenwolf | Stompa | Talia al Ghul | Tarantula | Thaddeus Killgrave | Thunder & Lightning | Titano | Tobias Whale | Toyman | Two-Face | Ultra-Humanite | Ultraman | Ursa | Vincent Edge | Virman Vundabar | Vyndktvx | Weather Wizard | Whirlicane | Whisper A'Daire | William Dunn | Xa-Du | Zod
Theatrical Movies
Superman: Lex Luthor | Otis | Eve Teschmacher | General Zod | Non | Ursa | Brad Wilson
Superman II: General Zod | Non | Ursa | Lex Luthor | Otis | Eve Teschmacher | Rocky
Superman III: Ross Webster | Corrupted Superman | Vera Webster | Lorelei Ambrosia | Gus Gorman | Brad Wilson
Superman IV: The Quest for Peace: Lex Luthor | Nuclear Man
Superman Returns: Lex Luthor
Man of Steel: Sword of Rao (Dru-Zod, Faora-Ul, Nam-Ek, Jax-Ur, Tor-An, Car-Vex, Nadira, & Dev-Em II)
Batman v Superman: Dawn of Justice: Lex Luthor | Doomsday | Anatoli Knyazev | Mercy Graves | Cesar Santos | Amajagh | Joe Chill | Zod | Steppenwolf
Direct-to-video Movies
Superman: Brainiac Attacks: Brainiac | Lex Luthor | Mercy Graves | Mister Mxyzptlk
Superman: Doomsday: Lex Luthor | Superman Clone | Doomsday | Toyman | Mercy Graves
Superman/Batman: Public Enemies: Lex Luthor | Major Force | Metallo | Amanda Waller | Toyman | Solomon Grundy | Gorilla Grodd | Killer Frost | Lady Shiva | Giganta | Mongul | Captain Cold
Superman/Batman: Apocalypse: Darkseid | Female Furies (Granny Goodness, Gilotina, Mad Harriet, Lashina & Stompa) | Doomsday
Superman/Shazam!: The Return of Black Adam: Black Adam
All-Star Superman: Lex Luthor | Solaris | Parasite | Nasthalthia Luthor | Bar-El & Lilo-El
Superman vs. The Elite: The Elite (Manchester Black, Coldcast, Menagerie & Hat) | Atomic Skull
Superman: Unbound: Brainiac
The Death Of Superman: Doomsday | Lex Luthor | Intergang (Bruno Mannheim) | Mercy Graves | Cyborg Superman
Reign Of The Supermen: Cyborg Superman | Darkseid | Parademons | Lex Luthor | Mercy Graves
Superman: Red Son: Superman | Brainiac | Lex Luthor | Batman | Superior Man
Superman: Man of Tomorrow: Parasite | Lobo | Lex Luthor
Television
1940's Superman
Bulleteers | Inventor | Mechanical Monsters | Mad Scientist
Superman: The Animated Series
Lex Luthor | Brainiac | Darkseid | Metallo | Toyman | Intergang (Bruno Mannheim, Spider Spinelli, & Blaine) | Mercy Graves | Joey | Parasite | Dr. Vale | Lobo | Gnaww | Preserver | Kanto | Earl Garver | Jax-Ur | Mala | Prometheon | General Hardcastle | Weather Wizard | Livewire | Bizarro | Kurt Bowman | Luminus | Mister Mxyzptlk | Superman (Brave New Metropolis) | Lex Luthor (Brave New Metropolis) | Titano | Desaad | Kalibak | Joker | Harley Quinn | Karkull | Corey Mills | Suit | Maxima | De'Cine | Steppenwolf | Parademons | Female Furies (Granny Goodness, Stompa, Mad Harriet, & Lashina) | Volcana | Kurt | Starro | Roxy Rocket | Penguin | Bane | Riddler | Mad Hatter | Darci Mason | Sinestro | Unity | Reverend Amos Howell | Society of Shadows (Ra's al Ghul, Talia al Ghul, & Ubu)
Krypton
Brainiac | Zod | Doomsday | Lobo | Jax-Ur | Kol-Da | Lis-Ser | Daron-Vex | Araame | Lyta-Zod Clone
Superman & Lois
Tal-Rho | John Henry Irons | Leslie Larr | Mitch Anderson | Bizarro | Zeta-Rho | Superman (John Henry Irons' Earth) | Reno Rosetti | David Fuglestad | Atom-Man | Zod | Phillip Karnowsky | Kit Faulkner | Inverse Society (Ally Allston, Lana-Rho, Jonathan-El, & Erin Wu) | Intergang (Thaddeus Killgrave)
Video Games
Superman Arcade: Emperor Zaas | Lex Luthor | Metallo | Parasite
Superman: Shadow of Apokolips: Lex Luthor | Darkseid | Metallo | Livewire | Parasite | Kanto | Mercy Graves | Volcana
Mortal Kombat vs. DC Universe: Dark Kahn | Lex Luthor | Scorpion | Shang Tsung | Darkseid
Injustice: Superman | Brainiac | Doomsday | Aquaman | Black Adam | Sinestro | Lex Luthor | Joker | Darkseid
See Also
Legion of Super-Heroes Villains | Lobo Villains | Smallville Villains | Steel Villains | Superboy Villains | Supergirl Villains | Superwoman Villains