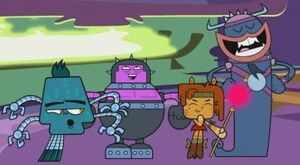 Eradicus' Minions are the secondary antagonists from the Jetix and Disney XD series Yin Yang Yo!,.
History
Before they helped Yang set off The Dark Tomorrow, Eradicus' Minions pretended to be the ghosts of four Woo-Foo Elders. They first visited Yang in Deja Foo, warning him that he had to possess the Amnesulet, and returned several more times, telling him to obtain certain items such as the Lick-n-Stick and the Tuti-Fruity Fro of Double Duty. Their final act as the "Elders" was to convince Yang to throw a bag containing all of the magical items he had collected into a fire at the Night Master's Lair.
Back to Life
Eradicus' Minions are four characters that tricked Yang into setting off The Dark Tomorrow. They serve Eradicus, and are very powerful. Ella Mental is possibly the most powerful of them all. They had red eyes when they masqueraded themselves as the Four Woo-Foo Elders.
The Dark Tomorrow, Mollecu-Lars has seemingly disappeared, leaving only three minions. In the season 2 finale, Yin Yang Who?, Rubber Chucky and Ella Mental, along with Eradicus himself, are defeated and Indestruto-Bob ends up locked in Eradicus' cave.
Members
Gallery
Community content is available under
CC-BY-SA
unless otherwise noted.