Obi-Wan Finale - The Loop
Play Sound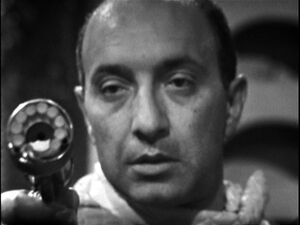 Eric Klieg is the secondary antagonist of the Doctor Who story "The Tomb of the Cybermen".
He was portrayed by the late George Pastell.
Biography
Eric Klieg was a member of the Brotherhood of Logicians, an elitist group who believed humanity should be ruled on logical grounds. He and his colleague Kaftan sought to enlist the aid of the Cybermen. To this end, they financed an expedition led by Professor Parry to the planet Telos, intended to find the lost tombs of the Cybermen. Shortly after arriving and uncovering the tombs, they encountered the Doctor, Jamie and Victoria.
With more than a little help from the Doctor, Klieg managed to get the building's machines working, triggering traps that nearly killed Victoria and did kill party member Peter Haydon. Kaftan's servant Toberman had sabotaged the group's ship, meaning they were stranded until it could be repaired. Klieg accompanied the male members of the party down to the tombs where they found the Cybermen frozen. Klieg activated the equipment, causing the Cybermen to defrost, and killed party member Viner when he tried to reverse the process.
However, the Cybermen showed little interest in Klieg's offer of an alliance, planning to convert all the group into Cybermen. They were rescued by Captain Hopper, and Klieg found himself taken prisoner by the rest of the party and imprisoned with Kaftan. However, they were able to retrieve a gun from the weapons testing room and break out. Klieg attempted to shoot the Doctor but instead wounded crewmember Jim Callum.
Now having the upper hand over the other humans, Klieg attempted once again to negotiate with the Cyber Controller. The Controller initially agreed to provide Klieg with equipment, but once he was fully charged, he turned on his would-be ally again. Despite this, Klieg retreated into the tomb where he ended up holding the Doctor, Jamie and Toberman at gunpoint. The Doctor taunted him, provoking him into agreeing with the Doctor's suggestions of a world where no-one had a thought that was not his, then bluntly declaring "Well, now I know you're mad. I just wanted to make sure." Incensed, Klieg planned to have the Cybermen deal with the group, but when one of the Cybermen emerged from its tomb, it was Klieg that it killed first.