Jurassic World: Dominion Dominates Fandom Wikis - The Loop
Play Sound
Eric Marsh was a star baseball player at Smallville High School.
He was the main antagonist of the Smallville Season 2 episode "Witness".
He was portrayed by Zachery Ty Bryan, who also played Clay in The Fast and the Furious: Tokyo Drift.
Biography
Early life
Eric Marsh started out as a little league bench warmer but was really terrible and was a star chemistry student before he turned his attention to baseball.
He was injured in an explosion at Kansas State University last summer during chemistry camp. As a result he had a metal plate placed in his skull. Eric then broke the all-time highest batting average at Smallville High.
Witness
Eric was involved in the theft of refined meteor rock from a LuthorCorp van. His accomplices had crossbows and stood in the middle of the road wearing alien masks, waiting for a cargo van.
When it approaches they shoot the van as their crossbows were loaded with tow cables. When the van reaches the end of the cables, the guys pull hard and flip the van over.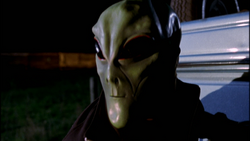 A third one approaches in a truck, and they are just getting ready to unload it when Clark Kent came upon the scene in his pickup. Eric ordered him to leave but Clark grabs one of the guys arms and notices a Smallville High School class ring before the guy pulled the door off the van and sends Clark flying 30 feet.
Clark uses his X-ray vision to see a plate in his head. The three thieves unload whatever was in the van and drive off in their truck.
The next day, Clark checks out everybody at school for a metal plate in their head and finally he spots Eric Marsh. Pete told Clark that Eric was responsible for getting the sponsorships for the new uniforms and equipment, and scouts have added Smallville to their route.
Clark suspected he was using steroids or something and later followed Eric to a foundry and saw him liquefying meteor rocks pouring it out into glass vials.
Clark realized that Eric was using the liquid in an inhaler to enhance his strength, which explained his sudden and amazing baseball skills. When Eric and his gang found Clark snooping, they overpower him, beat him over a little and then threw him into a blast furnace. Fortunately, they took the liquid meteor rocks with them, allowing Clark to escape but his clothes burned off.
The next day, Sheriff Adams arrives at the school to arrest Eric. An anonymous tip led them to search his locker, which contained an alien mask, which was used during the robbery. Eric knew that the anonymous tipster was Clark.
Eric was arrested, but Lex Luthor posted his bail in exchange for information regarding the contents of the cargo van. Lex also had Eric followed by a security guard.
Clark accuses Eric of trashing the Torch. Eric threatens to hurt Clark's parents if he testifies against him. Clark super speeds home to find his parents tied up against the wall in the barn 20 feet in the air and the place is a wreck. Clark goes to the mansion to confront Lex about springing Eric. He tells Lex that Eric hurt his parents.
Lex was truly sorry, but he had no idea the Kents were involved with Eric in any way. He tells Clark that the truck was full of refined meteor rocks. He suspects his father has resumed his Level Three experiments. Lex wanted to follow Eric to find the meteor rock, but he beat up the security guard he had on him.
Together, they hatched a plan to lure Eric into a trap by robbing an empty truck, but Lex refuses to involve the police. As the plan was in motion, Clark hits Lex over the head, rendering him unconscious. Eric hijacks the cargo van and drives it to a warehouse where his buddies are waiting. When they open the truck, they find Clark inside.
At first, the three of them seem to get the upper hand over Clark, but then he uses his heat vision to drop a load of steel pipes on one of the guys. Then he uses his super speed to get around behind the other guy and wrap another pipe around him before he can react then Eric picks up a concrete barrier and smashes it on Clark.
Clark then throws Eric into some pipes which then knocks Eric out. Eric was apprehended and is presumably serving time for his crimes.

Villains
Protagonists