The Sandman Will Keep You Awake - The Loop
Play Sound
| | | |
| --- | --- | --- |
| " | I will show the world Wakanda's true face... and they will kneel before us in fear. So swears Erik Killmonger. | " |
| | ~ Erik Killmonger | |
| | | |
| --- | --- | --- |
| " | Your line of descent ends with you, and you'll take nothing from me ever again! | " |
| | ~ Erik Killmonger to Black Panther about to throw him off the waterfall | |
Erik Killmonger is a supervillain in Marvel Comics. He served as one of the main antagonists of the Black Panther comic book series and is an enemy of King T'Challa. He is one of three archenemies of Black Panther (the others being Klaw and Man-Ape).
Biography
A native of Wakanda, he was born under the name N'Jadaka. When Ulysses Klaw and his mercenaries attacked Wakanda, they press-ganged N'Jadaka's father into helping them; when Klaw was defeated, the father died and his family was exiled. N'Jadaka ended up in Harlem, New York, nursing a hatred against the supervillain and T'Challa, the king who had exiled him. He changed his name to Erik Killmonger and studied at Massachusetts Institute of Technology, desperate to avenge his father's death.
He eventually contacted King T'Challa and was repatriated back to Wakanda, settling in a village that would later change its name to N'Jadaka Village in his honor. He became a subversive, with dreams of ridding Wakanda of what he termed "white colonialist" cultural influences and return it entirely to its ancient ways. He then took advantage of the Black Panther's frequent absences in America with the Avengers to stage a coup d'état, along with Baron Macabre. He was defeated and killed, until the Mandarin claimed his body. Using his rings, the Mandarin was able to amplify the Resurrection Altar and restore him to life. Killmonger returned to his lover and ally, Madam Slay and the two plotted to kill the Black Panther and return Wakanda to its ancient ways.
While Tony Stark visited Wakanda, Madam Slay drugged Jim Rhodes and took him prisoner. Killmonger appeared to have killed the Black Panther, and blamed Rhodes and Stark, convincing the Wakandans that he could lead them to vengeance. The Black Panther returned, revealing that he had faked his death using an LMD. The Black Panther defeated Killmonger. The Mandarin recalled his ring, and Killmonger reverted to an inanimate skeleton. Killmonger's followers resurrected him again and he would clash with T'Challa on several other occasions.
Other Media
Killmonger appears in the TV show Avengers: Black Panther's Quest as the main antagonist. This version of Killmonger is directly inspired by the MCU version. It's confirmed if he is T'challa's cousin but he is portrayed as Wakanda's resident combat instructor, having trained T'challa in addition to being Wakanda's ambassador to Atlantis. This however is revealed to be a ruse as Killmonger actually organized a terrorist organization called the Shadow Council, consisting of M'baku, Tiger Shark, Ulysses Klaue, princess Zanda, and Madam Masque, plotting to take over Wakanda and use their technology to conquer the world. He develops a rivalry with T'challa, attacks the Avengers and America, and manages to frame T'challa for Captain America's murder. After executing Zemo and allying with Bast, he manages to destroy Atlantis as an act of war. This causes Black Panther and queen Elaana to fight but they see past the misunderstanding and subdue Tiger Shark and Killmonger. Killmonger was taken into Atlantean custody for killing Attuma and not seen since.
Killmonger appears in the videogames Marvel: Contest of Champions, Marvel Future Fight, Lego Marvel Adventures, and Marvel Super Heroes 2.
Marvel Cinematic Universe
Main article: Erik Killmonger (Marvel Cinematic Universe)
Erik "Killmonger" Stevens appears as the main antagonist of the 2018 film Black Panther. This version is a former American black-ops soldier turned revolutionary named Erik Stevens, who earned the nickname "Killmonger". He was portrayed by Michael B. Jordan (as his first villain role in his acting career). Killmonger is set to appear in the what if series.
Powers and Abilities
Enhanced Physiology: Erik Killmonger is a tremendously huge and powerful man with the course of his many resurrections, had been resuscitated through a great many supernatural means. Routes of which had distilled in him incredible augmentations that made him all the more powerful than he already was. Later on, thanks to the intake of the Heart-Shaped Herb which put him in a coma, Killmonger now boasts enhancements that gives the Black Panther their powers. Adding to his already superhuman sense and augmented physical abilities once upon awakening. His lifting capability exceeded that of T'Challa's previous baseline (over 900lbs). Easily able to topple an adult male bull elephant with his bear hands.
Master Martial Artist: Killmonger is a highly skilled hand to hand combatant and martial artist. He is sufficiently skilled enough to best the Black Panther in physical combat on many occasions. He has also fought against other highly skilled fighters such as Daredevil and Deadpool.
Weapons Mastery: Erik is highly proficient with various types of firearms and bladed weapons.
High-level Intellect: Erik is an incredibly gifted mind rivaling that of T'Challa. Having an innate understanding of Industry, Politics, Genetics and Technical Design, he has PhD in Engineering and an MBA from M.I.T. possessing engineering abilities and intellect that makes him a peer to a great many of the greatest minds on the planet. Proving to be able to invent and create weaponry that rivals near any of the greatest minds engineering capabilities. Killmonger is also a revolutionary leader, well-known to all Wakandans, and even supported by a few. The village he grew up in has even been renamed N'jadaka Village. His radicallist charisma, his mastery of various bodies of knowledge be it social, engineering or politics, and his tactical cunning.
Equipment
Wakandan Armor: His uniform is studded with spikes that injected poisons into his opponents. He would later design even heavier set armor to match the design of T'Challa's Thrice Blessed Armor he uses when confronting stronger enemies. Which comes equipped with a polarization field able to hit metallic objects with differing magnetic polarities.
Wrist Bands: Killmonger sports a pair of Wakandan designed wristbands which are heavily weaponized with a host of unique gadgets and munitions. Containing energy blasters, buzz saws, hidden blades, and communication devices with LCD displays.
Vibrainium Panther Pendant: Erik wore this necklace as protection against energy attacks which he made in the event Klaw would attempt to double cross him.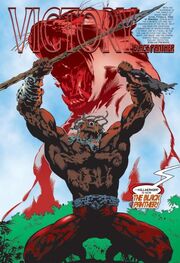 Panther Habit (formerly): During his brief time as the Black Panther and king of Wakanda. Erik Killmonger donned a habit of his own, which still utilized many of his own hand made weapons designs.
Bladed weapons: Erik has made use of different bladed weapons such as knives, machetes, swords, axes, and spears.
Guns/Firearms: Erik has used many firearms such as pistols, shotguns, assault rifles, sniper rifles, and high tech basters.

Villains
Comics
Abomination | Abominatrix | Absorbing Man | Adolf Hitler | Agony | A.I.M. | Air-Walker | Alkhema | Aleksander Lukin | Alistair Smythe | Amatsu-Mikaboshi | Amora | Anaconda | Annihilus | Ani-Men | Answer | Apocalypse | Arcade | Ares | Arnim Zola | Atlas | Attuma | Avalanche | Awesome Android | Badoon | Barracuda | Baron Blood | Baron Mordo | Baron Wolfgang von Strucker | Baron Zemo | Basilisk | Batroc | Beetle | Beyonder | Bi-Beast | Black Knight | Blackout | Black Order | Black Cat | Black Mamba | Black Talon | Black Widow | Blackie Drago | Blastaar | Blitzkrieg | Blizzard | Blob | Blood Brothers | Bombshell | Boomerang | Brothers Grimm | Brotherhood of Evil Mutants | Bulldozer | Bullseye | Burglar | Bushmaster | Bushwacker | Cache | Cannibals (Marvel Universe Vs) | Carnage | Carrion | Calypso | Celestials | Centurion | Chameleon | Chance | Chemistro | Chester Goudal | Chitauri | Collector | Colonel Ross Whittaker | Commander Kraken | Constrictor | Corruptor | Cottonmouth | Count Nefaria | Cowled Commander | Crime-Master | Crimson Dynamo | Crimson Widow | Cristu Bulat | Crossbones | Crossfire | D'Spayre | Daken | Damage | Daniel Whitehall | Dark Avengers | Dark Elves | Dark Phoenix | Deadpool | Deathbird | Deathurge | Death Adder | Destroyer | Deke Wainscroft | Destiny | Demogoblin | Diablo | Diamondback | Doctor Doom | Doctor Faustus | Doctor Octopus | Doctor Spectrum | Dormammu | Dracula | Dreadknight | Druig | Eddie Brock | Eel | Egghead | Ego the Living Planet | Electro | Elementals | Elements of Doom | Emma Frost | Enclave | Enforcers | Equinox | Erik Killmonger | Exodus | Ezekiel Stane | Fabian Cortez | Famine | Fin Fang Foom | Finn Cooley | Firelord | Fixer | Fold | Frost | Frost Giants | Frightful Four | Galactus | Gargantus | Garthan Saal | Ghost | Giganto | Goliath | Gladiator | Godzilla | Grand Director | Grandmaster | Grant Ward | Graviton | Green Goblin (Norman Osborn, Harry Osborn) | Grey Gargoyle | Grey Goblin | Griffin | Grim Reaper | Grizzly | Growing Man | Grotesk | Hammerhead | Hand | Hazmat | Hela | Hera | Herr Kleiser | Heinz Kruger | High Evolutionary | Hitman | Hive | Horsemen of Apocalypse | Hobgoblin | Hood | Hydro-Man | HYDRA | Immortus | Impossible Man | Inner Demons | Ironclad | Iron Monger | Jackal | J. Jonah Jameson | Jack O' Lantern | Jester | Jigsaw | Johnny Ohm | Jonas Hambleton | Jormungandr | Juggernaut | Justin Hammer | Kaine | Kang the Conqueror | Killer Shrike | King Cobra | Kingpin | Klaw | Knull | Korath the Pursuer | Korvac | Kraven the Hunter | Kree | Kristoff Vernard | Lady Deathstrike | The Leader | Lightmaster | Living Brain | Living Laser | Living Monolith | Lizard | Loki Laufeyson | Lucia Von Bardas | Ma Gnucci | Machinesmith | Mad Pharaoh | Mad Thinker | Madame Masque | Madame Viper | Madcap | Madelyne Pryor | Maelstrom | Maestro | Maginty | Magneto | Magus | The Maker | Malekith the Accursed | Man-Ape | Mandarin | Mandrill | Man-Spider | Man-Wolf | Master Man | Master Pandemonium | Masters of Evil | Masked Marauder | Maximus the Mad | Medusa | Melter | Menace | Mentallo | Mercurio the 4-D Man | Mesmero | Mephisto | Mister Fear | Mister Hyde | Mister Negative | Mister Payback | Mister Sinister | M.O.D.A.M. | M.O.D.O.K. | M.O.D.O.K. Superior | Mojo | Molecule Man | Mole Man | Molten Man | Monica Rappaccinni | Moonstone | Morbius the Living Vampire | Morgan le Fay | Moses Magnum | Mystique | Mysterio | Namor | Nebula | Nekra | Nicky Cavella | Nightmare | Nightshade | Niles Van Roekel | Nicky Cavella | Omega Red | Onslaught | Orka | Overdrive | Owl | Paladin | Phalanx | Phil Urich | Piledriver | Pluto | Presence | Princess Python | Proctor | Psycho-Man | Punisher | Puppet Master | Puma | Purple Man | Pyro | Quasimodo | Quicksand | Quicksilver | Radioactive Man | Ragnarok | Ramrod | Rattler | Reavers | Red Ghost | Red Skull | Reverend Samuel Smith | Rhino | Rhino II | The Rose | Ringer | Ringmaster | Riot | Rogue | Ronan the Accuser | Roxxon | Sabretooth | Sandman | Säurespritze | Sauron | Savage Land Mutates | Scarecrow | Scarlet Witch | Scorcher | Scorpion | Screaming Mimi | Sebastian Shaw | Secret Empire | Selene Gallio | Sentinels | Sentry 459 | Serpent Society | Shriek | Shocker | Shockwave | Sidewinder | Silver Sable | Silver Samurai | Sin | Sinister Six | Skaar | Skeleton Crew | Skrulls | Skurge | Slug | Space Phantom | Spider-Man Revenge Squad | Spider-Slayers | Spot | Squadron Sinister | Stranger | Street | Sunstroke | Superia | Super-Adaptoid | Super-Apes | Super Patriot | Super-Skrull | Supreme Intelligence | Superia | Surtur | Swarm | Swordsman | Symbiotes | Tarantula | Taskmaster | Technovore | Temugin | Ten Rings | Terminus | Thanos | Thorr Odinson | Thunderball | Thunderbolts | Thunderbolt Ross | Thundersword | Tiger Shark | Tinkerer | Titania | Titanium Man | Toad | Tombstone | Trapster | Trick Shot | Terrax the Tamer | Typhoid Mary | Tyrannus | U-Foes | Ulik | Ultimus | Ultron | Unicorn | Universal Church of Truth | Uranos | Vapor | Vector | Venom | Vermin | Vulture | Walrus | Warlord Krang | Whiplash | Whirlwind | White Rabbit | Will-O'-The-Wisp | Winter Soldier | Wizard | Wonder Man | Wrecker | Worthy | X-Ray | Yellow Claw | Ymir | Yon-Rogg | Zahnmörder | Zodiac | Zombie Giant-Man | Zombie Sentry | Zzzax
Movies
Ultimate Avengers 1 & 2: Herr Kleiser | Chitauri
Next Avengers: Heroes of Tomorrow: Ultron
The Avengers: Loki Laufeyson | Chitauri (The Other & Leviathans) | HYDRA (Gideon Malick & Jasper Sitwell) | Georgi Luchkov | Thanos
Avengers: Age of Ultron: Ultron | Ultron Sentinels | HYDRA (Wolfgang von Strucker, List, Scarlet Witch & Quicksilver) | Ulysses Klaue | Madame B | Chitauri (Leviathans) | Thanos
Avengers: Infinity War: Black Order (Thanos, Ebony Maw, Proxima Midnight, Corvus Glaive, Cull Obsidian, Nebula, Outriders, Chitauri & Leviathans) | Red Skull | The Collector | Loki Laufeyson | Winter Soldier | M'Baku | Scarlet Witch | Thunderbolt Ross
Avengers: Endgame: Black Order (Thanos, Ebony Maw, Proxima Midnight, Corvus Glaive, Cull Obsidian, Nebula, Outriders, Sakaaran Mercenaries, Chitauri, Leviathans & Chitauri Gorillas) | HYDRA/STRIKE (Red Skull, Alexander Pierce, Crossbones, Jasper Sitwell & Jack Rollins) | Loki Laufeyson (Variant L1130) | Winter Soldier | M'Baku | Scarlet Witch | Kraglin Obfonteri | Dark Elves | Thunderbolt Ross | Akihiko
Television
The Avengers: United They Stand
Ultron | Kang the Conqueror | Swordsman | Ringmaster | Masters of Evil (Baron Zemo, Absorbing Man, Boomerang, Moonstone, Tiger Shark & Whirlwind) | Attuma | Zodiac (Taurus & Scorpio) | Egghead | Scarlet Witch | Grim Reaper | Quicksilver | Namor | Doctor Doom | Baron Strucker | HYDRA | A.I.M. | Black Knight | The Collector
The Super Hero Squad Show
Doctor Doom | Mole Man | Fin Fang Foom | Abomination | Wrecker | Thunderball | Piledriver | Bulldozer | M.O.D.O.K | Klaw | Toad | Melter | Dormammu | Sabretooth | Juggernaut | Pyro | Whirlwind | Zzzax | Enchantress | Baron Mordo | Punisher | Egghead | Ringmaster | Skrulls (Super-Skrull) | Trapster | Mystique | Impossible Man | The Leader | Mad Thinker | Skurge | Crimson Dynamo | Batroc the Leaper | Loki Laufeyson | Magneto | Quicksilver | Scarlet Witch | HYDRA (Red Skull , Arnim Zola & Baron Wolfgang von Strucker) | Galactus | Terrax the Tamer | Firelord | Stardust | Thanos | Kree | Ego the Living Planet | Grandmaster | Annihilus | Nebula | Ronan the Accuser | Nightmare | Ultron | Dark Surfer | Sentinels | Dracula | High Evolutionary | Screaming Mimi

Avengers: Earth's Mightiest Heroes
HYDRA (Red Skull, Baron Von Strucker, Grim Reaper, Arnim Zola, Doughboy & Madame Viper) | Masters of Evil (Baron Zemo, Enchantress, Skurge, Chemistro, Abomination, Crimson Dynamo & Grey Gargoyle) | A.I.M. (M.O.D.O.K) | Kree Empire (Supreme Intelligence, Colonel Yon-Rogg & Ronan the Accuser) | Absorbing Man | Klaw | Ultron | Wrecker | Thunderball | Piledriver | Bulldozer | Red Hulk | Frost Giants (Loki Laufeyson & Ymir) | Technovore | Bi-Beast | The Leader | Whirlwind | Kang the Conqueror | Man-Ape | Malice | Mad Thinker | Mandrill | Graviton | Fenris Wolf | Lucia Von Bardas | Zzzax | Blizzard | Constrictor | Griffin | Living Laser | Whiplash | King Cobra | Magneto | Wendigo | Skrulls (Super-Skrull) | Ulik | Malekith the Accursed | Hela | Doctor Doom | Surtur | Glenn Talbot | Winter Soldier | J. Jonah Jameson | Destroyer | Annihilus | Purple Man | Galactus | Firelord | Stardust | Terrax the Tamer | Red Ghost | Super-Apes | Mandarin | Bushmaster | U-Foes (Vector, Vapor, X-Ray & Ironclad) | Crossfire | Serpent Society | Rattler | Death Adder | Anaconda | Air-Walker

Avengers Assemble
HYDRA/A.I.M. (Red Skull, M.O.D.O.K, Blood Brothers, Grim Reaper, Crossbones & Baron Wolfgang von Strucker) | J. Jonah Jameson | Doctor Doom | Ulik | Impossible Man | Dracula | Attuma | Hyperion | Wrecker | Thunderball | Piledriver | Bulldozer | Destroyer | Loki Laufeyson | Chitauri | Justin Hammer | Mojo | Galactus | Ringmaster | Black Order (Thanos) | Hela | Winter Soldier | Nighthawk | Zarda | Crimson Dynamo | Radioactive Man | Zzzax | Dormammu | Ultron | U-Foes (Vector, Vapor, X-Ray & Ironclad) | Roxxon Energy Corporation | Absorbing Man | Titania | Whirlwind | Fin Fang Foom | Maximus | Medusa | Masters of Evil/Thunderbolts (Baron Zemo, Beetle, Screaming Mimi, Moonstone, Fixer & Goliath) | Klaw | Ghost | A.I.M. (Kang the Conqueror, Whiplash & Spymaster) | Abomination | Kree Empire | Egghead | The Leader | Crimson Widow | Arnim Zola | Enchantress | Skurge | Typhoid Mary | Ares | Taskmaster | Doughboy | Ulik | Beyonder | Baron Mordo | Symbiotes | Morgan le Fey | Tiger Shark | Erik Killmonger | Princess Zanda | Man-Ape | Madame Masque | Kraven the Hunter | Vulture | Orka

Marvel Disk Wars: The Avengers
Loki Laufeyson | A.I.M. (M.O.D.O.K.) | Abomination | Baron Zemo | HYDRA (Red Skull, Crossbones) | King Cobra | Whirlwind | Tiger Shark | Whiplash | Diamondback | Crimson Dynamo | Dormammu | Sabretooth | Diablo | Graviton | Juggernaut | Lizard | Absoring Man | Wrecking Crew (Bulldozer, Piledriver, Thunderball, Wrecker) | Silver Samurai | Green Goblin (Norman Osborn) | Venom | Ultron | Cottonmouth | Doctor Octopus | Mandarin | Ronan | Fin Fang Foom | Baron Blood | Vampires | Bi-Beast | Obadiah Stane | Predator X | Mystique | Taskmaster | Blizzard

Marvel Future Avengers
Masters of Evil (Ares, Enchantress, Leader, Winter Soldier) | Loki Laufeyson | Kang the Conqueror | Maximus | HYDRA/A.I.M. (Red Skull, M.O.D.O.K., Arnim Zola) | Green Goblin (Norman Osborn) | Super-Adaptoid | Deadpool | Morgan le Fay | Klaw | Crossbones | Blizzard | Diamondback | The Hood | Ezekiel Stane

Marvel's M.O.D.O.K.
M.O.D.O.K. | A.I.M. | Monica Rappaccini | The Anomaly | Hexus | Super-Adaptoid | Austin Van Der Sleet | Mister Sinister | Madame Masque | Whirlwind | Mandrill | The Leader | Arcade | Fin Fang Foom | The Brood | Frost Giants

What If...?
Infinity Ultron | Yellowjacket | Loki Laufeyson | The Destroyer | Brock Rumlow | Jack Rollins | Thunderbolt Ross | Whiplash | Arnim Zola | Prince Killmonger | Strange Supreme | Georges Batroc | Ego | Zombies (Scarlet Witch)
Video Games
Captain America and The Avengers: Red Skull | Crossbones | Klaw | Living Laser | Whirlwind | Sentinel | Wizard | Grim Reaper | Mandarin | Juggernaut | Ultron
Avengers in Galactic Storm: Kree (Ronan, Korath & Supreme Intelligence)
Marvel Avengers: Battle for Earth: Skrulls (Queen Veranke & Super-Skrull) | Loki Laufeyson | Dark Phoenix | Venom (Eddie Brock) | Magneto | Ared | Norman Osborn
Marvel Disk Wars: The Avengers - Ultimate Heroes: Red Skull | Loki Laufeyson | Baron Zemo | A.I.M. (M.O.D.O.K.) | Abomination | Graviton | Tiger Shark | Green Goblin (Norman Osborn | Crimson Dynamo | Whirlwind | Whiplash | Crossbones | Doctor Octopus | Serpent Society (King Cobra, Cottonmouth & Death Adder) | Wrecking Crew (Bulldozer, Piledriver, Thunderball & Wrecker) | Baron Mordo | Grey Gargoyle | Griffin | Fixer | Amora the Enchantress | Skurge the Exceutioner | Carnage | Klaw | Nightmare | Quicksilver | Scarlet Witch | Destroyer | Venom | Sandman | Winter Soldier | Super-Adaptoid | Taskmaster | Thanos | Rhino | Lizard | Absorbing Man | Deadpool
LEGO Marvel's Avengers: Loki Laufeyson | Malekith the Accursed | Kurse | Various Villains
Marvel's Avengers: M.O.D.O.K. | Monica Rappaccinni | Abomination | Taskmaster | Super-Adaptoid | Lyle Getz | Maestro | Klaw | Crossbones
See Also
Avengers Academy Villains | Marvel Avengers Alliance Villains | Young Avengers Villains