We're Getting Mutants in the MCU - The Loop
Play Sound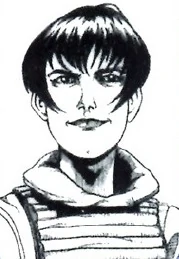 Erisi Dlarit was a human female of the Star Wars Legends continuity introduced in the novel Rogue Squadron.
A native of Thyferra, Erisi's family were leading members of the pro-Imperial Xucphra Corporation. Recruited by Ysanne Isard, Erisi infiltrated the New Republic military, and was selected by Wedge Antilles to join the reconstituted Rogue Squadron.
During her time in the squadron she developed romantic feelings for fellow Rouge pilot Corran Horn. While attracted to her Horn came to feel that their backgrounds and beliefs were too different to make them compatible.
As the New Republic began taking concrete steps towards taking the galactic capital world of Coruscant, Erisi provided as much information as she could to Isard. She tried to have fellow Thyferran Bror Jace captured by the Empire due to his affiliation with rival corporation Zaltin.
Learning that Horn was distrustful of squadron XO Tycho Clechu due to his capture by the Empire and possible brainwashing by Isard, Erisi did what she could to further fuel Horn's suspicions, feeling it would direct attention away from herself. Helping him check out his Z-95 Headhunter, Erisi sent the fighter's command codes to Isard, allowing Isard to capture and imprison him for the next six weeks before he escaped.
Erisi made it appear that Tycho had sent the codes to Isard. This caused Tycho to be arrested by New Republic Intelligence. Even though they knew Tycho was innocent of the crimes he was accused of, they knew there was still an Imperial spy in Rogue Squadron, and used the trial in the hopes the spy would trip up and be exposed.
With Isard's Krytos virus ravaging the non humans residing on Coruscant, Erisi pubically claimed that she was working with her family to ensure as much bacta as possible was provided to Coruscant, but worked with her family and the Imperials to reduce bacta supplies on Coruscant, making the virus outbreak that much worse. She leaked the existence of a convoy of freighters to Warlord Zsinj, who used his Star Dreadnought Iron Fist to destroy the convoy in the Alderaan system. This was to destroy a large quantity of bacta, and to kill Horn's love interest Mirax Terrik, who had been in the convoy. (Fortunately Mirax was not present due to her participation in a New Republic Intelligence operation).
After Erisi was exposed by Corran Horn and General Airen Cracken Erisi returned to Isard on her Star Dreadnought Lusankya. After Isard helped Xucphra overthrow the existing government and install her as their new leader, Erisi took up command of the Thyferran Home Defense Corps Elite TIE fighter squadron. She participated in the slaughter of the colonists at Halanit for accepting bacta from Rogue Squadron - who had all resigned from the New Republic military to pursue her and Isard.
Erisi participated in the Battle of Thyferra, where she faced off against her former Rouge Squadron squadmates. After destroying Nawara Ven's X-Wing, Erisi engaged Corran Horn in combat. Horn soon was able to inflict critical damage on her TIE Interceptor, causing it to crash into the surface of Thyferra's largest moon, killing her.
Witnessing the crash Horn remarked that it was nothing spectacular, and that Erisi would've hated how she died. After Horn's astromech Whistler said he didn't care what Erisi would have wanted, Horn agreed and set off in pursuit of Isard.