Eve Teschmacher is a supporting antagonist from the Superman film series, appearing in the first two Superman films. She is the girlfriend and assistant of Lex Luthor. Despite this, she has feelings for Superman, and later saves him from drowning after Luthor outsmarts him with kryptonite.
She was portrayed by Valerie Perrine.
History
Superman
In Superman, Eve worked with Lex during his scheme to use two nuclear missiles in order to destroy much of western California in order to create valuable real estate on the east side of the San Andreas Fault. However, Luthor had the second one programmed to head toward the town where Eve's mother lived. Fearing for her mother's life, Eve rescued Superman from drowning when he had Kryptonite on a chain wrapped around his neck, with the promise that he would rescue her mother first. Prior to his departure from Luthor's underground hideout, Eve gave Superman a kiss.
Superman II
In Superman II, Eve helped Luthor escape prison by rescuing him in a hot air balloon. Eve then flew the hot air balloon to the Fortress of Solitude, where Lex learns of Zod, Ursa, and Non, three Kryptonian criminals trapped in the Phantom Zone that, should they be freed from it, would have the same level of powers that Superman has.
In other media
Arrowverse
Main article: Eve Teschmacher (Supergirl)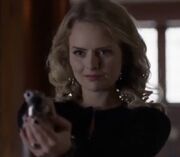 Eve appears as a supporting antagonist in Supergirl. Initially acting as the neutral and occasionally heroic assistant to Cat Grant and later Lena Luthor, it is eventually revealed that she been working for Lex Luthor the entire time as his spy and helper. Eve has also appeared in The Flash. She is portrayed by Andrea Brooks.
Gallery
Trivia
Eve was the partial inspiration for Tess Mercer.
Eve could be considered a Punch Clock Villain, as she willingly and happily assists Lex in his schemes, but isn't entirely evil on her own and is even willing to do the right thing when needed.
See Also
Community content is available under
CC-BY-SA
unless otherwise noted.