We're Getting Mutants in the MCU - The Loop
Play Sound
| | | |
| --- | --- | --- |
| " | You're not gonna get away with this, whippy-dip! You can't keep an evil clone down! I'll be back! | " |
| | ~ Evil Jimmy vowing his revenge on Jimmy. | |
Evil Jimmy Neutron, better known as Evil Jimmy, is the main antagonist of "Send in the Clones" and "The Trouble with Clones".
He is one of Jimmy's clones.
He was voiced by Rob Paulsen.
Biography
Send in the Clones
Jimmy wants to get into space for ice crystal's for getting a freeze ray but before he can head into space his mother Judy Neutron forbids him from doing so reminding him of his chores. Not wanting to do his chores Jimmy with advice from Goddard, he heads back into the lab cloning himself and manages to spawn six clones with Evil Jimmy being the last of them to emerge from the machine he gives them a list of chores to do and instructs them to do so as he leaves for outer space to collect the ice crystals but the clones cause trouble around town, including evil Jimmy who throws a pie into a person's face. All of these events cause his friends and family to get angry and for Jimmy to take the blame.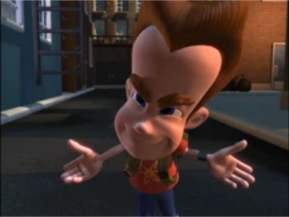 Jimmy with the help of Goddard manages to locate his clones with Evil Jimmy missing but manages to locate him as he is switching bathroom signs for his amusement, Jimmy then confronts him and states he is coming back to the lab to be de-cloned but Evil Jimmy refuses to do so and throws a trash can to distract them as Evil Jimmy hides and changes his hairstyle to be just like Jimmy confusing the other clones forcing Jimmy to sacrifice his ice crystals to freeze the clones but Evil Jimmy escapes this predicament. While Jimmy has his back turned, Evil Jimmy steals his jet pack, taunting the original before he flies away.
All the people that the clones crossed paths with confront Jimmy on his misdeeds but after four hours of explaining his situation they forgive him but get angry at him when evil Jimmy appears and exposes him forcing Jimmy to run from the mob as evil Jimmy gets away with his actions.
The Trouble with Clones
He later makes prank calls all over the Earth after hijacking the communication satellite. Jimmy, wanting to beat Leonardo Da Vinci's record, seeks out Evil Jimmy as he is making prank calls. Jimmy confronts him stating it has been awhile and states that evil Jimmy is up to nothing good to which Evil Jimmy tells him he guessed correctly and Evil Jimmy asked if being wimpy dip has worked out for him, Jimmy states he has come to offer him a choice, surrender and be de-evilized or be put on ice, but Evil Jimmy refuses to do so stating he won't be frozen like the other clones were and leaves and Jimmy gives a chase by bumping into his rocket and sarcastically complementing his bike flattering him, he continues to go as Jimmy attempts to reason with him stating that if he is de-evilized he will be able to live a fulfilling life but Evil Jimmy refuses to do so stating his life is already fulfilled and as such activates his blaster on his bike to kill Jimmy but Jimmy counteracts the lasers with a megaphone that creates a sonic boom knocking evil Jimmy off his bike before muttering to himself how much he hates Jimmy.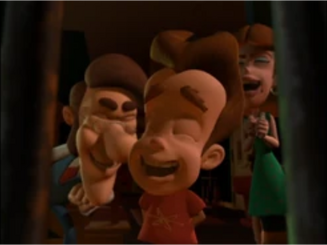 Jimmy places him in handcuffs and takes him back to his lab, where Jimmy states as soon he is de-evilized he can start standing in for him, Evil Jimmy attempts to talk his way out of it but Jimmy states that being de-evilized wont hurt him a bit, he then comments on his inventions stating he has not made any new ones, Jimmy then demonstrates a camera that clones objects when he takes a picture of it, while Jimmy back is turned Evil Jimmy cuts the de-evilizer chemical pipe not wanting to be de-evilized thus draining it, Evil Jimmy then gets into the machine and Jimmy activates it not knowing that Evil Jimmy cut the de-evlilization pipe.
Evil Jimmy emerges from the machine pretending that he has redeemed himself tricking Jimmy into thinking that he is de-evilized, Jimmy asks his clone how he feels he responds that Jimmy was right in wanting to de-evilized his clone and Jimmy frees him, Evil Jimmy "thanks" Jimmy and leaves his lab stating he can get to work on his inventions before posing as the real Jimmy and secretly stealing the Hypno-beam.
Outside he hypnotizes Hugh into eating dirt and Judy into thinking she is lawn sprinkler, Evil Jimmy leaves stating he's going to have some fun. Later he causes havoc around Retroville and crosses paths with Sheen and Carl where he hyponises the two into thing they are female backup dancers amusing Cindy and Libby who are impressed but Evil Jimmy also hyponises them into thinking they are marines and orders them to do pushups, Jimmy checks on evil Jimmy through his computer and realizes that Evil Jimmy is still evil and Jimmy turns his back and realizes that Evil Jimmy sabotaged the de-evilization chemical thus realizes the Evil Jimmy was pretending to be good to fool Jimmy.
Having to set things right, Jimmy de-hypnotizes his parents and his friends and asks Carl and Sheen whereabouts of Evil Jimmy to which Carl informs Jimmy that Evil Jimmy is heading to the lab where he captures Goddard, Jimmy confronts him and tells him to stay away but Evil Jimmy steals the duplicator and leaves the lab but not before sabotaging Jimmy's rocket when he attempts to follow him.
Later as Jimmy repairs his rocket, Hugh informs him about a new planet that's in the sky, using Goddard's telescope he realizes that Evil Jimmy has used the duplicator to clone Earth and realizes everything is fading away in Earth's atmosphere, Jimmy heads towards the evil Earth and attempts to find his evil clone upon arriving to evil Retroville he realizes everyone is just as evil and psychopathic as evil Jimmy is, Jimmy attempts to blend in pretend to be evil he threatens evil Sam on where evil Jimmy's whereabouts are he states he was heading to school, Jimmy attempts to find his clone there only to be confronted by Evil Carl who is the school bully and Evil Sheen who roughly the same, Evil Carl forces Jimmy into class where Evil Cindy and Evil Libby give a presentation Jimmy then escapes the school as evil Ms. Fowl sends the kids to capture Jimmy.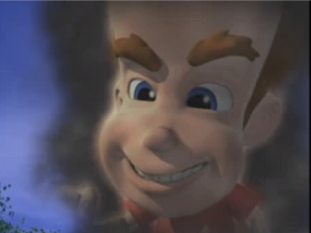 Jimmy runs to his house thinking that his Evil Parents will hide him but as he arrives at his house he realizes his parents are just as evil as well with Evil Hugh and Evil Judy capturing Jimmy for experimentation under orders from Evil Jimmy in a cage, Evil Jimmy appears and sarcastically tells him that is was nice of him to drop by and notices that he met his evil parents as they laugh evilly at Jimmy.
Evil Jimmy then takes Jimmy to his lab where he asks Jimmy what he thinks of his world Jimmy responds it is sick and twisted before asking how he duplicated the Earth and made it evil, Evil Jimmy then responds that he used a dark matter power chip, Jimmy then begs Evil Jimmy not to go through with it stating that if he does the planet will be sucked into oblivion but Evil Jimmy ignores his pleas and states he only has a minute left, with quick thinking Jimmy distracts Evil Goddard as he shrinks himself to free himself from his handcuffs and attempts to disguise as Evil Jimmy where Evil Goddard knocks Evil Jimmy out as Jimmy reverses the duplication process as such the regular Earth returns to normal as the evil Earth begins to fade.
Evil Jimmy tells Jimmy not to be proud of himself as he has a trick up his sleeve by revealing the dark matter power chip, Jimmy tells him not to do it stating that the planet will be trapped into the dark matter dimension but Evil Jimmy breaks it in half stating that Jimmy will be trapped with the evil Earth but Jimmy manages to escape with his rocket back to Earth. Evil Jimmy appears in a dark cloud stating Jimmy will not get away and states he will be back for revenge before laughing. But he never did. It is currently unknown what happened to Evil Jimmy afterwards, however is he most likely remained stuck in the dark matter dimension forever.
Gallery
Quotes
"
Evil Jimmy: "Hey buddy, you wanna pie?"
Man: "Yeah."
(Evil Jimmy throws a pie at the Man's face and laughs)
Evil Jimmy: "You can't beat the classics!"
Man: "Mmmm, I'll say."
"
~ Evil Jimmy throws a pie at a guy's face as one of the oldest cartoon gags.
Trivia
Had the series continued, there would've been an episode where Evil Jimmy and his class would escape from the dark matter dimension and attack Jimmy and his class, who were on a field trip to an asteroid.
Evil Jimmy's voice is a take on Jack Nicholson.
Evil Jimmy is one of few villains to not appear in "The League of Villains", most likely due to the fact he remains trapped in the dark matter dimension.