We're Getting Mutants in the MCU - The Loop
Play Sound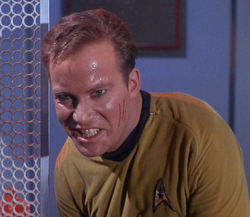 | | | |
| --- | --- | --- |
| " | I'm Captain Kirk! I'M CAPTAIN KIRK!!! | " |
| | ~ Evil Kirk | |
Evil Kirk is a one-shot villain from the Star Trek: The Original Series episode "The Enemy Within". He was a duplicate of Captain James T. Kirk that was created from a transporter malfunction. He is not related to the Mirror Universe version of Kirk.
Just like his good counterpart, he was portrayed by William Shatner. Shatner also provided the voice for Two-Face in Batman vs Two-Face.
Biography
While orbiting the planet Alfa 177, the USS Enterprise beams up a technician who has some magnetic ore on his clothing; this causes the transporter to malfunction, and when it beams up Kirk, he is split into two beings, one "good" and one "evil."
Evil Kirk spends much of the episode running amok on the Enterprise while his good aligned counterpart's crew believes that he is the real Kirk, attacking crewmen and even attempting to sexually assault Yeoman Janice Rand in her quarters. Meanwhile, the "good" Kirk finds it harder to make decisions, and it becomes clear that the two halves of Kirk will not survive unless they are brought back together. On top of this, Lieutenant Hikaru Sulu and the landing party are in danger of freezing to death on Alfa 177 if the transporter isn't fixed in time.
After a cat-and-mouse game, Evil Kirk is prevented from killing Good Kirk by Commander Spock executing a Vulcan nerve pinch on him, and he was tied to a medical bed in Sickbay. There, Good Kirk talked to Evil Kirk, and released him so that they could both go to the transporter. However, Evil Kirk overpowered Good Kirk and, posing as his "good" self, attempted to take control of the Enterprise and abandon the landing party lying that they can't be saved from freezing to death. Unfortunately for him, Good Kirk appeared on the bridge with Spock and Dr. Leonard McCoy, causing Evil Kirk to unsuccessfully convince the crew that he was the good one before he reacted violently, only to slowly burst into tears and beg to be reunited with his other half. The two Kirk halves got into the newly-repaired transporter and were successfully put back together.
Quotes
| | | |
| --- | --- | --- |
| " | 'Jim' will do here, Janice. | " |
| | ~ Evil Kirk, to Yeoman Rand | |
| | | |
| --- | --- | --- |
| " | You're too beautiful to ignore. Too much woman. We've both been pretending too long. [...] Stop pretending. Let's stop pretending. Come here, Janice. Don't fight me. Don't fight me, Janice. | " |
| | ~ Evil Kirk, attempting to rape Rand | |
| | | |
| --- | --- | --- |
| " | I don't need you. | " |
| | ~ Evil Kirk, to Good Kirk | |
| | | |
| --- | --- | --- |
| " | I'm the captain! Don't you understand?! I'm captain of the ship! I'M THE CAPTAIN! THIS IS MY SHIP!! MY SHIP!! IT'S MINE!!! | " |
| | ~ Evil Kirk freaking out on the bridge after Good Kirk appears. | |
| | | |
| --- | --- | --- |
| " | I'll kill you! | " |
| | ~ Evil Kirk to Good Kirk when he approaches him on the bridge. | |
| | | |
| --- | --- | --- |
| " | Please, I don't want to. Don't make me. Don't make me. [...] I don't wanna go back. Please! I wanna live! [...] I wanna live! | " |
| | ~ Evil Kirk breaking down. | |

Villains
Movies
Star Trek: The Motion Picture: V'Ger: Klingons ( Barak )
Star Trek II: The Wrath of Khan: Augments (Khan & Joachim)
Star Trek III: The Search for Spock: Klingons (Kruge, Torg, Maltz) | Valkris
Star Trek IV: The Voyage Home: Whale Probe | Kamarag
Star Trek V: The Final Frontier: The One | Klingons (Klaa & Vixis) | Sybok
Star Trek VI: The Undiscovered Country: Khitomer Conspiracy (General Chang, Nanclus, Valeris, Admiral Cartwright, Patrick West, Harlan Burke, Thomas Samno)
Star Trek Generations: Tolian Soran | Klingons (Lursa & B'Etor)
Star Trek: First Contact: The Borg (Borg Queen)
Star Trek: Insurrection: Son'a (Ahdar Ru'afo & Gallatin) | Matthew Dougherty
Star Trek: Nemesis: Remans (Shinzon, Viceroy, Tal'aura, Suran & Donatra)
Star Trek (2009): Romulans (Nero & Ayel)
Star Trek Into Darkness: Khan | Alexander Marcus
Star Trek Beyond: Krall | Manas | Kalara
Television
Adam Soong | Ah-Kel | Alixus | Anan 7 | Apollo | Arctus Baran | Ardra | Arik Soong | Armus | Arne Darvin | Arthur Coleman | Augris | Automated Unit 3947 | Khan | Ba'ul | Balok | Banean Doctor | Barjan T'Or | Basso Tromac | Ben Finney | Benjamin Maxwell | Beta XII-A entity | Bok | The Borg | Bothan | Bractor | Broca | Brunt | Cardassian Union (Dukat, Damar & Cardassians) | Charlie Evans | Chu'lak | Claudius Marcus | Clown | Colonel Grat | Colonel Phillip Green | Crell Moset | Crystalline Entity | Culluh | Cyrus Redblock | D'Ghor | D'Nesh | Damrus | Danby Connor (MU) | Devinoni Ral | Denevan parasites | Dereth | Dexter Remmick | Doctor Chaotica | Dolim | Dr. Janice Lester | Dular Garos | Duras | Ekosian SS (Melakon) | Elim Garak (Mirror Universe) | Ellen Landry | Equinox EMH | Erik Pressman | Evil Kirk | Fallit Kot | Gabriel Lorca (MU) | Garth of Izar | Gary Mitchell | Gorgan | Gorn | Female Changeling | Gowron | Grebnedlog | Hagath | Harry Mudd | Henoch | Hikaru Sulu (MU) | Hoshi Sato (Mirror Universe) | House of Duras | Ibudan | Ilon Tandro | Imperial Starfleet | Ira Graves | J'Dan | Jabin | James Leyton | James T. Kirk | Jaro Essa | Jem'Hadar | Jev | John Frederick Paxton | John Gill | Jonathan Archer (Mirror Universe) | Jor Brel | Joran Dax | Julian Bashir (Changeling) | J'Vini | Karnas | Kathryn Janeway (Kyrian Recreation) | Kar Kantar | Kazon | Kell | Kennelly | Keyla | Kieran MacDuff | Kila Marr | Kira Nerys (Mirror Universe) | Kivas Fajo | Kodos the Executioner | Kol | Kol-Sha | Koloth | Konmel | Kor | Korok | Korris | Kras | Krax | Kunivas | Kyril Finn | L'Rell | Landru | Lazarus | Leland | Lenore Karidian | Letek | Locutus | Locutus | Lon Suder | Lore | Lurin | Lutan | Luther Sloan | M-113 Creature | Maab | Madred | Malcolm Reed (MU) | Malon | Maras | Marla McGivers | Martok (Changeling) | Martus Mazur | Matthew Harris | Matthew Ryan | Maxwell Burke | Mazarites | Menos | Michael Eddington | Michael Jonas | Miles O'Brien (Changeling) | Morag (Klingon) | Na'kuhl | Nagilum | Navaar | Neela | Neral | Neural Parasites | Nomad | Norah Satie | Nyota Uhura | Oracle of the People | Patar | Paul Stamets (MU) | Pavel Chekov (Mirror) | Pe'Nar Makull | Philippa Georgiou (MU) | Professor Moriarty | Q | Rao Vantika | Razik | Redjac | Regent of Palamar | Dr. Roger Korby | Rojan | Romulan Commander (Balance of Terror) | Ron Tracey | Rota Sevrin | Rudolph Ransom | Ruon Tarka | Sabin Genestra | Sela | Seska | Seven of Nine (KR) | Sharat | Shran | Silaran Prin | Silik | Sobi | Spawnmother (2364) | Sphere-Builders | Spock (Mirror Universe) | Sulan | Surata IV Vine | Sylvia Tilly | Sylvia (Ornithoid) | T'Kuvma | T'Paal | Tahna Los | Talosian Keeper | Talosians | Tarah | Tarr | Tedran | Terra Prime | The Albino | The Doctor (Kyrian Recreation) | Thot Gor | Thot Pran | Tomalak | Toral | Toran | Trabe | Traeg | Travis Mayweather (MU) | Trekal Darhe'el | Trelane | Tret | Tristan Adams | Ulis | Ux-Mal Entity | V'Las | V'latak | Vaal | Vaatrik Pallra | Valdore | Verad Kalon | Ves Alkar | Voq | Wesley Crusher | Weyoun | William Ross | Winn Adami | Worf (Mirror Universe) | Yuta | Zorn
Comic Books
Alfred Bleikoff | Enab
Novels
B'orel | Darok | Dralath | Dovraku | Kazanak | Korak | Krit | Lokog | Mettus | Romulan Praetor (2280s) | Spawnmother (2376) | Tron | True Sons of Antar | Valak | Zakal