The Evil Power Ranger's got their start at Rita's Palace. Rita had a Mirage Monster made of mirrors and 4 putties turned into the Evil Rangers. Once on earth they assumed human form and framed the teens so they would be in detention for the next part of their plan.
They assumed Ranger form and began causing trouble in town. The Evil Power Rangers had their own generic versions of the Power Weapons. They also working along with Scorpina. The teens seen the report on the news and used a fake "magic trick" to sneak out. The rangers fought a confusing battle as some of the rangers got mixed up Good for Bad.
They soon learned that one hit from the Ranger's Power Weapons would revert them back to their true form. The Putties were then all revealed, eventually Twin Man was too. He started fighting using a sword that could be used for Laser Whip attacks, as well as charge up a powerful Kaleidoscope lens-like Blast.
The rangers, to get free of the monster's weapon used the Tower Formation Using their side arms combined. This knocked the sword from Twin Man's Hand. He was then destroyed by the Power Blaster.
Gallery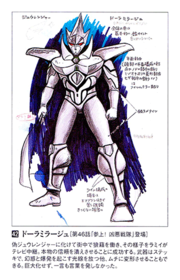 Trivia
The Putties were known as Golems in Zyuranger.
Community content is available under
CC-BY-SA
unless otherwise noted.