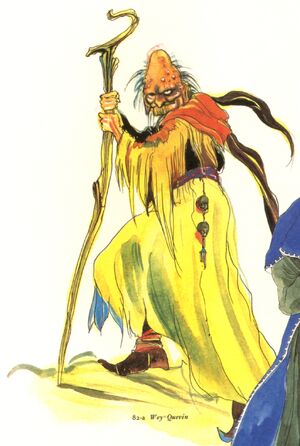 Ewei is a villain from Romancing SaGa, acting as the antagonist in the Isle of Evil quest.
Story
Ewei is a mad scientist who lives in reclusion in the eponymous Isle of Evil, where he makes experiments to search for immortality. He has placed the entire island under a spell which casts a thunderstorm around the place, preventing anyone to approach it, but every 50 years he dispels the storm, kidnapping anyone unfortunate enough to arrive in the place and using them in his experiments. He's infused himself with monster cells to prolong his life, and also keeps the Emerald Fatestone.
50 years prior to the game, he captures the crew of a ship for his experiments, but one of them manages to escape the place. During the course of the game the party will meet the man in Yeoville, where he asks to be taken to the island again so he can learn what happened to his friends. When confronted, Ewei shows the results of his research, having found a way to achieve immortality which he applied to the ship's crew. However, the experiment also put them in a perpetual state of deep slumber, which Ewei says will only end if they're killed. When asked about the Emerald Fatestone he refuses to give it up, as he claims it is essential for his research.
In the original version of the game Ewei would merely run away with the Fatestone, which couldn't be obtained. On the PS2 remake however he can be fought as a boss, leaving the Fatestone after being defeated but still escaping.
Community content is available under
CC-BY-SA
unless otherwise noted.