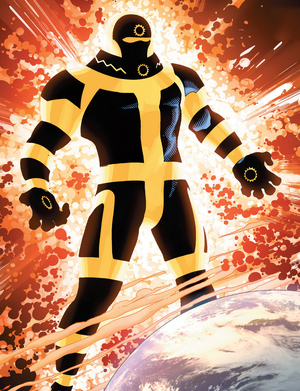 Exitar the Exterminator is a powerful and ancient cosmic entity within the landscape of Marvel comics, a member of the godlike race known as the Celestials and their appointed executioner of worlds and races deemed "failures" to the Celestials.
Exitar is thus one of the most fearsome, dreadful and dangerous of the many Celestials - though he is not, despite his great destructive might, fully malevolent.. much like Galactus and his fellow Celestials he is performing a cosmic duty, though it can be seen as immoral to mortal beings, since to a cosmic entity such as Exitar the genocide of entire species is completely justified.
Exitar bares to malice to those he is summoned to destroy, nor does he mourn their passing - to Exitar it is all part of a cosmic duty and thus his arrival is usually a sign of the "end days" for whatever unfortunate world the Celestials have judged "impure".
History
Exitar is the enforcer of Arishem the Judge's verdict on the fate of worlds and species that have undergone manipulation at the Celestials' hands over the course of many years, if Arishem deems a world or species to be corrupted or unworthy of further experimentation he summons Exitar, who proceeds to destroy any and all traces of the "failed" species or world.
Abilities
Exitar has vast cosmic powers, even by the standards of Celestials and is known for his immense size - being 20,000 ft tall (while most other Celestials are around 2000 ft) - he was shown to have an entire alien ecosystem (including planeoids and life) inside his cosmic armor and it took Thor using one of his most powerful attacks ever seen (a "god blast") to even harm the Celestial.

Villains
Community content is available under
CC-BY-SA
unless otherwise noted.