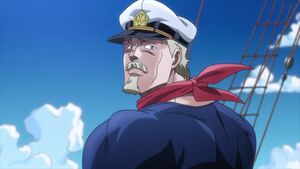 The Fake Captain Tennille is a minor villain from the third arc of JoJo's Bizarre Adventure, Stardust Crusaders.
Story
One of the mercenaries hired by Dio Brando to kill Jotaro and his group, he kills the real Captain Tennille, who had been hired by the Speedwagon Foundation to take the group by boat to Singapore. He then disguises himself as the captain and take his role on the boat, intending to kill the group one by one. His stand, Dark Blue Moon, first attacks when Jotaro jumps on the sea to rescue a stowaway girl who attempted to run away when discovered. Once they escape back to the boat, Jotaro gets suspicious of the crew and lits a cigarette. As the captain scolds him, he tells he can identify stand users by a vein which appears on one's nose when inhaling cigar smoke. This was obviously a trick, which the impostor falls into by putting his hand on the nose.
Having been unmasked, he stops playing dumb and reveals himself, taking the girl hostage and jumping into the sea to attract Jotaro. Jotaro easily punches him before he falls and saves the girl, but barnacles start growing over his stand's arm, draining his health and forcing him to fall into the sea. Once there, the impostor uses his powers to create a whirlpool and shoot razor-sharp scales, while the barnacles continue growing over Jotaro. However, Jotaro concentrates all his power on his stand's finger, which breaks the barnacles and slices Dark Blue Moon's face. Before the fake captain drowns, he activates various explosives on the boat, forcing the crew to escape on the lifesaver boats.
Powers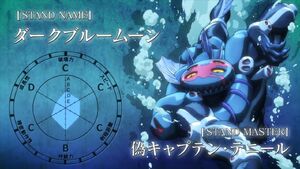 The fake captain's stand, Dark Blue Moon, appears as a humanoid with a merman appearance. True to it's motif, all his powers are water/sea related, such as incredible swimming speed, razor-sharp scales which it can shoot, and control over barnacles. The impostor has also improved pulmonary capabilities, being able to hold his breath for about six minutes.
Gallery