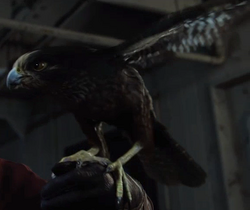 | | | |
| --- | --- | --- |
| " | That's right, that's right. Come to Daddy, come to Daddy!! | " |
| | ~ Sakharine seeing the Falcon stealing all three scrolls. | |
The Falcon is a supporting antagonist of the 2011 film The Adventures of Tintin: The Secret of the Unicorn. He is an unnamed peregrine falcon who serves as the loyal pet to Ivan Ivanovitch Sakharine.
Biography
The Falcon was first seen fed by Sakharine when he told the Karaboudjan crew (mostly Allan, Tom & Pedro) to capture Captain Archibald Haddock and Tintin. Unlike the crewmembers (who are treated harshly), the Falcon is treated well by Sakharine. As it turns out, Tintin is working on the story of Sir Francis Haddock (the grandfather of Captain Haddock), whose treasure is about to be located through three scrolls, and that Sakharine intends to steal it and kill Haddock in revenge for the death of his ancestor Red Rackham.
After reaching Bagghar, Sakharine arranged for the Falcon to successfully steal all three scrolls. However, Tintin was able to catch the falcon throughout the streets of Bagghar, but this resorted an angry Sakharine to hold Haddock and Tintin's dog Snowy hostage. Sakharine then orders Tintin to let the falcon go, otherwise he would send Haddock and Snowy to their "watery graves". Tintin obliged, and the falcon delivered the scrolls to Sakharine as ordered.
It is unknown what happened to the Falcon after Sakharine and his thugs were arrested.
Villains
Movies
Truck Driver | Great White Shark | René Belloq | Nazi Party (Major Arnold Ernst Toht, Herman Dietrich, Gobler, German Mechanic & Otto) | Satipo | Barranca | Keys | Reverend Henry Kane | (Poltergeists (Tree, Clown Doll & Gremlin) | Mola Ram | Thuggee (Chief Guard & Chattar Lal) | Lao Che | Mama Fratelli | Warren T. Rat | Mott Street Maulers (Digit) | Moe | Sharptooth | Judge Doom | Toon Patrol (Smartass, Greasy, Psycho, Wheezy & Stupid) | Walter Donovan | Nazi Party (Elsa Schneider, Ernst Vogel & Adolf Hitler) | Panama Hat | Garth | James Hook | Mr. Smee | Cat R. Waul | Cactus Cat Gang (T.R. Chula, One Eye & Sweet William) | John Hammond | Dennis Nedry | Ed Regis | Lewis Dodgson | Amon Goeth | Peter Ludlow | Dieter Stark | Steamboat Willie | Don Rafael Montero | Harrison Love | Lamar Burgess | Martians | Count Armand | Jacob McGivens | Hatsumomo | Irina Spalko | Antonin Dovchenko | Colonel Nelec | Cooper | Ivan Ivanovitch Sakharine | Allan | Tom | Pedro | Falcon | Aristides Silk | Red Rackham | Fleshlumpeater | Giants (Bloodbottler & Bonecruncher) | Nolan Sorrento | Innovative Online Industries (I-R0k, F'Nale Zandor & Sixers)
Community content is available under
CC-BY-SA
unless otherwise noted.