She-Hulk Trailer Dropped - The Loop
Play Sound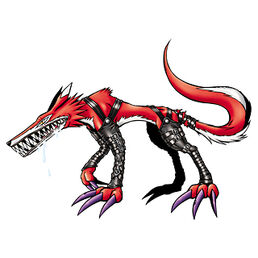 Fangmon is a wolf-like Digimon and minor antagonists who worked for Cerberumon as a group in the anime reboot of Digimon Adventure. It tried to destroy its boss with the Chosen Ones.
It was voiced by Mitsuki Nakamura for Digimon Ghost Game in the Japanese dubbed version.
Appearance
Fangmon is a Champion Level Digimon, which is fast like the Earth wolf. It lives deep in the heart of the forest, and preys upon those who lose their way. It is said that it is definitely the data of the Big Bad Wolf that appears within many fairy-tales that became a Digimon, and once it sets its sights on a prey, they will never escape, as it sometimes goes so far as to disguise itself as someone dear to its prey in order to get closer.
Biography
Digimon Adventure:
When Takeru and Patamon got rid of the other Chosen Ones, they encountered one Fangmon who tried to kill them. But at that moment Taichi and Sora came to the scene with their Digimon partners and Komodomon and rescued them from it, but it started chasing Komodomon and destroying them all. Taichi and Sora fought it with their Digimon partners when Patamon was in poor shape and they managed to defeat it. But later it returned again with its boss, Cerberumon, and they fought together against them. The battle was fierce, but when Patamon evolved into Pegasusmon, he managed to destroy it, and after that he also destroyed Cerberumon as well.
Digimon Ghost Game
Powers and Abilities
Attacks
Gallery
Trivia