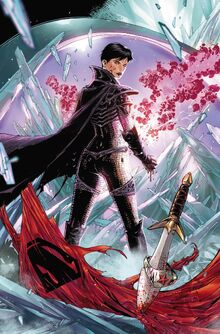 Faora Hu-Ul was a Phantom Zone villain introduced in Action Comics #471. She was a beautiful Kryptonian woman whose unexplained hatred for men led her to torture and kill 23 men at a secret concentration camp in her home. Faora served under Major Zod during the war against Black Zero.
In Other Media
Animation
Faora appears in a Looney Tunes episode that parodies Superman. She is depicted as the long-suffering girlfriend to Genral Zod (played by Daffy Duck). Superman (played by Bugs Bunny) manages to turn her against Zod by pointing out how bad a boyfriend he is.
Gallery
Community content is available under
CC-BY-SA
unless otherwise noted.