| | | |
| --- | --- | --- |
| " | THAT'S RIGHT! With the Fazbear Funtime Service, you'll never be alone again! It's guaranteed with our exclusive animatronics, you'll always have someone watching your back! They'll provide you with hours of fun, fun fun, entertainment and companionship! You can't hide from a future of fun! Our special delivery will make you jump with excitement! Subscribe today, don't miss the opportunity! And remember, we're always watching you! | " |
| | ~ The spokesperson in the trailer for FNaF AR: Special Delivery. | |
The Fazbear Funtime Service is the central antagonistic faction of Five Nights at Freddy's AR: Special Delivery. It is an animatronic rental company controlled by Fazbear Entertainment.
Biography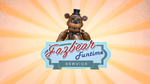 The Fazbear Funtime Service was created by Fazbear Entertainment so they can send animatronics to people's houses, so they can entertain them.
At first, the service had eight animatronics: Freddy Fazbear, Bonnie the Bunny, Chica the Chicken, Foxy the Pirate, Bare Endo, Balloon Boy, and Circus Baby. However, at one point, an unknown Bonnie model (Most likely Springtrap) was added to the service. Meanwhile, a virus appeared. Beacuse of the virus, the animatronics instead try to kill the employees.
Throughout the holidays, special costumes for characters and other animatronics were added, removed, and readded. One of their employees, Vanessa A, hacked all the animatronics in the Service and possibly even got some employees killed before transfering to Freddy Fazbear's Mega PizzaPlex.
Notable Members
Anna Kwemto (Project Manager)
Luis Cabrera (IT)
Mark Cho
Raha Salib
Vanessa A. (formerly)
Daniel Rocha
Steven Wilson
Animatronics in the Service
Trivia
The famous YouTuber Markiplier portrays an unknown spokesperson in a trailer for Five Nights at Freddy's AR: Special Delivery.