The Sandman Will Keep You Awake - The Loop
Play Sound



Click to help Cruella!

This scum Felendren the Banished is driving Cruella insane!
IT MUST BE REWRITTEN OR ADDED TO!!
So sayeth the great Lord of Darkness Sauron, or he will send Darth Vader to terminate you.

Help improve this article by rewriting, expanding, updating the poorly written text of the article. ✓
Jafar says: Read my lips and come to grips with the reality!


This article is a stub and is in need of expansion. You can help Villains Wiki by expanding it.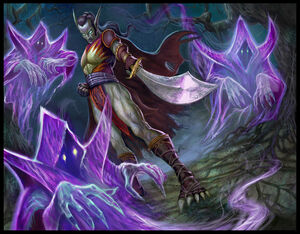 Felendren the Banished is a Sunstrider Isle outcast in the Warcraft universe.
He was a blood elf that resided in the Falthrion Academy. However, he failed to control his magic addiction and became a wretched and a shell of his former self. He was banished for ignoring the warnings of the Academy teachers. Felendren later takes control of Falthrien Academy and has Arcane wraiths and elementals as his minions. However, an adventurer killed all of his minions and confronted the elf in his tower. The adventurer killed Felendren and his head was presented to the other blood elves.