Jafar says: Read my lips and come to grips with the reality!


This article is a stub and is in need of expansion. You can help Villains Wiki by expanding it.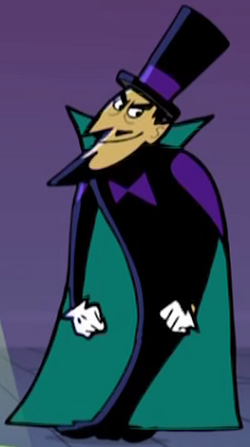 Felonious Hexx, formerly known as Thelonious Hexx is a recurring antagonist from Robotboy. Gus's archenemy, he started off as a simple magician until Gus kept mocking and embarrassing him during his show. After sending him to another world with his powers, he was defeated by Gus himself. Since then, his career fell apart and he was forced to take medical classes for 6 weeks, and after this, he had jobs such as a school nurse and a dentist. He heavily blames Gus for his life of misery as it was his fault his career plummeted.
Biography
His first encounter with Gus was in the episode "Tragic Magic", where he was preforming at a stage show that Gus, Tommy and Robotboy attended. Gus was uninterested in the magic show and spent the show taunting and mocking Thelonious, who progressively got angrier and angrier, until he snapped, he announced his final trick would need a volunteer. Everyone but Gus, were unnerved by his outburst. Felonious lured Gus on stage by animating the stack of food he had on a seat next to him and having it walk on stage, he then captured Gus with his magic and in a flash of light, sent him away to his own magical dimension. Ending the show.
Tommy didn't want to leave without Gus so he went and confronted Hexx, only for him to transport him and Robotboy to the same dimension, that Hexx stated as being "where all the bad children go".
Community content is available under
CC-BY-SA
unless otherwise noted.