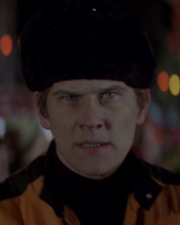 Felsen is a minor antagonist of the 1969 James Bond film On Her Majesty's Secret Service. He is a guard at Ernst Stavro Blofeld's research clinic. He was portrayed by Leslie Crawford.
Biography
Felsen is first seen when he, Irma Bunt and fellow guard Braun are sent to find Bond. Felsen and Braun manage to corner Bond in a shed, but are both overcome and knocked out by him, eventually being found and awoken by Bunt, who has them continue the search. Patrolling in their car, the three manage to find Bond calling MI6 in a phone booth and fire on him, but miss, allowing him to get to his car and drive away. They pursue him, but he drives onto a stock car race track, where their car is wrecked in a collision with a contestant as they try to follow him. Although Braun manages to evacuate, Felsen is last seen attempting to help Bunt out of the wreck just before it explodes. Felsen's fate afterwards is unknown, as Bunt is shown to survive the explosion, however as Felsen is not, it's possible he was killed in the explosion.

|

Villains
Community content is available under
CC-BY-SA
unless otherwise noted.