Jafar says: Read my lips and come to grips with the reality!


This article is a stub and is in need of expansion. You can help Villains Wiki by expanding it.                       



Click To Help Darkseid!

Darkseid has declared that this article requires immediate Cleanup in order to meet a higher standard.
Help improve this article by improving formatting, spelling and general layout - least it fall victim to an Omega Effect


✔



Click To Help DIO!

DIO has declared that this article has stopped in time, and any and all information on it may be outdated.
Help improve this article by checking and updating it's info wherever necessary
And now time resumes!

✔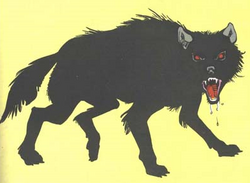 The Fenris Wolf (also known as Fenris Ulf or Fenrir) is an enemy of Thor and wolf-like supervillain from Marvel Comics
History
In Marvel comics, The Fenris Wolf attempted to steal the golden apples of Idunn away from her, but was driven off by Haakun the Hunter and banished to Varinheim.
he Fenris Wolf was unchained by Hela to assist in an attempt at bringing about Ragnarok, but the Ragnarok was thwarted by Thor and returned to his prison.
The Fenris Wolf was unchained again by Loki to join him, Ulik and Hyrm in an assault upon Asgard using weapons forged for them by Surtur. Ulik and Fenris attacked Thor in unison, and struck Mjolnir with such force that Sif's left arm was taken off in the blast. Hyrm then joined Ulik and the Fenris Wolf in battle, and together, the three of them shattered Mjolnir.
Thor returned to Asgard with his allies Captain America and Iron Man, who aided him against Loki's forces. Captain America saved Thor from the Fenris Wolf by throwing his shield into its open mouth. When he needed the shield back, Captain America kicked him in the stomach to recover it. Thor subsequently beat the Fenris Wolf badly, until it was shaking where it stood. Captain America frightened it off by crying "Ruff"!.
The Fenris Wolf went on to assault Kurse, who was protecting orphaned children. Fenris slew him by plunging its hammer into his skull.
The Fenris Wolf participated in an assault upon Vanaheim, and again faced Thor in battle. Thor bound Fenris in chains and used its body to knock down Durok in order to save Sif.
After Thor had slain Durok the Fenris Wolf snapped its chains to face him again, but was quickly struck down by Beta Ray Bill.
Beta Ray Bill unleashed the power of his hammer Stormbreaker upon the Fenris Wolf and slew him, leaving nothing but his skeleton behind. At the sight of this, the armies that fought for the Fenris Wolf fled from Vanaheim.
Fenris returned to life to swallow Asgard's sun and moon, assisting to bring about Ragnarok, as Asgard perished.
Gallery
Community content is available under
CC-BY-SA
unless otherwise noted.