Doctor Strange in The Multiverse o Madness - The Loop
Play Sound
| | | |
| --- | --- | --- |
| " | He's melting! HE'S MEEEELLLTINNG! | " |
| | ~ Firefly trying to melt Batman. | |
| | | |
| --- | --- | --- |
| " | Kerosene, know what I mean? | " |
| | ~ Ted Carson as Firefly. | |
Garfield Lynns, also known as Firefly, is an antagonist from DC Comics, most often going against Batman and Robin, and sometimes Green Arrow.
He is a pyromaniac who became horrendously scarred all over his body after a chemical explosion, leading him to wear a flame proof bodysuit during his crimes.
Biography
Pre-Crisis
Garfield Lynns was a film special effects expert who ended up living in poverty. When his attempt to rob a theatre by faking a fire was foiled by Batman and Robin, Garfield found himself being pursued by the Caped Crusader in his attempt to escape.
Seeing a firefly glowing in the distance, Batman mistook it for Lynns' lit cigarette and chased after it, giving Lynns the chance to escape. Inspired by this turn of events, Lynns took on the name Firefly and began his career in crime, utilizing various special effects and optical illusions to pull of his heists.
Modern Age
As a child, Garfield Lynns and his sister Amanda grew up at St. Evangelina Home for Orphans, after being taken from their abusive parents. Unlike his sister, who proved to be relatively normal, Garfield gained the reputation as a problem child and troublemaker, resulting in him never being chosen for adoption.
In his adulthood, Lynns became a pyrotechnics expert working on motion pictures at Gotham City, until he became a victim of poverty and turned to crime.
Lynns originally took up arson as a hobby during his robberies, but his troubled childhood caused him to begin seeing visions in the fires he caused. Garfield decided to embrace his pyromania, constructing a flamethrower, jetpack and fire-resistant jumpsuit before attempting his first robbery as Firefly.
New 52
Firefly's history was altered for the New 52. In this continuity, the original Firefly is a pyromaniac named Ted Carson who wore a robotic suit to achieve flight and spread fires. At some point Ted was seemingly killed, allowing someone else to take up the mantle of Firefly.
Nightwing found reasoned to believe that this new Firefly had to be former pyrotechnician Garfield Lynns, who may have been motivated by revenge after being fired from his job by his ex-girlfriend and film actress Cindy Cooke. However, he soon discovers that Ted Carson had faked his death and Garfield was a victim of his crimes.
DC Rebirth
Firefly's history was further altered as a result of DC Rebirth. In the revised timeline, Garfield Lynns served as Firefly during a past gang war between the Joker and Riddler.
However, Ted Carson still eventually took up the mantle himself. Much later, it is revealed that Ted was grooming a protégé named Bridget Pike, who also goes by the name Lady Firefly.
Infinite Frontier
In the Fear State tie- in event Firefly along with Killer Croc, Knockout and Cheshire bring by Clayface potential allies seeking a second chance bring them together to defend the Allytown
In other media
Batman: The Animated Series
This version of Garfield Lynns was a pyrotechnition obsessed with pop star Cassidy, whom he briefly dated. After intentionally rigging a pyrotechnics display to run wild during one of her concerts, he went into hiding to develop a special fireproof flight suit.
Calling himself Firefly, he stalked Cassidy, burning down a music club she helped finance and ultimately kidnapping her. His ultimate plan was to flood the Gotham sewers with highly flammable gel and disappear with her during the ensuing firestorm. Though Batman captured him and saved Cassidy, the ordeal left her with extreme pyrophobia.
Batman Arkham Origins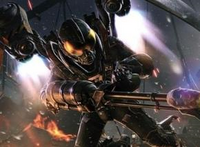 Main article: Firefly (Arkhamverse)
Along with seven other assassins, Lynns was offered a $50,000,000 reward if he were to kill the Batman on a Christmas Eve night by Gotham's most feared mobster, Black Mask.
He planted a quadruplet of bombs around a Gotham bridge in order to lure the Bat out of the shadows. It was successful, forcing Batman to visit the bridge, but the bombs were quickly disabled and Firefly himself was defeated, having his scarred, burnt face revealed via a visor cracking family of punches that knocked the pyromaniac unconscious and ready to be arrested by the GCPD.
Batman: Arkham Asylum
The Firefly does not appear in the game Batman: Arkham Asylum. One of the Riddler's riddles revolves around him. He has an entry in the Character Bios. His profile states: A pyromaniac, Garfield Lynns began as a petty criminal but soon graduated to major crimes centering around arson, torching huge parts of Gotham in the process.
But his fires soon raged out of control, leaving him horribly scarred by one of his own blazes. His body is almost fully covered with burns, and he now wears a full-body flame-retardant suit when he is out pursuing his criminal interests between bouts of incarceration in Blackgate.
Batman Arkham Knight
Years later, Lynns returned to Gotham and join Scarecrow's militia of villains. His job was to incinerate fire stations in Gotham. As Batman encounters him at the first fire station, Firefly is seen flying outside of the building, telling Batman he defeated once a long time ago before flying away on his jetpack.
Batman pursues Firefly in his Batmobile. As soon as he got close enough to him, he ejects and beats Firefly on the ground. Firefly managed to escape on his jetpack after that. After Firefly burns down a third fire station, Batman pursues him one more time and manages to put him behind at Gotham City Police Station.
Lego Batman 3: Beyond Gotham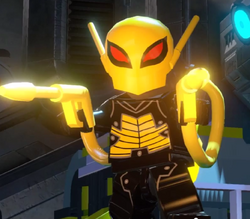 Firefly is a supporting antagonist and the only unplayable villain in the story version of the Lego video game Lego Batman 3. Firefly teams up with Killer Croc, Cheetah, Solomon Grundy, and Joker, whom approaches them in the sewers with a map leading to the Hall of Justice.
After Cheetah complains about something in the sewer that stinks, Solomon Grundy tells her he does not stink. Firefly tells Grundy that Cheetah was talking about the sewers.
Later, at the Hall of Justice, Lex Luthor, disguised as Hawkman, reveals a secret passageway leading to the sewers from underneath a statue where Firefly and the rest of the villains appear from. However, before the villains could move on, Solomon Grundy becomes stuck in the manhole.
Firefly is then seen pulling Grundy out of the manhole along with the other villains. As the villains stood face to face with a portal leading to the Justice League's watchtower, Firefly asked Grundy if he has ever been to outer space. Grundy tells him of course, but then asks him what outer space is.
Once they arrive at the Justice League watchtower, Firefly and the villains encounter Martian Manhunter. Joker introduces Martian Manhunter to Firefly as he tells Martian Manhunter that he loves a good fire, only for Martian Manhunter to point that fire is his one weakness.
Firefly shoots his fire pistols among Martian Manhunter, weakening him. As the Justice League came, Lex Luthor orders Firefly to heat them up as he and the other villains escape while Firefly and Cheetah stays behind to deal with Flash and Wonder Woman. Flash takes out Firefly's flames, reviving Martian Manhunter who knocks out Firefly.
Firefly later helps the Justice League fight off Brainiac who plans to shrink their world. He and Killer Croc stayed behind on the watchtower with Martian Manhunter while the Justice League and the other villains go to Brainiac's ship.
As the heroes come up with a way to make their world big again, Firefly and the villains (excluding Grundy) go with Superman to the Hall of Justice. There, Superman imprisons them inside a wall of ice. After the heroes restored Earth to its proper size, Firefly and the villains easily escape their prison as it grew to enormous size.
Firefly then helps Lex Luthor becomes president as he is seen with him in the oval office. However, he is then arrested after the Justice League appear at the White House as he is seen being escorted by Arkham Security, along with Cheetah, Killer Croc, and Grundy.
Batman the Brave and the Bold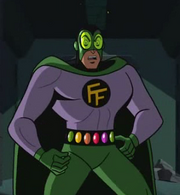 Firefly appeared in the teaser of the episode Emperor Joker. This version of Firefly references the first version of him, having powers that are based off on colors of his utility belt and a suit that looks like a bug. As Firefly robs the gold depository, he comes face to face with Robin and Batman in a red costume. Firefly shoots a beam at Batman, but Batman's red costume deflects it.
Firefly, on the other hand, uses all of his colorful rays on his belt to create a colorful monster known as the Rainbow Creature that shoots colorful rays out of his mouth, each color with its own power. Batman changes the color on his costume into a rainbow pattern that is immune to the Rainbow Creature's beams. As Firefly was about to reach something in his pocket, Batman punches him in the face, telling him what is in his pocket stays there.
Arrow
Garfield Lynns makes an appearance in episode 10 of Arrow "Burned." He was shown as a firefighter who was believed to be dead after a huge fire several years ago, but survived but with severe burns covering his body.
He crashes a gala (thrown by Oliver for the fire department as a trap for Lynns) and attempts to kill the Fire Chief for not sending backup to save him on the night of the fire. He is confronted by the hood and commits suicide by walking into fire and burning himself alive.
The Batman
Main article: Firefly (The Batman)
Gotham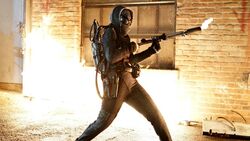 Main article: Bridgit Pike
A female version of Firefly named Bridgit Pike debuted in the fifth episode of the second season of Gotham "Scarification" and continues to appear in a recurring role in the following two seasons.
This version of Firefly was later carried over into the main DC continuity.
She is portrayed by both Michelle Veintimilla and by Camilla Perez.
Smallville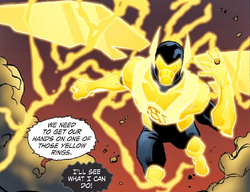 Firefly appeared in the Season 11 comic book of Smallville. When Parallax released his yellow rings, they headed to Arkham Asylum granting the inmates abilities of the Yellow Lanterns. Batman and Nightwing were doing their best to contain the newly powered inmates of Arkham, including Firefly, who have already been transformed into Yellow Lanterns.
Batman fights with Firefly, when suddenly he gets a call from Tess Mercer and Chloe Sullivan in Watchtower, who ask him to secure a single yellow ring for them. Batman fights with Firefly and during the battle he tricks Firefly into colliding to a building. There Batman finds the chance and takes the yellow ring, which tempts him to become his new bearer, from Firefly.
After their rings get rebooted, Firefly lost his powers.
DC Extended Universe
Main article:

Firefly (DC Extended Universe)
Firefly will appear as the main antagonist of the 2022 DC Extended Universe film Batgirl.
He will be portrayed by Brendan Fraser, who also portrayed the Tasmanian Devil in Looney Tunes: Back in Action and Monkeybone in Monkeybone.
Attributes
Thorough knowledge of flammable agents
Extensive arsenal of fire-creating weapons
Scarred over 90% of his body
Sociopath with intense pyromania
Relationships
Allies
Mafia's and Mobsters of Gotham (formerly)
Corrupt cops of Gotham
Corrupt politicians of Gotham
Corrupt business owners of Gotham
Secret Society of Super Villains
Legion of Doom
Suicide Squad
Criminals of Gotham
Other Supervillains (sometimes)
Black Mask (sometimes)
Harley Quinn (formerly)
Penguin (sometimes)
Catwoman (sometimes)
Riddler (sometimes)
Poison Ivy (sometimes)
Bane (sometimes)
Clayface (sometimes)
Mad Hatter (sometimes)
Mr. Freeze (sometimes)
Two-Face (sometimes)
Calendar Man (sometimes)
Killer Croc (sometimes)
Enemies
Batman
James Gordon
Aaron Cash
GCPD
Batgirl
Harvey Bullock
Nightwing
Robin
Other Supervillains (sometimes
Justice League
Birds of Prey
Mafia's and Mobsters of Gotham
Maroni family
Falcone family
Rupert Thorne
Blackgate staff
Arkham Asylum staff
Poison Ivy (sometimes)
Two-Face (sometimes)
Mad Hatter (sometimes)
Riddler (sometimes)
Harley Quinn (formerly)
Killer Croc (sometimes)
Catwoman (sometimes)
Clayface (sometimes)
Bane (sometimes)
Calendar Man (sometimes)
Black Mask (sometimes)
Suicide Squad
Quotes
| | | |
| --- | --- | --- |
| " | Thanks but I'm already burned. | " |
| | ~ Firefly in the CW show Arrow. | |
| | | |
| --- | --- | --- |
| " | Scream for me! | " |
| | ~ Firefly in Batman Arkham Origins. | |
| | | |
| --- | --- | --- |
| " | Fire is nature's way of clearing the path stand in it's way and you will be destroyed. | " |
| | ~ Firefly | |
Villains
Comics
Abraham Langstrom | Alfred Protocol | Alfred Stryker | Alice | Amanda Waller | Amygdala | Anarky | An Innocent Guy | Ares | Arkham Knight | Arnold John Flass | Azrael | Baby Doll | Bane | Barbatos | Bat-Mite | The Batman Who Laughs | Black Glove | Black Mask | Blockbuster I | Blockbuster II | Brain | Broker | Brother EYE | Calculator | Calendar Man | Castle Bat | Captain Fear | Captain Boomerang | Carmine Falcone | Catman | Catwoman | Cheetah | Cheshire | Circus of Strange | Clayface | Clayface (Matt Hagen) | Claything | Clock King | Clownface | Club of Villains | Cluemaster | Composite Superman | Condiment King | Copperhead | Cornelius Stirk | Court of Owls | Crazy Quilt | Crime Doctor | Curtis Base | Dark Archer | David Cain | David Li | Dark Knights | Deacon Blackfire | Deadshot | Dealer | Deathstroke | Dick Grayson (Frank Miller) | The Dawnbreaker | The Devastator | Dr. Crane | Doctor Death | Doctor Double X | Doctor Phosphorus | Doctor Randolph Porter | Donna Troy | Dr. Silversmith | The Drowned | Electrocutioner | Emperor Penguin | Enigma | Ernie Chubb | Faceless | Falcone Crime Family | Film Freak | Firebug | Firefly | Flamingo | Floronic Man | Gearhead | General Ulysses Armstrong | Gilda Dent | Gorilla Boss | Gotham City Police Department | Gillian B. Loeb | Great White Shark | The Grim Knight | Harley Quinn | Holiday | Holly Robinson | Humpty Dumpty | Hugo Strange | Hush | Instigator | Jack the Ripper | James Gordon, Jr. | Jason Todd | Jeremiah Arkham | Joe Chill | Joker | Judge of Owls | Joker's Daughter | Key | KGBeast | King of Cats | King Snake | King Tut | Killer Croc | Killer Moth | Kite Man | Lady Shiva | League of Assassins | Leviathan | Lex Luthor | Lock-Up | Lord Death Man | Mad Hatter | Mad Monk | Magpie | Malochia | Man-Bat | Mary Keeny | Maxie Zeus | Maxwell Lord | The Merciless | Merrymaker | Micheal Atkins | Monk | Mr. Bloom | Mr. Freeze | Mrs. Freeze | Mayor Oswald Cobblepot | Mr. Toad | Mr. Whisper | Mutants | Neo Joker | Neron | Nightslayer | Nocturna | Omega | Onomatopoeia | Orca | Outsider | Owlman | Phantasm | Penguin | Penny Plunderer | Phosphorus Rex | Planet Master | Poison Ivy | Polka Dot Man | Professor Arnold Hugo | Professor Pyg | Prometheus | Punchline | Ra's al Ghul | Ragdoll | Ratcatcher | Reaper | Red Death | Reverse-Flash | Riddler | Robin King | Roland Daggett | Roxy Rocket | Royal Flush Gang | Rupert Thorne | Saint Batman | Sal Maroni | Scarecrow | Sensei | Sewer King | Signalman | Simon Hurt | Sinestro | Snowman | Solomon Grundy | Spellbinder | Squid | Steeljacket | Suicide Squad | Talia al Ghul | Talon | Tally Man | Ten Eyed Man | Terrible Trio | Thomas Wayne | Tiger Shark | Timecode | Tony Zucco | Tweedledum and Tweedledee | Two-Face | Ubu | Vandal Savage | Ventriloquist | Ventriloquist II | Ventriloquist III | Vertigo | Victor Zsasz | Whisper A'Daire | White Rabbit | Wrath | The Wonderland Gang | Zebra-Man
Theatrical Movies
Batman (1966): Joker | Catwoman | Penguin | Riddler
Batman (1989): Joker | Joker Goons (Bob Hawkins) | Alicia Hunt | Carl Grissom | Max Eckhardt | Vinnie Ricorso | Joe Chill
Batman Returns: Penguin | Red Triangle Circus Gang (Organ Grinder, Poodle Lady, Tattooed Strongman, Stungun Clown, Thin Clown, Fat Clown, Sword Swallower, Knifethrower Dame & Fire Breather) | Max Shreck | Catwoman
Batman: Mask of the Phantasm: Phantasm | Joker | Salvatore Valestra | Arthur Reeves | Chuckie Sol | Buzz Bronski
Batman Forever: Riddler | Two-Face | Sugar | Spice | NygmaTech (Frogmen) | Neon Gang (Neon Gang Leader) | Salvatore Maroni
Batman & Robin: Poison Ivy | Mr. Freeze | Bane | Snowy Cones Thugs | Golums | Jason Woodrue
Batman Begins: Ra's al Ghul | League of Shadows (Ra's Decoy) | Scarecrow | Falcone Crime Family (Carmine Falcone, Victor Zsasz, & Arnold Flass) | Joe Chill
The Dark Knight: Joker | Joker's Thugs (Thomas Schiff, Chuckles, Kilson, Happy, Dopey, Grumpy & Bus Driver) | Two-Face | Sal Maroni | The Chechen | Gambol | Lau | Bank Manager | Michael Wuertz | Burmese Bandit
The Dark Knight Rises: League of Shadows (Bane, Talia al Ghul & Barsad) | Catwoman | John Daggett | Ra's al Ghul | Scarecrow
Batman v Superman: Dawn of Justice: Lex Luthor | Doomsday | Anatoli Knyazev | Mercy Graves | Cesar Santos | Amajagh | Joe Chill | Zod | Joker | Steppenwolf
Suicide Squad: Eyes of the Adversary (Enchantress & Incubus) | Suicide Squad (Deadshot, Harley Quinn, Captain Boomerang, El Diablo, Killer Croc, Slipknot & Amanda Waller) | Joker's Gang (Joker, Jonny Frost, Panda Man & Monster T) | Griggs
The Lego Batman Movie: Joker | Harley Quinn | Phantom Zone Criminals (Zod, Sauron, Kraken, Lord Voldemort, Agent Smith, Jaws, Gremlins, Medusa, Lord Vampyre, Wicked Witch of the West, & Daleks) | Catwoman | Poison Ivy | Two-Face | Bane | Riddler
Joker: Clowns (Joker, Clown & Ambulance Clown) | Penny Fleck | Wall Street Three | Penny Fleck's Boyfriend
The Batman (2022): Riddler | Falcone Crime Syndicate (Carmine Falcone, Penguin, William Kenzie, Vinnie, & The Twins) | Catwoman | Salvatore Maroni | Riddler's Cult (Bitter Nobody) | Pete Savage | Gil Colson | Don Mitchell Jr. | Train Gang | Joker
Direct-to-video Movies
Batman & Mr. Freeze: SubZero: Mr. Freeze | Dr. Gregory Belson
Batman Beyond: Return of the Joker: Joker | The Jokerz (Chucko, Dee-Dee, Ghoul, Bonk, & Woof) | Harley Quinn
Batman: Mystery of the Batwoman: Penguin | Bane | Rupert Thorne | Carlton Duquesne
The Batman vs. Dracula: Dracula | Penguin | Joker
Superman/Batman: Public Enemies: Lex Luthor | Major Force | Metallo | Amanda Waller | Toyman | Solomon Grundy | Gorilla Grodd | Killer Frost | Lady Shiva | Giganta | Mongul | Captain Cold
Batman: Under the Red Hood: Jason Todd | Joker | Black Mask | Ra's al Ghul | Riddler | Ms. Li
Superman/Batman: Apocalypse: Darkseid | Female Furies (Granny Goodness, Gilotina, Mad Harriet, Lashina & Stompa) | Doomsday
Batman: Year One: Batman | Gotham City Police Department (Commissioner Loeb, Arnold John Flass, & Howard Branden) | Falcone Crime Family (Carmine Falcone & Johnny Viti) | Catwoman | Joker
Batman: The Dark Knight Returns: Batman | Joker | Mutant Leader | Ellen Yindel | Harvey Dent | Selina Kyle
Son of Batman: Deathstroke | League of Assassins (Ra's al Ghul & Talia al Ghul) | Ubu | Killer Croc | Man-Bats
Batman: Assault on Arkham: Suicide Squad (Amanda Waller, Deadshot, Harley Quinn, Captain Boomerang, Killer Frost, King Shark, Black Spider, KGBeast) | Joker | Riddler | Penguin | Scarecrow | Victor Zsasz | Bane | Two-Face | Poison Ivy
Lego DC Comics: Batman Be-Leaguered: Bat-Mite | Lex Luthor | Joker | Penguin | Man-Bat | Captain Cold | Black Manta
Batman vs. Robin: Court of Owls (Samantha Vanaver, Talon, Owls Lieutenant, & Talon Warriors) | Dollmaker
Batman Unlimited: Animal Instincts: Animalitia (Penguin, Killer Croc, Man-Bat, Cheetah & Silverback)
Batman Unlimited: Monster Mayhem: Joker | Scarecrow | Clayface | Silver Banshee | Solomon Grundy
Batman: Bad Blood: League of Assassins (Talia al Ghul, The Heretic, Onyx, Firefly, Tusk, Mad Hatter, Electrocutioner, Hellhound, Calculator, & Killer Moth) | Black Mask
Batman: The Killing Joke: Joker | Vinnie & Joe | Paris Franz
Batman Unlimited: Mechs vs. Mutants: Penguin | Mr. Freeze | Cheetah | Hush | Mad Hatter | Two-Face | Bane | Chemo | Killer Croc | Clayface | Joker | Dr. Kirk Langstrom
Batman: Return of the Caped Crusaders: Joker | Penguin | Riddler | Catwoman | Archer | Black Widow | Bookworm | Clock King | Egghead | False Face | King Tut | Louie the Lilac | Mad Hatter | Minstrel | Mr. Freeze | Sandman | Shame | Siren
Batman and Harley Quinn: Harley Quinn | Poison Ivy | Floronic Man
Batman vs. Two-Face: Two-Face | Hugo Strange | Catwoman | King Tut | Bookworm | Joker | Penguin | Riddler | Clock King | Egghead | Mr. Freeze | Shame | Harley Quinn
Scooby-Doo! & Batman: The Brave and the Bold: Riddler | Clayface | Joker | Mr. Freeze | Catwoman | Penguin | Harley Quinn | Poison Ivy
Batman: Gotham by Gaslight: Jack the Ripper | Barbara-Eileen Gordon | Selina Kyle | Harvey Dent | Hugo Strange
Batman Ninja: Joker | Harley Quinn | Catwoman | Gorilla Grodd | Bane | Penguin | Poison Ivy | Deathstroke | Two-Face
Batman vs. Teenage Mutant Ninja Turtles: Foot Clan (Shredder & Baxter Stockman) | League of Assassins (Ra's al Ghul & Ubu) | Joker | Penguin | Harley Quinn | Mr. Freeze | Scarecrow | Two-Face | Poison Ivy | Bane
Batman: Hush: Riddler/Hush | Catwoman | Poison Ivy | Bane | Joker | Harley Quinn | Clayface | Scarecrow | Lex Luthor | Lady Shiva | Two-Face | Penguin | Mr. Freeze | Thomas Elliot
Batman: Death in the Family: Jason Todd | Joker | Black Mask | Ra's al Ghul | Riddler | Talia al Ghul | Cheetah | Two-Face
Batman: Soul of the Dragon: Nāga | Kobra (Jeffery Burr, Schlangenfaust, Lady Eve, King Snake & Rip Jagger) | Ben Turner | Shiva | Richard Dragon | Jade
Batman: The Long Halloween: Holiday | Falcone Crime Family (Carmine Falcone, Milos Grapa, Alberto Falcone, Johnny Viti, & Sofia Falcone) | Two-Face | Joker | Solomon Grundy | Salvatore Maroni | Poison Ivy | Penguin | Scarecrow | Mad Hatter | San Ho Hui (Mickey Chen) | Calendar Man | Catwoman

Television
Batman 60s show
Joker | Penguin | Catwoman | Riddler | Mr. Freeze | The Archer | Black Widow | Bookworm | Egghead | Clock King | Queenie Goldstein | Sandman | Dr. Cassandra Spellcraft | Cabala | Minstrel | Shame | False Face | The Siren | Undine | Chandell & Harry | King Tut | Louie the Lilac | Mad Hatter | Cornelia | Baby Jane Towser | Lydia Limpet | Zelda the Great | The Puzzler | Olga, Queen of Cossacks | Marsha, Queen of Diamonds | Lord Marmaduke Ffogg | Lady Penelope Peasoup | Ma Parker | Freddy the Fence | Lola Lasagne | Nora Clavicle | Colonel Gumm | Minerva | Killer Moth | Calamity Jan
1970s Filmation series
Joker | Catwoman | Penguin | Riddler | Clayface | Mr Freese | Sweet Tooth
Batman: The Animated Series
Joker | Two-Face | Harley Quinn | Penguin | Catwoman | Rupert Thorne | Riddler | Poison Ivy | Scarecrow | Mad Hatter | Killer Croc | Clayface | Ra's al Ghul | Mr. Freeze | Man-Bat | Ventriloquist and Scarface | Roland Daggett | Clock King | Bane | Hugo Strange | Lloyd Ventrix | Kyodai Ken | Baby Doll | Emile Dorian | Red Claw | Boss Biggis | Sewer King | Talia al Ghul | Maxie Zeus | Lock-Up | Professor Milo | Count Vertigo | Daniel Mockridge | Grant Walker | Gil Mason | Arkady Duvall | Ferris Boyle | Arnold Stromwell | Tony Zucco | H.A.R.D.A.C. | Randa Duane | Batman Clone | Calendar Girl
The Batman (2004)
Joker | Penguin | Bane | Catwoman | Mr. Freeze | Ethan Bennett | Killer Croc | Man-Bat | Firefly | Riddler | Punch & Judy | Kabuki Twins | Hugo Strange | Cluemaster | Ragdoll | Temblor | Poison Ivy | Tony Zucco | Count Vertigo | Harley Quinn | Maxie Zeus | Clayface | Gearhead | Francis Grey | Killer Moth | D.A.V.E. | Dracula | Rumor | Toyman | Mirror Master | Lex Luthor | Black Mask | Sinestro | Joker 2.0 | Prank | Killgore Steed | Team Penguin | Julie | Spellbinder | Blaze | The Joining | Cosmo Krank | Marty Slacker | Scorn | Wrath | Metallo | Shadow-Thief
Batman: The Brave and The Bold
Joker | Music Meister | Catwoman | Penguin | Mr. Freeze | Clayface | Riddler | Poison Ivy | Lex Luthor | Flower Children | Harley Quinn | Morgaine Le Fey | Sweet Tooth | Queenie Goldstein | Bane | Kite Man | Black Manta | Gentleman Ghost | Major Force | Mirror Master | Metallo | Brainiac | Flamingo | Mxyzptlk | Toyman | Thinker | Doctor Sivana | Mister Mind | Black Adam
Beware the Batman
Anarky | Ra's al Ghul | Deathstroke | Harvey Dent | Killer Croc | Simon Stagg | Professor Pyg and Mr. Toad | Man-Bat | Cypher | Magpie | Lady Shiva | Tobias Whale | Phosphorus Rex | Lunkhead | Humpty Dumpty | Silver Monkey | Key | Bethany Ravencroft | Daedalus Boch | Junkyard Dog | Sapphire Stagg | Matatoa | Anatol Mykros
Harley Quinn
Harley Quinn | Poison Ivy | Joker | Scarecrow | Queen of Fables | Darkseid | Parademons | Penguin | Mr. Freeze | Bane | Lex Luthor | Killer Croc | Man-Bat | Riddler | Deadshot | Calendar Man | Condiment King | Solomon Grundy | Kite Man | Doctor Psycho | Clayface | King Shark | Nora Fries | Sy Borgman | Doctor Trap | Frank the Plant | Felix Faust | Toyman | Metallo | Livewire | Parasite | Black Adam | Captain Cold | Gorilla Grodd | Black Manta | Cheetah | Giganta | Sinestro | Maxie Zeus | Eris | KGBeast | Two-Face | Catwoman | Nick Quinzel | Sharon Quinzel
Video Games
LEGO Batman
Joker | Penguin | Riddler | Harley Quinn | Catwoman | Two-Face | Bane | Clayface | Killer Croc | Killer Moth | Mad Hatter | Man-Bat | Mr. Freeze | Poison Ivy | Scarecrow | Ra's al Ghul | Hush
Lego Batman 2: DC Super Heroes
Joker | Lex Luthor | Harley Quinn | Riddler | Two-Face | Catwoman | Bane | Penguin | Poison Ivy | Scarecrow | Captain Boomerang | Clayface | Mad Hatter | Ra's al Ghul | Killer Croc | Bane | Killer Moth | Mr. Freeze | Man-Bat | Hush | Zod | Sinestro | Brainiac | Gorilla Grodd | Captain Cold | Black Manta | Black Adam | Bizarro
Lego Batman 3: Beyond Gotham
Brainiac | Joker | Lex Luthor | Cheetah | Solomon Grundy | Firefly | Killer Croc | Sinestro | Atrocitus | Larfleeze | Star Sapphire | Composite Superman | Bane | Arkillo | Condiment King | Music Meister | Captain Cold | Black Adam | Black Manta | Black Hand | Bronze Tiger Cyborg Superman | Deadshot | Deathstroke | Lobo | Dex-Starr | Doomsday | Gorilla Grodd | Harley Quinn | Hush | Kalibak | Killer Moth | Man-Bat | Mad Hatter | Manchester Black | Metallo | Mr. Freeze | Mr. Mxyzptlk | Parasite | Penguin | Poison Ivy | Polka Dot Man | Red Hood | Riddler | Toyman | The Trickster | Ultra-Humanite | Catwoman | Bizarro | Amanda Waller | Captain Boomerang | El Diablo | King Shark | Killer Frost | Plastique | Terra | Zod | Faora | Joker | Two-Face | Ra's al Ghul | Bane | Catwoman | Scarecrow | Blight | Joker | Mr. Freeze | Arrow Deathstroke | Malcolm Merlyn | Darkseid
Injustice
Superman | Wonder Woman | Yellow Lantern | The Flash | Aquaman | Nightwing | Cyborg | Raven | Solomon Grundy | Catwoman | Bane | Black Adam | Deadshot | Poison Ivy | Scarecrow | Joker | Deathstroke
See Also
Arkhamverse Villains | Batgirl Villains | Batman Beyond Villains | Batwoman Villains | Birds of Prey Villains | Catwoman Villains | Gotham Villains | Harley Quinn Villains | Nightwing Villains | Outsiders Villains | Red Hood Villains | Robin Villains | Telltalle Batman Villains

Villains
Comics
Abbadonia | Alice | Amygdala | Bane | Black Mask | Bloody Mary | Bruno Mannheim | Christopher Falchion | Court of Owls | Cutter | Delores Winters | The Drowned | Fright | Green Fairy | Intergang | Killer Croc | Killshot | Kobra Cult | Kyle Abbot | La Llorona | Lamprey | Mad Hatter | Many Arms of Death | Maro Ito | Medusa | Morgaine Le Fey | Mortician | Mr. Freeze | Nathan Grantham | Nocturna | Night-Thief | Nyx | Poison Ivy | Professor Pyg | Religion of Crime | Riddler | Rush | Scatter | Scorpiana | Sister Shard | Tahani | Whisper A'Daire | Wolf Spider
Movies
Batman: Mystery of the Batwoman: Penguin | Bane | Rupert Thorne | Carlton Duquesne
Batman: Bad Blood: League of Assassins (Talia al Ghul, The Heretic, Onyx, Firefly, Tusk, Mad Hatter, Electrocutioner, Hellhound, Calculator, & Killer Moth) | Black Mask

Television
Season 1: Wonderland Gang (Alice, Jonathan Cartwright, & Chuck Dodgson) | August Cartwright | Hush | Crows Security (Catherine Hamilton-Kane & Miguel Robles) | Magpie | The Executioner | The Rifle | Anti-Monitor | Monitor | Lex Luthor | Bruce Wayne (Earth-99) | Shadow Demons | Nocturna | Duela Dent | Mabel Cartwright | Johnny Sabatino | Tim Teslow | Safiyah Sohail | Joker
Season 2: Many Arms of Death (Safiyah Sohail, Tatiana, The Pike, & Dire-Flail) | False Face Society (Black Mask, Rudy, & Circe Sionis) | Alice | Enigma | Crows Security (Russell Tavaroff & Miller) | Ethan Rogers | Hush | Victor Zsasz | Candy Lady | Amygdala | Ellis O'Brien | Kilovolt | Cluemaster | Gotham City Police Department | Wonderland Gang (Jonathan Cartwright) | Catherine Hamilton-Kane | Joker
Season 3: Marquis Jet | Alice | Poison Ivy | Mary Hamilton | Liam Crandle | Killer Croc | Professor Pyg | Victor Zsasz | Kiki Roulette | Joker | Jonathan Cartwright | Black Glove Society (Virgil Getty)


Villains
Comics
Black Manta | Black Spider | Brain | Brick | Bronze Tiger | Brother Blood | Brotherhood of Evil | Catman | Cheshire | China White | Clayface | Clock King | Count Vertigo | Constantine Drakon | Crumbler | Cupid | Deadshot | Deathstroke | Double Down | Dr. Light | Dr. Sivana | Electrocutioner | Jinx | Joker | Killer Croc | Kodiak | Komodo | League of Assassins | Longbow Hunters | Mammoth | Merlyn | Metallo | Mister Freeze | Neron | Onomatopoeia | Professor Ojo | Professor Zoom | Prometheus | The Queen | Ra's al Ghul | Red Dart | Richard Dragon | Riddler | Royal Flush Gang | Skylark | Solomon Grundy | Stinger | Warp | Wizard
Movie
DC Showcase: Green Arrow: Merlyn | Count Vertigo
Television
Season 1: Oliver Queen | Malcolm Merlyn | China White | Edward Fyers | Billy Wintergreen | Adam Hunt | Constantine Drakon | Martin Somers | Deadshot | Jason Brodeur | Royal Flush Gang | Huntress | Frank Bertinelli | Firefly | Ted Gaynor | Count Vertigo | Amanda Waller
Season 2: Oliver Queen | Deathstroke | Isabel Rochev | Brother Blood | Anthony Ivo | League of Assassins (Nyssa al Ghul & Al-Owal) | China White | Dollmaker | Mayor | Officer Daily | Amanda Waller | Count Vertigo | Cyrus Gold | H.I.V.E. (Milo Armitage) | William Tockman | Suicide Squad (Bronze Tiger, Deadshot & Shrapnel) | Huntress | Frank Bertinelli | Clinton Hogue
Season 3: Oliver Queen | League of Assassins (Ra's al Ghul, Maseo Yamashiro, Nyssa al Ghul & Chase) | Matthew Shrieve | Amanda Waller | China White | Werner Zytle | Komodo | Cooper Seldon | Captain Boomerang | Roy Bivolo | Danny Brickwell | Deathstroke | Michael Amar | Joseph Cray | Suicide Squad (Deadshot & Cupid) | H.I.V.E. (Mina Fayad) | Jake Simmons
Season 4: Oliver Queen | H.I.V.E. (Damien Darhk, Ruvé Darhk, Malcolm Merlyn, Andrew Diggle, Milo Armitage, Phaedra Nixon, Mina Fayad, Thomas, Demolition Team, Michael Amar, Danny Brickwell & Cooper Seldon) | Shadowspire (Baron Reiter, Conklin & Joyner) | Amanda Waller | Lonnie Machin | Jeremy Tell | Rogue Anti-Vigilante Task Force (Liza Warner) | Vandal Savage | Calculator | Cupid | Brie Larvan | Evelyn Sharp
Season 5: Oliver Queen | Prometheus | Talia al Ghul | Evelyn Sharp | Black Siren | Konstantin Kovar | Ishmael Gregor | Tobias Church | Lonnie Machin | Ragman | Janet Carroll | J.G. Walker | Derek Sampson | Scimitar | Vigilante | Dominators | Laura Washington | Hideo Yamane | Sean Sonus | James Edlund | China White | Liza Warner | Cupid | Anatoly Knyazev | Captain Boomerang | Justin Claybourne
Season 6: Oliver Queen | (Ricardo Diaz, Black Siren, Anatoly Knyazev, Kimberly Hill & Sam Armand) | Cayden James | Sheck | Vigilante | Alex Faust | Jackals (Joe Wilson & Nylander) | Dark Arrow | Overgirl | Eobard Thawne | Prometheus (Earth-X) | Quentin Lance (Earth-X) | Athena
Season 7: Oliver Queen | Ninth Circle (Emiko Queen, Dante, Virgil & Beatrice) | Kevin Dale | Ricardo Diaz | Longbow Hunters (Red Dart, Kodiak & Silencer) | Stanley Dover | Danny Brickwell | Derek Sampson | John Deegan | Monitor | A.M.A.Z.O. | Psycho-Pirate | Ghost Initiative (Joe Wilson, China White & Cupid)
Season 8: Oliver Queen | Anti-Monitor | Deathstroke Gang (John Diggle, Jr. & Grant Wilson) | Monitor | Athena | Edward Fyers | Billy Wintergreen | Shadow Demons | Lex Luthor

Video Games
Injustice: Superman | Killer Frost | Solomon Grundy | Sinestro | Black Adam | Wonder Woman | Nightwing | Raven | Catwoman | The Flash | Bane | Gorilla Grodd

Villains

Villains
Protagonists