Click to help Cruella!

This scum Fisherman is driving Cruella insane!
IT MUST BE REWRITTEN OR ADDED TO!!
So sayeth the great Lord of Darkness Sauron, or he will send Darth Vader to terminate you.

Help improve this article by rewriting, expanding, updating the poorly written text of the article. ✔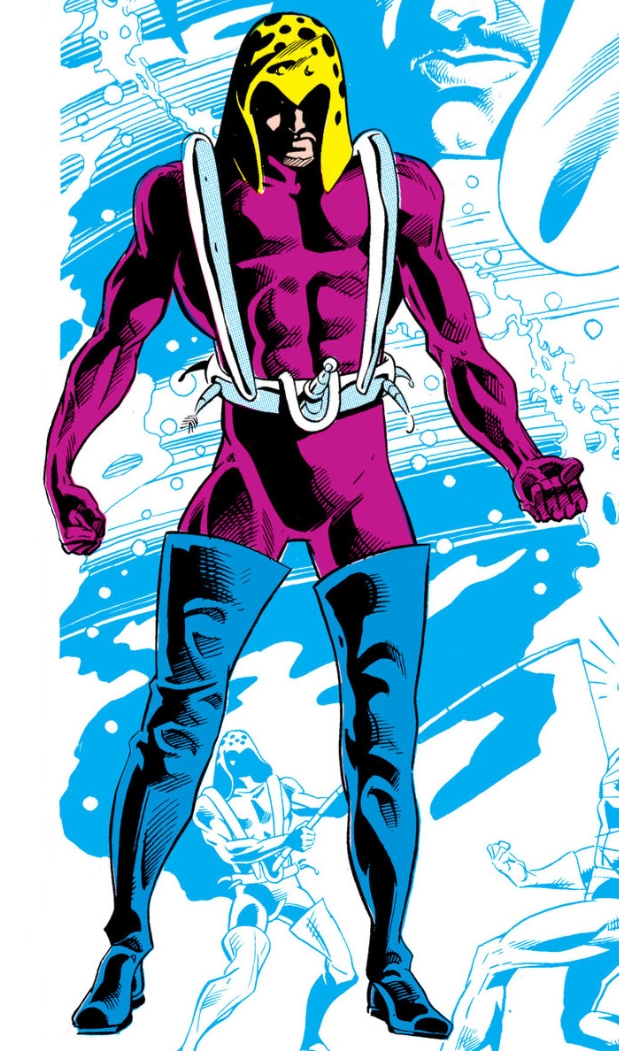 The Fisherman's real identity has never been revealed. He is a thief who specializes in stealing high tech equipment, then selling it on the black market. He utilizes specialized lures and a fishing rod with a razor sharp hook and titanium-steel line as weapons to entangle his enemies. In his first encounter with Aquaman, the Fisherman uses an experimental formula to turn Aquaman and then himself into a giant. The Fisherman returns many times to fight Aquaman, as well as Blue Devil. The Fisherman confronts the canine Green Lantern G'nort. He makes appears in Roulette's gladiatorial game-house.
The Fisherman is one of the many super-villains to take advantage of the 'villain-friendly' atmosphere of the fictional country of Zandia. He becomes involved in a large confrontation when the team of 'Young Justice' leads a super-powered army against the country for various reasons.
Impostor
In Infinite Crisis #1 (2005), the Fisherman, along with the Riddler, the Body Doubles, the Scavenger, Red Panzer and Murmur attack Gotham police officers in Cathedral Square.
The attack is elaborated upon in the series "Gotham Central". After a magical accident devastates Gotham, the villain goes on a rampage. Over the prone forms of other officers, the Fisherman confronts Renee Montoya and Crispus Allen. While strangling Allen, the Fisherman is shot dead by Detectives Marcus Driver and Josie MacDonald. Allen and Renee survive. During an autopsy it is revealed that the dead man is not the original villain of that name.
Xenoform
A new, more deadly version of the villain appears in Aquaman: Sword of Atlantis #48-49 (2007), written by Kurt Busiek. The Fisherman's helmet is revealed to be a xenoform parasite, a Lovecraftian alien that attaches itself to every incarnation of the Fisherman and uses telepathy to instill fear in its victims.
In other media
Television
The Fisherman appeared in several episodes of The Superman/Aquaman Hour of Adventure, an animated series that ran from 1967 to 1968. These episodes were later reused in Aquaman, a 1968 to 1970 animated series that was created by running only the Aquaman segments of The Superman/Aquaman Hour of Adventure.
Fisherman appeared in Batman: The Brave and the Bold episode "Aquaman's Outrageous Adventure" voiced by Dee Bradley Baker. He was featured in a flashback holding a submarine over an underwater volcano only to be defeated by Aquaman. He later appeared in the episode "Joker the Vile and the Villainess" where he attacked Batman after he left an Atlantis lab. Batman manages to beat him however The Joker comes to his aid. Batman captures them both and leaves them to the police however Joker frees them before the police catches them.
Gallery

Villains
Comics
Alfred Stryker | Alice | Amanda Waller | Amygdala | Anarky | Arkham Knight | Arnold John Flass | Azrael | Baby Doll | Bane | Barbatos | The Batman Who Laughs | Black Glove | Black Mask | Blockbuster I | Broker | Blockbuster II | Brain | Brother EYE | Calculator | Calendar Man | Captain Fear | Carmine Falcone | Catman | Catwoman | Circus of Strange | Clayface | Claything | Clock King | Club of Villains | Cluemaster | Commissioner Loeb | Composite Superman | Condiment King | Copperhead | Court of Owls | Crazy Quilt | Crime Doctor | Curtis Base | Dark Archer | David Cain | Dark Knights | Deacon Blackfire | Deadshot | Dealer | Deathstroke | The Dawnbreaker | The Devastator | Doctor Death | Doctor Dedalus | Doctor Double X | Doctor Hurt | Doctor Phosphorus | The Drowned | Electrocutioner | Emperor Penguin | Ernie Chubb | Faceless | Film Freak | Firebug | Firefly | Flamingo | Floronic Man | Gearhead | General Ulysses Armstrong | Gorilla Boss | Gotham City Police Department | Grant Walker | Great White Shark | The Grim Knight | H.A.R.D.A.C. | Harley Quinn | Holiday | Holly Robinson | Humpty Dumpty | Hugo Strange | Hush | Jack the Ripper | James Gordon, Jr. | Jason Todd | Joe Chill | The Joker | Judge of Owls | Joker's Daughter | Key | KGBeast | King of Cats | King Snake | King Tut | Killer Croc | Killer Moth | Kite Man | Lady Shiva | League of Assassins | Leviathan | Lex Luthor | Lock-Up | Lloyd Ventrix | Mad Hatter | Mad Monk | Magpie | Malochia | Man-Bat | Maxie Zeus | The Merciless | Merrymaker | Mister Bloom | Monk | Mr. Freeze | Mrs. Freeze | Mr. Toad | Mutants | Nightslayer | Nocturna | Nyssa Raatko | Onomatopoeia | Orca | Outsider | Owlman | Penguin | Penny Plunderer | Phosphorus Rex | Planet Master | Poison Ivy | Polka Dot Man | Professor Pyg | Prometheus | Ra's al Ghul | Ragdoll | Ratcatcher | Reaper | Red Claw | Red Death | Reverse-Flash | Riddler | Roland Daggett | Roxy Rocket | Royal Flush Gang | Rupert Thorne | Sal Maroni | Scarecrow | Sensei | Sewer King | Signalman | Sinestro | Snowman | Solomon Grundy | Spellbinder | Squid | Steeljacket | Suicide Squad | Talia al Ghul | Tally Man | Ten Eyed Man | Terrible Trio | Thomas Wayne Tiger Shark | Timecode | Tony Zucco | Tweedledum and Tweedledee | Two-Face | Ubu | Vandal Savage | Ventriloquist | Ventriloquist II | Ventriloquist III | Vertigo | Victim Syndicate | Victor Zsasz | Whisper A'Daire | Wrath | Zebra-Man
Movies
Batman (1966): Joker | Catwoman | Penguin | Riddler
Batman (1989): Joker | Bob Hawkins | Alicia Hunt | Carl Grissom | Max Eckhardt | Vinnie Ricorso | Joe Chill
Batman Returns: Penguin | Red Triangle Circus Gang (Organ Grinder, Poodle Lady, Tattooed Strongman, Stungun Clown, Thin Clown, Fat Clown, Sword Swallower & Knifethrower Dame) | Max Shreck | Catwoman | Charles "Chip" Shreck
Batman: Mask of the Phantasm: Phantasm | Joker | Salvatore Valestra | Arthur Reeves | Chuckie Sol | Buzz Bronski
Batman Forever: Riddler | Two-Face | Sugar | Spice | NygmaTech (Frogmen) | Neon Gang (Neon Gang Leader) | Salvatore Maroni
Batman & Robin: Poison Ivy | Mr. Freeze | Bane | Snowy Cones Thugs | Golums | Jason Woodrue
Batman Begins: Ra's al Ghul | League of Shadows (Ra's Decoy) | Scarecrow | Carmine Falcone | Victor Zsasz | Joe Chill
The Dark Knight: Joker | Joker's Thugs (Thomas Schiff, Chuckles, Kilson, Bus Driver, Happy, Dopey, Grumpy & Bus Driver) | Two-Face | Sal Maroni | The Chechen | Gambol | Lau | Bank Manager | Michael Wuertz | Burmese Bandit
The Dark Knight Rises: League of Shadows (Bane, Talia al Ghul & Barsad) | Catwoman | John Daggett
Batman v Superman: Dawn of Justice: Lex Luthor | Doomsday | Anatoli Knyazev | Mercy Graves | Cesar Santos | Amajagh | Joe Chill | Dru-Zod | Steppenwolf
Suicide Squad: Eyes of the Adversary (Enchantress & Incubus) | Suicide Squad (Deadshot, Harley Quinn, Captain Boomerang, El Diablo, Killer Croc, Slipknot & Amanda Waller) | Joker's Gang (Joker, Jonny Frost, Panda Man & Monster T) | Griggs
The Lego Batman Movie: Joker | Harley Quinn | Catwoman | Poison Ivy | Two-Face | Bane | Riddler | Phantom Zone Criminals (Zod, Sauron, Kraken, Lord Voldemort, Jaws & Gremlins)
Joker: Clowns (Joker & Clown) | Penny Fleck | Randall | Wall Street Three | Penny Fleck's Boyfriend
Community content is available under
CC-BY-SA
unless otherwise noted.