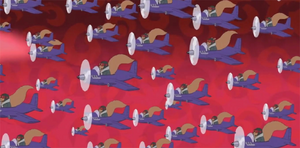 The Flying Squirrels are supporting antagonists of the Phineas and Ferb episode "Wizard of Odd". They are unnamed squirrels who work for Doofenwarlock.
Role
The Flying Squirrels are only seen when Doofenwarlock summons them to capture Candace Flynn in order to get her red rubber boots after capture Perry the Platypus. To that end, the Flying Squirrels board on their own tiny planes to track down Candace, eventually tracing her down to a dark forest. With that in mind, the squirrels catch Candace by using a single hook on her skirt, much to her frustration. The Flying Squirrels then deliver Candace over to Doofenwarlock's castle, much to Doofenwarlock's great delight. However, Perry summons several of her friends to rescue Candace before escaping on a mooring rope connecting to a blimp, but one of the Flying Squirrels cuts the rope, sending them to fall onto large pillows leading to Bustopolis.
It is unknown what happened to the Flying Squirrels after Doofenwarlock obtain the red boots before being crushed by a falling house.
Trivia
The Flying Squirrels are a parody of the Flying Monkeys since the episode "Wizard of Odd" is a parody of The Wizard of Oz.

Villains
Community content is available under
CC-BY-SA
unless otherwise noted.