Obi-Wan Finale - The Loop
Play Sound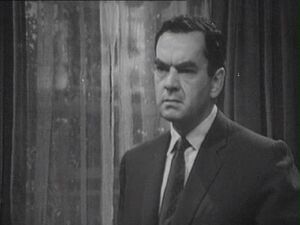 Forester is the main antagonist of the Doctor Who story "Planet of Giants".
He was portrayed by the late Alan Tilvern.
Biography
Forester was an industrialist whose company backed the development of the powerful insecticide DN6, developed by a scientist named Smithers. Forester was a businessman, not a scientist, and so understood little of the nature of the substance. When an inspector, Arnold Farrow, tested the substance, he learned that it was completely destructive, not only killing pests but also insects that were essential to agriculture. Furthermore, if used, it would ultimately build up to the point where it would be lethal to humans. Forester was horrified that Farrow refused to authorise the manufacture of DN6, since if production didn't occur he would be bankrupt. However, on learning that Farrow had not reported his findings and was about to go on holiday, Forester shot him dead.
Smithers quickly saw through Forester's claim to have killed Farrow in self-defence but was more accepting of his claim that Farrow had demanded a bribe to submit a favourable report. Since he was convinced DN6 would end famine, he went along with Forester's plan to hide Farrow's body, alter his report to give DN6 approval and make it look as though he had died in a boating accident on holiday. However, Forester's attempts to make it look as though Farrow was still alive arose the suspicions of the local phone operator Hilda Rowse when he tried to impersonate him on the phone.
By this point, Smithers had come to the same conclusion as Farrow, that DN6 would destroy all life and was too dangerous to use. Forester seemed prepared to kill Smithers to ensure DN6 entered production, but unknown to him, the Doctor and his friends, who had been miniaturised by an accident with the TARDIS, were present in the laboratory and had also realised the danger of DN6. Their attempt to start a fire caused a small explosion which incapacitated Forester, allowing the local constable Bert Rowse, Hilda's husband, to take charge of the situation.
Trivia
The novelisation gives Forester's full name as Mark Forester, but there is no mention of this in the actual programme.