Doctor Strange in The Multiverse o Madness - The Loop
Play Sound
Frank Loder was a recurring antagonist from the WB TV series Smallville making several appearances in Season 3.
He was an FBI agent on the payroll of the Luthors.
He was portrayed by Gary Hudson.
Biography
Crisis
Loder was an FBI agent who was contacted by Lex Luthor originally to help him get the charges dropped against him for the murders committed by Adam Knight at Metron Pharmaceuticals.
In exchange for this favor, Lex agreed to help Loder try and take down Lex's father Lionel. Loder established surveillance on Lionel keeping track of his every move.
Legacy
Lex later consults with Agent Loder and told him to disregard Lionel's comments about the Kents, saying that he only agreed to help them bring Lionel down and to not interfere with the Kents.
Loder was dubious at Lex's insistence that Clark was an ordinary boy. Lex went to Frank Loder who explained that the FBI was not interested in the Kents.
Forsaken
Loder seemed to be working for Lionel as well when he contacted him informing Luthor that Lex didn't have any evidence against Lionel, but if he does it will stay buried, and that he will look into the Ross kid while holding a file on Clark Kent.
Pete was driving home when Loder pulls him over, saying he has to ask some questions about his mother's federal judgeship. He took Pete to a dock and beats him up while demanding to learn Clark Kent's secret, assuming that Clark's best friend must know it.
Lex arrived to save him just in time to pull Loder off, revealing that Lionel paid him off to drop the case and investigate Clark instead. Lex ordered him to get back to Lionel's case and gave him a transcript of Lionel's voicemail confession. Loder backed off, but remarked that Pete was keeping a secret bigger than Lionel.
Lex later went to Lionel's office again and asked Lionel about Emily Dinsmore. He was soon followed by Loder and other federal agents, who arrest Lionel for the murder of his parents and ushered him away in handcuffs.
Covenant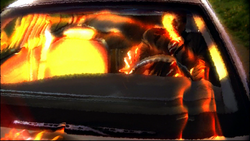 Even in jail, Lionel expected him to continue investigating Clark. Loder refuses at first, believing that Lionel is powerless. Though he refused, Loder was curious as to why both Lionel and Lex were so fixated with Clark.
He still went to the Kent Farm and returned to the farm to listen in on a conversation with Kara, a woman supposedly from Krypton. In reality, she was Lindsey Harrison, a girl who disappeared in the first meteor shower and was being used by Jor-El to manipulate Clark into returning to him.
As Loder listens in, Kara senses him listening and kills him by vaporizing his car and everything in it to dust. Martha wanted to call the sheriff but Jonathan said what would they tell him that a Kryptonian girl vaporized a Federal agent.

Villains
Protagonists