| | | |
| --- | --- | --- |
| " | If I cannot inspire love, I will cause fear! | " |
| | ~ The Frankenstein Monster's most well-known quote. | |
Frankenstein's Monster is the main antagonist of the novel Frankenstein by the late Mary Shelley and its many film adaptations. He was created in 1816 and made his debut on January 1, 1818. Although he had surprisingly immense powers of speech in the original novel, most film versions limit his vocabulary, otherwise, they remove it entirely, so as to enhance how inhuman he is.
Portrayals
The character has been portrayed by several actors over the years, including:
Biography
Novel
The Monster made his first appearance in the 1818 novel Frankenstein, or The Modern Prometheus. He is described as having wrinkled skin which barely hid the blood vessels, black lips, black hair, and yellow eyes. He was created on a rainy November night in the late 18th century Ingolstadt, Germany, by the medical student Victor Frankenstein. Frankenstein is so horrified by his creation that he flees the house, leaving the Monster to his own devices. The Monster takes a jacket to clothe himself and eventually wanders off into the wild. He spends a lengthy period of time learning to survive. Any humans he comes across are so frightened by his appearance that they run from him, just as Frankenstein had done.
The Monster eventually takes up abode in a small hovel that abuts a cottage. He listens to the inhabitants, the De Lacey family, through a chink in the wall and learns to speak and read from their example. His first reading materials are several books that he finds in a castoff suitcase, including the works of Milton, Plutarch, and Goethe. The Monster also reads a series of papers that he has found in his jacket, which turns out to be Frankenstein's notes.
Through these, he discovers his origins and learns that Frankenstein lives in Geneva, Switzerland. The Monster grows to love the De Laceys during his time as their "neighbor" and decides to reveal himself to the blind father while his grown children are out. However, the children return and discover him with their father, and drive him from the house. Enraged at how the whole of humanity has treated him, the Monster sets fire to the cottage, and swears revenge on Frankenstein for bringing him into a world that hates him.
He travels to Geneva, where he manages to save a beautiful young girl from drowning. However, he is shot by the girl's father as a result. A few weeks after his wounds heal, he meets a young boy and tries to befriend him. The boy, who is Frankenstein's brother William, shrieks that he will send his father, Judge Frankenstein, after him. Upon learning that the boy is a Frankenstein, the Monster strangles him to death and takes a wallet, which contains a portrait of Frankenstein's mother. The Monster moves on and finds a young woman, who is asleep in a barn. On an evil impulse, the Monster places the locket in her pocket. It is only after the police arrest her for William's murder that the Monster realizes that she is Justine Moritz, the Frankensteins' servant. Justine is blamed for William's death and hanged for murder.
In order to collect his thoughts, Frankenstein ascends into the Alps. The Monster confronts him there and pressures him into creating a female creature so he can have a mate; he promises that if he is given this, he will disappear and never trouble humanity again. Frankenstein agrees and travels to Scotland, where he begins the process of creating a female. The Monster follows him and watches with eager anticipation. At the last minute, however, Frankenstein decides not to go through with it and destroys the unfinished female creature out of fear that she will not agree to the arrangement the Monster made or that they could have a dangerous child. The enraged Monster swears to Frankenstein that he will be with him on his wedding night. True to his word, the Monster kills Frankenstein's new bride, Elizabeth LaVenza, as well as his best friend, Henry Clerval; he is also indirectly responsible for the death of Frankenstein's father, who dies of grief after Elizabeth's body is found.
Now with nothing to live for, Frankenstein swears vengeance and pursues the Monster to the Arctic, where he falls into the freezing waters and is picked up by a ship heading for the North Pole. Frankenstein tells his story to the expedition's leader, then dies of pneumonia. The Monster shows up not long after to gloat over Frankenstein's lifeless body, but upon seeing his creator dead it is overcome with remorse, for the only man who had ever really known the creature is now dead and the monster is truly alone in the human world. He announces that he will reach the Pole and destroy himself on a funeral pyre, swearing that at least he would be happy by being killed. He jumps from the ship and disappears into the distance.
Frankenstein (1910)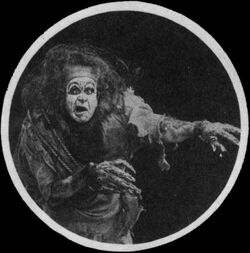 In this silent movie, the creature appears as an imperfect clone, being grown in a vat of chemicals rather than being stitched together from body parts. However, it turns out to be a mere physical manifestation of Victor Frankenstein's own subconscious. It is portrayed as being evil, sadistic, and taking pleasure in taunting his creator, lacks the sympathetic backstory, and physically looks like a misshapen human/orangutan hybrid. He was portrayed by the late Charles Stanton Ogle.
Universal series
It was the series of films made by Universal Studios in the 1930s and 1940s that created the version of the Monster that most people know. The Universal Monster has a flat-topped head, electrodes in both sides of his neck, a heavy brow ridge, and drooping eyelids.
His body was sewn together by Henry Frankenstein from pieces of dead bodies and brought to life using electricity. However, Dr. Frankenstein's assistant Fritz retrieved an abnormal "criminal" brain instead of a normal one. This was intended as an "explanation" of the Monster's homicidal and destructive actions later in the film.
In the first two films, the Monster turns to violence only after being abused by Fritz and rejected by others. In the third film Son of Frankenstein, the Monster lost the powers of speech he had gained in the previous entry and had gained a companion named Ygor. Ygor used the Monster as a tool in his plan of revenge against the eight villagers who voted for his execution, which was botched. This plan was thwarted by Wolf von Frankenstein. In the next film, Ygor manipulated Wolf's brother Ludwig into placing his brain into the Monster's body.
However, Ygor's blood type did not match that of the Monster, and he went blind. The Monster was intended to speak in Ygor's voice in Frankenstein Meets The Wolfman, but studio executives, who did not like the effect, cut all of the Monster's lines. For the rest of the series, the Monster was depicted as a shambling and mute idiot by former stuntman Glenn Strange. The Monster met its apparent death in Abbot and Costello Meet Frankenstein when the dock he is standing on is set on fire.
Hammer series
After Universal ended its series of Frankenstein films, no major efforts were made until Hammer, an English studio, gained the rights to the characters (but not the makeup format that Jack P. Pierce had designed for Boris Karloff, of whose copyright Universal still retained ownership on them.) and started producing its own series. The series revolved around Dr. Frankenstein, played by the late Peter Cushing, trying to create life. In each film, he created a new monster which is then destroyed after it commits a series of murders.
Most variations of the character are portrayed as entirely monstrous. A notable exception was in the second film The Revenge of Frankenstein, in which the Monster character is handsome, but loses control of his body. The Baron himself undergoes several characterizations. In some films he exhibits heroic qualities, in others, he is undeniably evil, even going so far as to commit rape in Frankenstein Must Be Destroyed. As multiple monsters are featured throughout the series, the look of the Monster changed continuously. The late Christopher Lee, in the very first such Hammer film, The Curse Of Frankenstein, was so made up as to give him the most infamous appearance of these Monsters, with an almost entirely scarred face, a bulging eyeball, and obviously green skin.
The Frankenstein Papers
In his 1986 novel The Frankenstein Papers, Fred Saberhagen dealt with a wholly unique take on the Monster. The book is a reinterpretation of the original novel and takes that concept to an extreme. In this conception, Victor Frankenstein's experiments were funded by the wealthy and immoral Robert Saville (who was responsible for the bulk of the murders attributed to the Monster), who is interested in using Dr. Frankenstein's science in order to produce a more durable form of slave for use in American and Caribbean plantations.
However, the science is far from sound and fails to produce results. The Monster was in fact an extraterrestrial named Osak Larkas, who was covertly observing Earth's advancing civilization. The electrical signals given off by Frankenstein's apparatus caught Larkas' attention, so he stealthily hid his conveyance and approached the laboratory. Once inside, lightning struck the house, and Larkas was knocked unconscious. When he came to, he was suffering from amnesia and stumbled out into the night.
Young Frankenstein
Frankenstein's Monster, portrayed by the late Peter Boyle, also appeared in Mel Brooks's parody of the classic horror villain in the film Young Frankenstein. He is brought to life by Victor Frankenstein's grandson Frederick, acted out by the late Gene Wilder (who wrote the film for the screen in partnership with Brooks), who initially dismisses his grandfather as "a famous cuckoo". Like the original monster, he is afraid of fire, and wants to be loved, but decides to inspire terror instead when his creator and the townsfolk turn against him. He also kidnaps and sleeps with Frederick's fiancee, who later marries him instead. In the end, Frederick transfers some of his brain into the monster, making him less antisocial and violent and more sophisticated.
The "Faithfulness" Trend
Main article: Frankenstein's Monster (Mary Shelley's Frankenstein)
Of late, it has become the fashion to produce films that are more dependable and faithful to Mary Shelley's novel. Two of these are particularly important. The first was a 1993 made-for-TV movie starring Patrick Bergin as Victor and Randy Quaid as the Monster. Taking advantage of how vague the novel's description of the creation scene was, as Victor wanted the details of the Monster's creation to die with him and thus refused to disclose them to Walton, the film has Dr. Frankenstein create the Monster through some sort of particle generator, using himself as the model. This method results in the two characters sharing a psychic link. The Monster cannot die while Frankenstein lives, so they commit suicide together by leaping into the Arctic Ocean at the film's conclusion.
Personality
Since Frankenstein is such a famous tale, it has been adapted many times, and, subsequently, the creature has had many different takes on him over the years, both visually, and in terms of his personality, but many of his traits are fairly consistent: He is deeply dissatisfied and depressed about life in general, holds a grudge against his creator, and is generally afraid of humanity due to its judgmental prejudice against him based solely on his grotesque appearance. Despite his terrifying and zombie-like appearance, the creature harbors the same emotions like any other human, and the same desires: Love, friendship, and acceptance into society. Whenever he reaches out, he is faced with fear and aggression, is rejected and driven away, and his bitter loneliness manifests into a seething hatred for his creator. Despite this, he does not hate humanity, generally avoiding humans, and will only harm others in either self-defense or, in a bid to harm Frankenstein, those whom Frankenstein holds dear. While he generally is portrayed as a miserable and embittered pariah, his intellect varies greatly depending on the adaptation. While in the book he was strategizing, somewhat educated, and highly cunning, this was eclipsed by his perhaps more iconic depiction in the Universal movies. In these, he seldom spoke, although when he did, his words carried a great deal of gravity and cryptic meaning to them. Because he was largely mute, later adaptations mistook this for stupidity and would portray the creature as an imbecilic man-child, and the Hammer series completely removed his lonely side, making him a cold-blooded murderer with severe retardation. Many forms of popular culture would later emulate the guttural and largely mute creature. In the novel, the Monster was a vegetarian, eating berries, nuts, roots, leaves, bread, cheese, and milk, although he detested wine (In the Universal canon, the creature enjoyed alcohol and smoking). Later, however, he killed a hare for Frankenstein to eat. Prior to his rejection, the creature was friendly, naive, and helpful towards people, saving a little girl from drowning (only for her father to mistake this for an attack and shoot him) and fed a poor family and helped manage their farm in a bid to befriend them (though this ended in bitter failure).
Powers and Abilities
Superhuman Condition: Victor's creation was made to be stronger, faster, more durable, and agile than an ordinary man, specifically Victor himself. The creature's tremendous strength can be attributed to his size and muscle mass. The creature's superhuman prowess allowed him to scale Mont Saleve in a short period of time, remarkable considering the mountain is four thousand, five-hundred, and twenty-four feet high at sea level.
Superhuman Strength: The creature possessed uncanny strength because he was approximately eight feet in height, and proportionally large. He has stated that he could easily crush a cottage, or tear a man limb from limb with ease. His strength extended to his legs, allowing him to leap across distances that would be impossible for a human to replicate.
Superhuman Speed: The creature has been stated as being able to climb mountains in a short amount of time and described as moving swifter than an eagle. Eagles swoop down towards speeds of 200 mph. He claimed that he was faster than a stag when running casually. Stags can reach speeds of 70 km/hr.
Superhuman Durability: The creature's bones and muscles were somehow more dense than those of a human. He could withstand being in the Arctic with no discomfort.
Virtual Self-Sustenance: The creature could survive off the most minimal quantities of food and water despite his large size.
Superhuman Agility: The creature was more flexible than an ordinary human.
Superhuman Stamina: The creature was virtually immune to fatigue. He could climb the Alps without stopping or swim across the English Channel without rest.
Immortality: Because his body was composed of raw material from the charnel houses, the creature is immune to aging. He was also immune to illness. However, he was, presumably, only biologically immortal, as he could be conceivably killed with enough force. In the novel, Victor, in creating his creature, had hoped "to banish disease from the human frame, and render man invulnerable to any but a violent death!" He apparently succeeded in doing both with his creation of the Monster.
Superhuman Metabolism
Superhuman Reflexes
Healing Factor: The creature could heal far faster than an ordinary human. He was able to heal from a gunshot wound within a few weeks without medical attention.
Superhuman Intelligence: The creature was able to read books such as Milton's Paradise Lost, one of the volumes of Plutarch's Parallel Lives, and Goethe's The Sorrows of Young Werther within a year. He also knew multiple languages, and Victor was afraid the creature would learn how to replicate the creation process by observation.
Gallery
Trivia
Frankenstein's Monster is arguably considered one of the most tragic villains in history, as he was shunned since the very first moment he came to life, ostracized and rejected despite his good intentions, was repeatedly deprived of love and affection, and he became murderous solely to avenge his misery, but he ultimately regretted his actions, and opted to commit suicide to stop himself from causing any more harm.
In Mary Shelley's novel, Frankenstein's Monster was described as having yellow skin that barely concealed the blood vessels and organs inside the creature. But over many different retold adaptions of the story, it has been made many different colors, with its most well-known color being green.
Contrary to what many modern audiences believe, the name of Frankenstein's Monster is not Frankenstein in particular, as the name is merely derived from his creator Dr. Victor Frankenstein, and in truth, Frankenstein's Monster has no real name. Nevertheless, given that the Monster's appearances in popular culture mostly refer to him as "Frankenstein", the monster is now known by such a name.
External Links

Notable Legends
Bigfoot | Chupacabra | Cyclops | Dragons | Fairies | Gremlins | Grim Reaper | Ghosts | Giants | Headless Horseman | Kraken | Loch Ness Monster | Medusa | Minotaur | Monsters | Mothman | Ogres | Siren | Skeletons | Spiders | Vampires | Wendigo | Yeti | Zombies | Stingy Jack
Demonology Legends
The Devil | Demons | Fallen Angels
Abaddon | Abere | Abyzou | Angra Mainyu | Aka Manto | Apep | Asmodeus | Asuras | Antichrist | Baal | Banshee | Baphomet | Beelzebub | Beast | Behemoth | Behemoth the Elephant | Belphegor | Black Cats | Black Monk of Pontefract | Black Shuck | Black Volga | Bogeyman | Buer | Cerberus | Coco | Crom Cruach | Demiurge | Eight Feet Tall | El Charro Negro | Enma Daio | Erlik | Hellhounds | Iblis | Kali | Kelpie of Loch Ness | Kitsune | Kroni | Krampus | Lamia | Legion | Locusts of Abaddon | Mahishasura | Malsumis | Mammon | Mara | Mares | Mephistopheles | Moloch | Nure-Onna | Rakshasa | Ravana | Raven Mocker | Sack Man | Samael | Six Demons | Stolas | Succubi | Termagant | Unholy Trinity | The Watchers | Wa Nyudo | Whore of Babylon | Gargoyles
Disambiguation Pages
Baphomet | Demon | Satan | Succubus
Gods & Spirits
Gods & Goddesses: Ares | Atë | Atlas | Camazotz | Damballa | Geb | Fomorians (Balor, Bres) | Hades | Hera | Jötunn (Ymir, Loki, Hela, Skoll and Hati, Fenrir, Jormungandr, Surtr, Hræsvelgr) | Kali | Kronos | Limos | Nun | Poseidon | Set | Titans | Xolotl | Zeus
Spirits: Dybbuk | El Silbón | Fetch | Hinnagami | La Llorona | La Sayona | La Viuda | Mackenzie Poltergeist | Myling | Poltergeists | Stingy Jack
Humans & Humanoids
Abhartach | Ajax the Lesser | Ame-onna | Bandits | Baron Samedi | Black Rock Witch | Blair Witch | Cain | Cassiopeia | Christie Cleek | Creon | Delilah | Draug | Doppelgangers | Goliath | Gomorrahites | Green Witch | Hags | Haman the Agagite | Hanako-San | Herod Antipas | Herod the Great | Herodias | Horsemen of the Apocalypse | Ixion | Jezebel | Judas Iscariot | King Ahab | King Arthur | Kuchisake-onna | Lilith | Lord William de Soulis | Louhi | Lucius Tiberius | Lycaon | Meg of Meldon | Morgan le Fay | Nanny Rutt | Pandarus | Paris | Phaedra | The Pharisees | Polyphemus | Rich Man | Romans | Santa Compaña | Saul | Sawney Bean | Shechem | Sodomites | Stingy Jack | Tamamo no Mae | Tantalus | Trauco | Tydeus | Umibōzu | Yallery Brown | Ysbaddaden | Dr. Victor Frankenstein | Frankenstein's Monster | Count Dracula | La Tunda | Davy Jones | Captain Nemo
Monsters, Animals & Anthropomorphic Beings
A-mi'-kuk | Akkorokamui | Averesboro Gallinipper | Aye-aye | Basilisk | Boneless | Cirein-cròin | Cockatrice | Devil Monkeys | Erymanthian Boar | Escornau | Fossa | Fouke Monster | Foxes | Giants of Voronezh | Golden Cicada | Groundhogs | Harpies | Hydra | Jackalopes | J'ba Fofi | Kappa | La Cegua | Lambton Worm | Leviathan | Madman Marz | Michigan Dogman | Mikari Baba | Mordred | Morgan le Fay | Onamazu | Otesánek | Paparrasolla | Pesanta | Redcaps (Robin Redcap) | River Mumma | Scylla | Stymphalian Birds | Tailypo | Tarasque | Trolls | Tsuchinoko | Veles | Wolves | Frankenstein's Monster | Count Dracula
Common Legends
Amanda the Doll | Black Goo | Bunnyman | Bye Bye Man | Candyman | China Doll | Clown Doll | Cropsy | Crying Boy | Cursed Dolls | Hairy-Armed Woman | Hatman | Homey the Clown | Hook Killer | John and Susan Buckley | Joliet the Haunted and Cursed Doll | Licking Maniac | Melon Heads | Men in Black | Mystery Killer | Nain Rouge | Nameless Thing of Berkeley Square | Old Man Try-By-Night | Peeping Tom | Rain Man | Robert the Doll | Paimon | Patasola | Skinned Tom | Teke Teke | The Killer In the Backseat | The Man Upstairs | La Tunda
Cryptids
Beast of Beckley | Beast of Gévaudan | Black Eyed Children | Black Stick Men | Bloop | Cherufe | Devil Monkeys | Emela-Ntouka | Dog-headed Men | Fallen Angels | Fear Liath | Flatwoods Monster | Goatman | Grafton Monster | Greys | Hoop Snake | Indrid Cold | Jackalopes | Jersey Devil | Kelpie of Loch Ness | Kongamato | Malawi Terror Beast | Mamlambo | Manananggal | Maricoxi | Mngwa | Momonjii | Nobusuma | Pope Lick Monster | Popobawa | Pukwudgies | Reptoids | Roc | Ropen | Salawa | Sea-Serpents | Shadow People | Sheepsquatch | Slide-Rock Bolter | Snallygaster | Spring Heeled Jack | Tanuki | Thunderbird | Two-Toed Tom | Water Horses | White-Eyed Children | Yowie | Ghosts
Modern Legends
Charlie | Bloody Mary | Bloody Mary (Halloween Horror Nights) | Ghost (Johnny, I Want My Liver Back) | Ghost Bus of Highway 93 | Ghost Cars | Ghost Trains | Momo | Orie Chef | Aliens (AC) | Martinez Dog Demon | The Spirit of Dark and Lonely Water | Crisis
Possessed Objects
Coffin on Wheels | Ghost Trains | Black Volga | Robert the Doll | Joliet the Haunted and Cursed Doll | China Doll | Amanda the Doll | Clown Doll | Gargoyles
See Also
Cthulhu Mythos Villains | Trevor Henderson Villains | Creepypasta Villains | SCP Foundation Villains
Community content is available under
CC-BY-SA
unless otherwise noted.