Wiki Targeted (Entertainment)
Play Sound



Click to help Cruella!

This scum Fright (DC) is driving Cruella insane!
IT MUST BE REWRITTEN OR ADDED TO!!
So sayeth the great Lord of Darkness Sauron, or he will send Darth Vader to terminate you.

Help improve this article by rewriting, expanding, updating the poorly written text of the article. ✓
Jafar says: Read my lips and come to grips with the reality!


This article is a stub and is in need of expansion. You can help Villains Wiki by expanding it.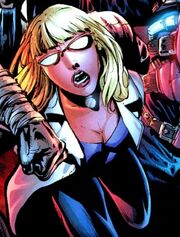 Linda Friitawa, better known as Fright, is a minor antagonist and scientist in DC Comics.
Biography
She is a supervillain under the employ of the Penguin assisting the Scarecrow in his experiments to refine his fear-inducing chemicals. Friitawa worked for the Penguin because she had lost her medical license. An albino, Friitawa slept through the day and worked all night assisting the Scarecrow. In contrast to the Penguin, who constantly harangued and bullied the Scarecrow, Friitawa showed him kindness.
Soon, a gigantic creature dubbed the "Scarebeast" began killing off the Penguin's underlings. Although the creature exhaled fear-inducing toxin and resembled the Scarecrow's costume, Friitawa believed the Scarecrow when he claimed he had nothing to do with the creature
Batman defeated the creature and discovered that it was, in fact, the Scarecrow. Unbeknownst to the Scarecrow, the Penguin had hired Friitawa, a geneticist who lost her license for unauthorized experiments on human beings, to alter the Scarecrow's own genetic experiments and infect him with them, causing him to transform into the Scarebeast. Friitawa also used the Scarecrow's genetic experiments to cure herself of her albinism, and give herself superhuman abilities. When Batman confronted Friitawa and the Penguin with his discoveries, she told him to call her "Fright" and ran off.
Recently, she has joined the new Black Mask in his Ministry of Science. She has a romantic relationship with the newest Black Mask during her joining.
Powers and Abilities
According to the Penguin, Fright has the ability to exhale nerve toxins. She also has superhuman strength and agility, the degree of which is unknown.

Villains
Comics
Abbadonia | Alice | Amygdala | Anarky | Bane | Black Mask | Blockbuster II | Bloody Mary | Bruno Mannheim | Christopher Falchion | Cutter | Deathstroke | Electrocutioner | Firefly | Fright | Green Fairy | Hugo Strange | Intergang | Killer Croc | Killshot | Kobra Cult | Kyle Abbot | La Llorona | Lamprey | Mad Hatter | Many Arms of Death | Maro Ito | Medusa | Mortician | Mr. Freeze | Nathan Grantham | Nocturna | Night-Thief | Nyx | Penguin | Poison Ivy | Professor Pyg | Religion of Crime | Riddler | Rush | Scarecrow | Scatter | Scorpiana | Sister Shard | Tahani | Whisper A'Daire | Wolf Spider
Movies
Batman: Mystery of the Batwoman: Penguin | Bane | Rupert Thorne | Carlton Duquesne
Batman: Bad Blood: League of Assassins (Talia al Ghul, The Heretic, Onyx, Firefly, Tusk, Mad Hatter, Electrocutioner, Hellhound, Calculator, & Killer Moth) | Black Mask

Television
Season 1: Wonderland Gang (Alice, Jonathan Cartwright, & Chuck Dodgson) | August Cartwright | Hush | Crows Security (Catherine Hamilton-Kane & Miguel Robles) | Magpie | The Executioner | The Rifle | Anti-Monitor | Monitor | Lex Luthor | Bruce Wayne (Earth-99) | Shadow Demons | Nocturna | Duela Dent | Mabel Cartwright | Johnny Sabatino | Tim Teslow | Safiyah Sohail | Joker
Season 2: Many Arms of Death (Safiyah Sohail, Tatiana, The Pike, & Dire-Flail) | Alice | False Face Society (Black Mask & Rudy) | Enigma | Crows Security (Russell Tavaroff & Miller) | Ethan Rogers | Hush | Victor Zsasz | Candy Lady | Amygdala | Ellis O'Brien | Kilovolt | Cluemaster | Gotham City Police Department | Circe Sionis | Wonderland Gang (Jonathan Cartwright) | Catherine Hamilton-Kane | Joker
Season 3: Alice | Liam Crandle | Steven