The Sandman Will Keep You Awake - The Loop
Play Sound
The Galactic Imperial Army Zone are the main antagonist faction of Chikyuu Sentai Fiveman. They are an army of aliens that travel across the Universe attacking planets so as to complete a ritual which will award their leader immortality.
The Imperial Army is led by Galactic Empress Meadow, a mysterious entity who appears as the rainbow-maned head of a woman in the sky to give orders to her subordinates. Zone's forces operate from their flagship, Vulgyre, which is capable of dispensing smaller ships called Vulgols.
History
The Zone were originally assembled by a mysterious extraterrestrial entity known as Vulgyre, who sought to attain immortality by destroying 1000 worlds. To accomplish this, he founded the Zone and created the visage of Meadow to attract and inspire loyalty in his subjects. Among those to join Zone in its early days was the alien scientist Doldora, who soon became one of Meadow's most devoted followers.
With an army of fanatical followers under her command, Meadow led the Zone in campaign of conquest against the inhabited worlds of the universe, leaving any planets they invaded razed and devoid of life. Their campaign was initially spearheaded by Captain Chevalier, who led numerous successful conquests for Meadow before being allowed to retire for his service. After Chevalier left to pursue a life of lavishness and women, he was replaced as captain of Zone's flagship by Captain Garoa. As the Zone carried on their attacks they recruited more and more aliens to their cause, motivated to join upon witnessing Meadow's angelic visage.
Among the planets destroyed by the Zone was the planet Sidon, which was later made habitable again by the research of the Hoshikawa family. Upon learning what the Hoshikawas had done, Zone returned to the planet and murdered its remaining life forms. The Hoshikawa children were able to escape and flee back to Earth, but their parents were seemingly lost.
Eventually, having destroyed life on 999 planets, the Zone came to Earth seeking to make it the 1000th. They were met by the Hoshikawa siblings, who had grown up since their last encounter and become the Fivemen to defend the Earth from Zone. The Zone landed in the north pole, where they set up their base and began planning to defeat the Fivemen and conquer Earth.
Arsenal
Galactic Ship Vulgyre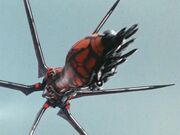 Galactic Ship Vulgyre is a colossal battleship which serves as the main headquarters of Zone. It is titanic in size and armed with a variety of laser weaponry, being capable of leveling entire planets on occasion. It is also capable of folding into a vertical position in order to land on any matter of terrain. In addition, Vulgyre can dispense smaller ships called Vulgols to aid it in aerial combat. It is from within Vulgyre that Zone's Galactic Commanders receive orders from their Empress and command Zone's operations on Earth.
Unbeknownst to even the top brass of Zone, Vulgyre is not only organic but also the place where the projection of Galactic Empress Meadow comes from.
Vulgols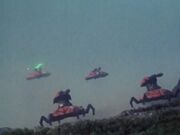 Vulgols are small saucer-shaped ships which comprise the bulk of Zone's aerial space forces. They are capable from shifting from their UFO-like appearance to one with spinning treads in order to make them more suitable for combat close to the Earth. Their main weapons are a pair of double-barreled laser cannons mounted on their head.
Gorlin
Main article: Gorlin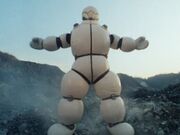 The Enlarging Beast Gorlins are blank white giant robots provided to the Zone by Galactic Merchant Dongoros. They are sent out every time a Galactic Warrior is defeated to absorb the Warrior and copy its appearance, effectively becoming a giant version of said Warrior.
Black Gorlin
Main article: Black Gorlin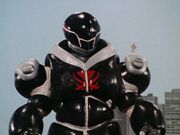 The Black Gorlin is the personal mecha of Captain Chevalier. It is a customized Gorlin painted black in color that, unlike regular Gorlins, does not gain its powers from absorbing a Galactic Warrior and instead fights using the weapons Chevalier mounted on it. Because of this, it is far stronger than regular Gorlins and able to match the Fivemen in their mecha. Though commanded by Chevalier, the Black Gorlin appears to be able to function on its own as Chevalier did not need to pilot it for it to battle the Fivemen.
Chevalier's Ship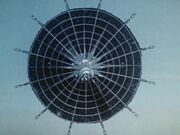 Chevalier's Ship is an unnamed saucer ship which serves as the personal spacecraft of Captain Chevalier, and is used by him and the Galaxy Sentai Gingamen to travel the universe. It possesses the ability to fire lasers from the spikes mounted on it.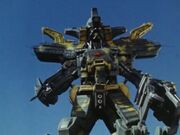 Big Garoan
The Big Garoan is a mecha created by Captain Garoa from modifying a Gorlin and having it absorb construction equipment. It was created by Garoa to help him regain his standing within Zone after he was demoted to janitor for his failures to defeat the Fivemen. It was incredibly strong and possessed a large bulk of firepower, enough that it was able to not going stand against but defeat the Fivemen in Five Robo, though it was destroyed not long after.
Culture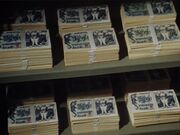 Zone has their own form of currency in the form of the galactic credit Dolyen, which has an exchange rate of 100 Yen or 0.66 U.S.D. The Dolyen are often used to pay the galactic merchant Dongoros for his Gorlins and Zone's other clients for their services, including bounty hunters they hire to go after the Fivemen.
The Zone are also shown to celebrate holidays and other special events. Their most unique holiday is a day called "Topsy Turvy Day", in which the nominal hierarchy of Zone is reversed and Zone's Captain and Galactic Commanders take orders from the Batzler Soldiers and Galactic Warriors.
Members
Executives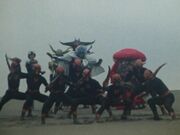 Soldiers
Galactic Warriors
Combined Galactic Warriors
Gallery
Videos