Jurassic World: Dominion Dominates Fandom Wikis - The Loop
Play Sound

✓



Click To Help Dr. Wily!

Dr. Wily has declared that this article is still under construction.
Please don't delete or edit this article yet, it may contrast with the original author's edits.
After I finish this article, the world will be mine! MWAHAHAHAHA!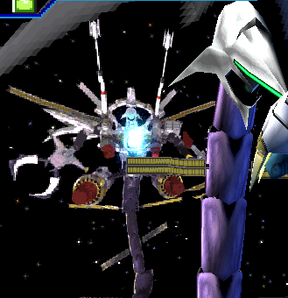 Galacticmon is the final boss from Digimon World 3. He is the evolved form of Snatchmon, after fusing with the Gunslinger Space Station. Snatchmon had been created by Lord Megadeath by fusing four Vemmon, intended to be the strongest Digimon and help him conquer the world. However, Snatchmon refuses to obey Lord Megadeath, attacking him and absorbing his data, all while Junior, the main character, watches the entire scene. Snatchmon tells Junior that he will digivolve to Galacticmon after fusing with the Gunslinger, and after that he will fuse with the entire planet Earth to digivolve into Gaiamon. Since this would mean the end of all life in Earth, Junior decides to stop Snatchmon, who challenges Junior for a battle, teleporting him and his Digimon partners to the outside, and then fusing with the Gunslinger, digivolving into Galacticmon. After a fierce battle, Junior defeats the colossal Digimon, who falls into Earth's atmosphere and breaks apart.