Jurassic World: Dominion Dominates Fandom Wikis - The Loop
Play Sound
| | | |
| --- | --- | --- |
| " | Darken the skies. My nightmare reigns. | " |
| | ~ Galakrond, the Nightmare's summoning quote. | |
| | | |
| --- | --- | --- |
| " | The oceans churn, and the heavens cry! | " |
| | ~ Galakrond, the Tempest's summoning quote. | |
| | | |
| --- | --- | --- |
| " | I am unbreakable! I am UNSTOPPABLE! | " |
| | ~ Galakrond, the Unbreakable's summoning quote. | |
| | | |
| --- | --- | --- |
| " | I am beyond imagination! Succumb to madness! | " |
| | ~ Galakrond, the Unspeakable's summoning quote. | |
| | | |
| --- | --- | --- |
| " | The endless legions are at my call. | " |
| | ~ Galakrond, the Wretched's summoning quote. | |
Galakrond is the main antagonist of the Hearthstone expansion Descent of Dragons and the Galakrond's Awakening adventure. Although he is a major character in the World of Warcraft lore due to being responsible for the creation of the Dragon Aspects, he is long deceased and is only mentioned in lore. In the lore of Hearthstone, Galakrond plays a bigger villainous role since he has been revived by the overarching villains of the Year of the Dragon arc, the League of E.V.I.L..
Appearance
Galakrond has five variations, each corresponding to one of the founders of the League of E.V.I.L. and the class they represent. He has been worshipped by cultists who use rituals to enhance his power, which appears as the Invoke mechanic. When Invoked twice, his title becomes "Galakrond, the Apocalypse" and when Invoked two more times, he becomes his most powerful state, known as "Galakrond, Azeroth's End". Each variant of Galakrond has a unique Battlecry (usually a pattern with 1 target when not upgraded, 2 as the Apocalypse and 4 as Azeroth's End, with the exception of the Tempest).
Galakrond, the Nightmare (representing Rogue) is grey in color, with green veins all over him. As he upgrades, the veins begin to spread across his body, his spikes and claws glow green and his face starts to teem with venom. His Battlecry involves drawing cards and changing their costs to 1, and his Invoke will add one of the League's

Lackeys

to your hand.
Galakrond, the Tempest (representing Shaman) is blue and generates electricity from his body. As he upgrades, his face has a fiery glow while the electricity grows. His Battlecry summons two elementals with Rush which are 2/2 in his initial stage, 4/4 as the Apocalypse and 8/8 as Azeroth's End, and his Invoke summons a 2/1 elemental with Rush.
Galakrond, the Unbreakable (representing Warrior) is red and wears armor. As he upgrades, he gains more armor on his body and his eyes glow red. His Battlecry draws minions and gives each one +4/+4, and his Invoke gives your hero +3 attack.
Galakrond, the Unspeakable (representing Priest) is purple and has tentacles on his body. As he upgrades, he gains more tentacles and eyes on his body, while his facial features mutate. His Battlecry destroys random enemy minions, and his Invoke adds a random Priest-class minion to your hand.
Galakrond, the Wretched (representing Warlock) is teal and has the green glow of fel energy coming from his chest. As he upgrades, the fel glows brighter until his whole body is covered in a green glow with his bones showing. His Battlecry summons random demons and his Invoke summons two imps mutated by Galakrond's draconic energy.
Biography
World of Warcraft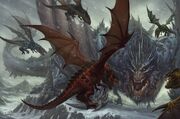 Galakrond was originally mentioned in World of Warcraft lore, where he was a gigantic, tyrannical proto-dragon known for cannibalizing other dragons and being a threat to all of Azeroth.
He had the ability to raise the dragons he'd killed into not-living, undead proto-dragons whom could spread their undeath like a virus. The five proto-dragons whom fought and successfully defeated him, named Alexstrasza, Nozdormu, Ysera, Malygos and Neltharion, were rewarded by the titans to govern Azeroth and became the original Dragon Aspects.
The mortal races were taught to believe that Galakrond was the progenitor of dragonkind and the dragons were created from him, but this was a rumor spread by the Aspects themselves to prevent newer generations of dragons from copying Galakrond's actions and going mad with power like he did.
Hearthstone
The League of E.V.I.L. headed to Dragonblight to find Galakrond in order to revive him for their next evil scheme. Each commander revived Galakrond in a different scenario using their own unique methods: Rafaam used fel magic, Hagatha infused him with the elements, Lazul corrupted him with the powers of the Old Gods, Togwaggle infused him with magical venom and Dr. Boom upgraded him with advanced armor. The League of Explorers, assisted by the original Aspects themselves, came to Dragonblight to stop Galakrond before he and his new masters could begin their new plans.
In the Galakrond's Awakening expansion, he mainly appears as Galakrond the Wretched since Rafaam is the one who revives him. In the heroes' route, Reno Jackson fights Rafaam, who is riding on Galakrond, and transforms into his true form to defeat the pair. In the villains' route, the pair defeat Reno first (as well as the representatives of the Alliance and Horde, Anduin Wrynn and Sylvanas Windrunner), but Rafaam regrets summoning Galakrond as the latter wishes to destroy Azeroth, and Rafaam cannot conquer the world if it's been destroyed, so he fights and defeats Galakrond.
Trivia
The theme music of all Galakrond hero cards are sampled from "We Are Not Alone" from the Legion expansion. There are three samples of the song, to represent the initial form, Apocalypse and Azeroth's End.
Galakrond, the Nightmare was the first Galakrond hero card to be nerfed. He and his upgraded versions originally changed the cards drawn from his Battlecry to 0, before being nerfed to cost 1. Dragonqueen Alexstrasza suffered from a similar nerf.

Decks involving Galakrond, the Tempest were also nerfed due to how powerful they were. Both of the Shaman Invoke cards had their prices increased by 1, but Galakrond, the Tempest himself remained unchanged.