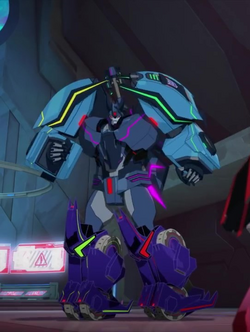 Galvatronus is the final main antagonist in Transformers: Robots in Disguise from Combiner Force season finale. He is a combination of Cyclonus, Cyberwarp, Skyjack, Riotgear and Treadshock. He is a Decepticon loyalist of Megatron.
History
When Bee Team fought against a Cyclonus' armada to rescue Earth and Cybertron, Cyclonus and his minions combine in this form to defeat them. And then the Bee Team members combine to Ultra Bee, and then the epic battle between Earth and Cybertron began. They fought hard, but Galvatronus was a tougher opponent than Menasor. When Ultra Bee was in distress, he was rescued by Cyberwarp. And then Ultra Bee hit hard against hard and beat Galvatronus, and Earth and Cybertron were saved.
Gallery
Community content is available under
CC-BY-SA
unless otherwise noted.