Wiki Targeted (Entertainment)
Play Sound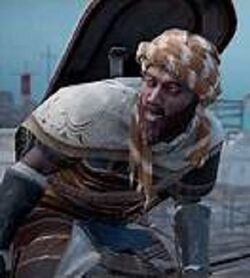 Gamilat is the Final Boss in the Assassin's Creed Origins DLC Map Pack The Hidden Ones.
Background
Gamilat first appeared gathering Nabataean Slave-turned Rebels. He requests Bayek's aid in killing three targets: Tacito, Amphilus, and Ptahmose. After their demises. General Rufio orders his men to execute Bayek, and imprison the rebels. Bayek restores his dignity and frees the rebels. He retaliates and kills Rufio as punishment for his crimes. Gamilat sabotages The Hidden Ones' chances to remain hidden by provoking an extremistic motive. Bayek hunts him down. Gamilat finally shows some remorse and rests in the Duat
Personality
At once, Gamilat appeared to be liberal, gentle and utopia-mongering at first. Later he believes only the oppressed are allowed to win. He is cocky, pretentious, pompous, extremistic, and vengeful towards anyone not his kind. He then mellows back down to moral ground after being defeated by Bayek.