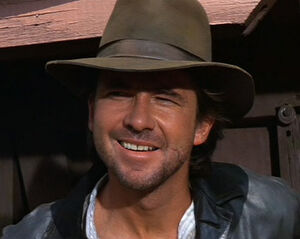 Garth (also referred to as Fedora by Indiana Jones) is a minor antagonist in the 1989 film Indiana Jones and the Last Crusade.
He was portrayed by Richard Young.
Biography
He is a grave robber and an archaeologist who found the Cross of Coronado in 1912. Working for a guy nicknamed Panama Hat by Indiana Jones, he was hired to find the cross which is rumored to have contained a piece of the cross that Jesus was crucified on. While digging in a cave in Utah, Garth and his gang found the cross of Coronado which is stolen by a 17-year old Indiana Jones.
Garth and his men chased down Indiana out of the cave. Indiana escapes on a horse, being pursued by the gang and Panama Hat himself. Indiana flees aboard a circus train. Garth eventually confronts Indiana on the train and tries to claim the Cross. When Indiana refuses to give it back and flees into a magic act car, Garth has his men surround all exits of the train so that Indiana cannot escape. He enters the car but sees Indiana fleeing from a secret exit in a magic box. All he can do is watch in frustration as Indiana runs away in the distance to Moab. But admiring the kid's spirit, Garth just smiles for a split moment.
When Indiana comes home he tries to tell his dad about the cross but Henry Jones Sr. dismisses him. The sheriff arrives to claim the cross from Indiana saying that Panama Hat is the rightful owner of the cross with Garth and his gang as witnesses. After giving the cross to their client, Garth, admiring Indiana's attempts at claiming the cross, tells him encouraging words before putting his fedora on Indiana Jones' head and walking out. He has not appeared in any other movies or books since.
Trivia
Early drafts of the film alluded that Garth was actually Abner Ravenwood, Marion Ravenwood's father and Indiana Jones' unseen mentor mentioned in Raiders of the Lost Ark. However, the idea was dropped from the finished film and any references likening Garth to Ravenwood were all cut.
In some ways, Garth represents the Holy Grail at the film's climax while Panama Hat represents the False Grail. While a fedora is seen as a dusty and crusty hat, a panama hat is seen as a luxurious and elegant hat. This references the fact that Garth proved his worth by revealing himself to not be as greedy and materialistic than his co-workers, whereas Panama Hat claimed to be Cross of Coronado's owner but was actually a deceptive liar.
Garth is arguably the most sympathetic villain of the Indiana Jones franchise, sympathizing with Indy and giving him his fedora as a consolation prize for losing the Cross of Coronado. Indeed, Garth's words of advice can be easily credited as one of the reasons for which Indiana became an archaeologist to begin with.

Villains

Villains
Animated Features
Beavis and Butt-head | Dallas Grimes | Muddy Grimes | Principal McVicker | Angelica Pickles | Eric Cartman | Saddam Hussein | Sheila Broflovski | Satan | Mr. Garrison | Chef | Randy Marsh | Shelly Marsh | Gerald Broflovski | Coco LaBouche | Jean-Claude | King Goobot | Ooblar | Poultra | Alphonse Perrier du von Scheck | Nick Vermicelli | Big Bob Pataki | Sloan Blackburn | Bree Blackburn | Poachers | Siri | Sheldon Plankton | Karen Plankton | Mr. Krabs | Dennis | Cyclops | Victor | Boat Jacker | The Thug Tug Gang | Film Actor's Guild (Alec Baldwin | Kim Jong-il) | Vincent | Gladys Sharp | Dwayne LaFontant | Dag | Nora Beady | Coyotes | The Toad | Le Frog | Spike & Whitey | Thimblenose Ted | Fat Barry | Ladykiller | Henchfrogs | Prince Charming | Trees | Rapunzel | Layton T. Montgomery | Ken | Tai Lung | Criminals | Makunga | Teetsi | Nana | Tour Guide | Poachers | Gallaxhar | Robot Probes | Red Death | Rumpelstiltskin | Pied Piper | Megamind | Minion | Tighten | Tortoise John | Rattlesnake Jake | Bad Bill | Hawk | Balthazar Douglas Peterson | Lord Shen | Lord Shen's Wolf Army (Boss Wolf) | Jack & Jill | Humpty Alexander Dumpty | Maybelle | Ivan Ivanovitch Sakharine | Sakharine's Pirates (Allan, Tom, & Pedro) | Falcon | Aristides Silk | Red Rackham | Chantel DuBois | DuBois' Men | Pitch Black | Nightmares | Burger-Beard | Moriarty | Reggie and Ronnie | Chimpanzombies | King Poseidon | El Diablo
Live Action Films
Emilio Barzini | Michael Corleone | Vito Corleone | Sonny Corleone | Fredo Corleone | Mr. Firat | Assassins (Moras) | Katahdin | Jason Voorhees | Bluto | Vermithrax Pejorative | Tyrian | Adolf Hitler | René Belloq | Major Arnold Ernst Toht | Herman Dietrich | Gobler | German Mechanic | Otto | Satipo | Barranca | Mola Ram | Chief Guard | Chattar Lal | Lao Che | Victor Maitland | Curly Shepard | Tim Shepard | Texan Thugs | Maxwell Dent | Karla Fry | Walter Donovan | Elsa Schneider | Ernst Vogel | Panama Hat | Garth | Holli Would | The Goons | Mr. Curran | Ellis De Wald | Orrin Sanderson | Steve Fulbright | King Edward I of England | Prince Edward | Marion Hawthorne | Agatha K. Plummer | Jim Phelps | Franz Krieger | Max Mitsopolis | Claire Phelps | Matthias | Governor Tracy | Castor Troy | Pollux Troy | Kurt Bozwell | Troy and Griffin | Roxanne | Cal Hockley | Spicer Lovejoy | Ruth DeWitt Bukater | Christof | Lady Van Tassel | Headless Horseman | Reverend Steenwyck | Sean Ambrose | Hugh Stamp | John C. McCloy | Wallis | Ulrich | Michael | Simon | Henry Gates | Richard and Jay | Count Olaf | Hook-Handed Man | Henchperson of Indeterminate Gender | Bald Man | White-Faced Women | Martians | Owen Davian | John Musgrave | Brownway | Kimbrough | Ramses | Brooks & Elwyn | Megatron | Decepticons (Starscream, Barricade, Frenzy, Blackout, Scorponok, Bonecrusher, Brawl, & Dispensor) | Grendel | Grendel's Mother | Dragon | Clover | Parasites | Irina Spalko | Antonin Dovchenko | George McHale | Mulgarath | Red Cap | Goblins | Mole Troll | Jake | Max | Jason Voorhees | The Fallen | Decepticons (Soundwave, Sideways, Grindor, Ravage, Alice, & Scalpel) | Constructicons/Devastator (Demolishor, Rampage, Long Haul, Mixmaster, Scrapper, & Scavenger) | Theodore Galloway | Cobra Commander | Destro | Storm Shadow | Baroness | Zartan | General Zhao | Fire Nation (Fire Lord Ozai, Zuko & Azula) | Therman Murch | Darla | Sentinel Prime | Dylan Gould | Laserbeak | Shockwave | Driller | Igor | Watch-Out | Crankcase | Crowbar | Kurt Hendricks | Marius Wistrom | Sabine Moreau | Brij Nath | Bogdan Anasenko | Firefly | Harold Attinger | Lockdown | Cemetery Wind (James Savoy, Steeljaw, & Shadow Raiders) | Joshua Joyce | Kinetic Solutions Incorporated | Stinger | The Creators | Shredder | Foot Clan (Eric Sacks & Karai) | The Syndicate (Solomon Lane, Janik Vinter, Kagan, Saif, Richter, & Atlee) | Howard Stambler | Krang | Baxter Stockman | Bebop and Rocksteady | Reece Tenneson | Burke | Quintessa | Infernocons | Nitro Zeus | Mohawk | Berserker | Onslaught | Dreadbot | Commander Santos | Transformers Reaction Force | Unicron | Death Angels | August Walker | White Widow | Zola Mitsopolis | Nils Debruuk | Shatter | Dropkick | Blitzwing | Agent Jack Burns | Dr. Powell | Alejandro Gutierrez | Swiper | Powell | Viper | Christina X | Dr. Robotnik | Agent Stone | Echidna Tribe (Pachacamac)
See Also
Avatar Villains | Beavis and Butt-Head Villains | Beverly Hills Cop Villains | Clone High Villains | Danny Phantom Villains | DreamWorks Villains | G.I Joe Villains | Henry Danger Villains | Indiana Jones Villains | Invader Zim Villains | Jimmy Neurton Villains | Kung Fu Panda Villains | Lemony Snicket Villains | Madagascar Villains | Mission Impossible Villains | Nickelodeon Villains | Nickelodeon Movies Villains | Shrek Villains | Sonic Villains | South Park Villains | SpongeBob Squarepants Villains | Star Trek Villains | The Fairly OddParents Villains | The Godfather Villains | TMNT Villains | Transformers Villains | Transformers Cinematic Universe Villains | XXX Villains