Spider-Man: No Way Home Trailer Dropped - The Loop
Play Sound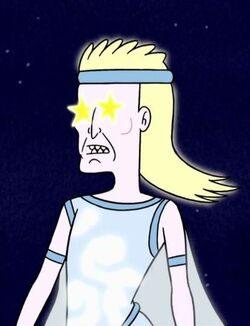 Gary is an antagonist from Regular Show.
Info
Gary is the messenger for the Guardians of Eternal Youth. He owns an El Camino, which can fly, and travels through a wormhole of some kind to reach the floating oasis where the Guardians of Eternal Youth live. He also has stars for eyes. Gary's first appearance is in the episode, "Free Cake", in which he appears to condemn Skips to death after he didn't complete the ritual of youth dance. Skips is a friend of Gary's since he said, "Gary, you don't have to do this!" He was seen competing against Skips at bowling in "Skips Strikes," along with other minor characters from Seasons 1 and 2. He was on a bowling team called "Magical Elements". In "Cool Bikes," he appears to be friends with Mordecai and Rigby, acting as their lawyer. When the Cool Courthouse explodes, he is seen escaping in his El Camino. He appears in the Season 4 premiere, "Exit 9B", assisting Skips and the others with his El Camino after Skips whistles for them. After Mordecai and Rigby obtain Benson's signature, Gary later returns in his El Camino with the others riding along. After Thomas gets knocked down by Garrett Bobby Ferguson Jr., Gary rushes with the El Camino to save him. When the portal is returning everything to normal, he's seen dodging obstacles. After that, he doesn't appear just like the other minor characters, but can be presumed returning back to his location.
Trivia
He bears a strong resemblance to David Bowie.
Gary has appeared as a protagonist and antagonist.