She-Hulk Trailer Dropped - The Loop
Play Sound

✓
This Villain was Headlined on November 2009.
NOTE: This article is about the original Gaston from the 1991 movie. The 2017 remake version can be found here: Gaston LeGume (Live-Action)
| | | |
| --- | --- | --- |
| " | I'll have Belle for my wife. Make no mistake about that. | " |
| | ~ Gaston vowing to marry Belle by force. | |
| | | |
| --- | --- | --- |
| " | The Beast will make off with your children. He'll come after them in the night. We're not safe 'till his head is mounted on my wall. I say we KILL THE BEAST! | " |
| | ~ Gaston convincing the town to help him murder the Beast | |
| | | |
| --- | --- | --- |
| " | It's over, Beast! BELLE IS MINE! | " |
| | ~ Gaston's most famous quote, stating his intent to marry Belle during his fight with the Beast. | |
Gaston LeGume, also best known by his first name Gaston, is the main antagonist of Disney's 30th full-length animated feature film Beauty and the Beast (which is based on the 1756 French fairytale of the same name by the late Jeanne-Marie Leprince de Beaumont), and a supporting antagonist in Mickey's House of Villains.
He's a treacherous, chauvinistic, egotistical, deceptive and conceited hunter from Belle's village, who was after her hand in marriage by any means necessary (regardless what she thinks about his offer). He is Belle and the Beast's arch-nemesis.
In the film, he was voiced by Richard White. In the musical, he was portrayed by Burke Moses. He was portrayed by Wes Brown in the episode "Her Handsome Hero" during the fifth season of Once Upon a Time.
History
Meeting Belle
Gaston is the local hero of a small French village at an unknown point in French history. He owns a large tavern where he and the villagers drink and talk. Inside, there is a large portrait of himself along with "trophies" from his hunt consisting mostly of animal antlers. He also says he eats five dozen eggs every morning to help make him "roughly the size of a barge".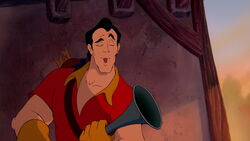 He first appears in the film shooting down a waterfowl headed south with perfect accuracy (implying that he had just returned from a hunting trip) and declaring his intent to marry Belle after acknowledging from LeFou of his popularity with all of the women in the village. He then started pursuing Belle throughout the village as she returns home after buying a book from the local bookstore. Their meeting starts off well, but Gaston's sexist remarks about women reading and thinking drive Belle away from him and she goes home, leaving him disappointed.
In addition, after learning that Belle was going to aid her father Maurice, Gaston scolded LeFou for mocking Maurice (although it was implied that he mostly did that in an attempt to impress Belle rather than out of any genuine concern for Maurice). However, after an explosion occurs inside Belle's house, Gaston and Lefou both begin to laugh as Belle rushes to check on her father.
Asking for a Wedding
The next day, Gaston organizes a wedding outside Belle's cottage in an attempt to "surprise" her, complete with various decorations, a priest, and a wedding cake. He forces his way into the cottage and attempts to strong-arm her into marrying him, again making sexist remarks about women and housewives (he even envisions the home they would live in as a "rustic" hunting lodge, with his latest kill roasting over the fire and Belle massaging his feet while their children — six or seven boys — play on the floor with their dogs).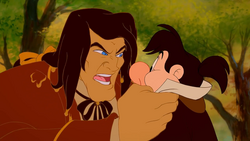 While he attempts to corner Belle in an attempt to kiss her, she manages to open the door that he has pinned her against, rejecting his proposal. causes him to lose his balance and fly headfirst into a large mud puddle (complete with cattail plants) in front of Belle's cottage. When asked by LeFou how it went, Gaston is humiliated and furiously storms off, but not before vowing to make Belle his wife regardless of her refusals and throwing LeFou into the mud.
Getting his Praise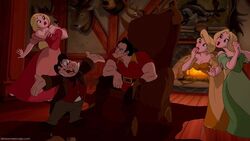 Later, during a snowstorm, LeFou leads the villagers in the tavern to sing a song about Gaston's greatness to cheer him up after his failed proposal. Maurice suddenly interrupts and warns the villagers about a "monstrous" Beast who has locked up Belle as a prisoner in the tower of his castle. Thinking that Maurice is talking nonsense, the villagers throw him out of the tavern, which made Gaston realize that he can use Maurice's outrageous claim to his advantage. In a surprising display of animalistic cunning, he bribes Monsieur D'Arque (the owner of the local asylum) to throw Maurice into the asylum in order to pressure Belle into marrying him. Though D'Arque states that Maurice's claims and his odd inventions do not make him very dangerous, he is willing to accept the bribe because he liked the despicable aspect of the plot. However, just before Gaston and LeFou barge into Belle and Maurice's cottage, Maurice left for the castle on his own. Gaston orders LeFou to stay outside the cottage and wait for their return.
Concocting his Plan
When Belle and Maurice eventually return to the cottage, LeFou immediately informs Gaston, and he sets his plan into motion. With the villagers gathered outside the house, D'Arque has his men drag Maurice towards their carriage, while Gaston makes Belle his offer, he will clear up the "misunderstanding" if she marries him. Horrified and disgusted, Belle refuses and instead proves her father's claims of the Beast's existence by using a magic mirror that the Beast had given her, causing all of the villagers (including Gaston) to realize that Maurice was telling the truth. Following Maurice's release, Gaston grows more frustrated and shocked that his plan has failed, and becomes increasingly jealous when Belle begins referring to the Beast as kind and gentle (since he let her go to help Maurice and gave her the magic mirror to remember him by). Realizing that she prefers a "monster" over himself, Gaston refers to the Beast with this insult, to which Belle furiously retorts back by saying that Gaston is the real monster for his despicable plot.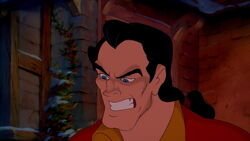 In his jealousy and pride, Gaston angrily snaps out by snatching the mirror from Belle and convincing the villagers that the Beast is a threat to the village that must be brought down immediately by playing off their fear of monsters. Belle tries to stop this, but Gaston has her and Maurice locked in the basement to keep them from warning the Beast. He then leads a lynch mob to attack the Beast's castle and leave no one alive while declaring that he himself is to take down the Beast. However, the castle servants formed a defensive ambush, leaving the rioters to fight back. Rather than helping out his fellow rioters, Gaston instead betrays them by leaving them to their fate and manages to get past the servants, as they were too busy fighting the villagers that they didn't notice him making his way up the stairs and proceeding to kill the Beast. The battle ends with the violent rioters fleeing away in defeat thanks to the castle servants' enchanted forms. Despite the loss of the villagers, Gaston confronts the Beast alone in the West Wing, where he fires an arrow into him, tosses him out of the window onto a lower section of the roof and taunts him. The Beast doesn't respond back as he lost his will to live since Belle's departure, so Gaston uses a castle statue as a makeshift club to kill the Beast. However, the Beast regains his will when he witnessed Belle returning to the castle along with her father (as they had escaped from the basement with help from Chip, who stowed away with them). A terrified Belle begs Gaston to spare the Beast, but Gaston ignores her, though the Beast defends himself by viciously fighting back against Gaston with all of his strength and ferocity.
Final Battle and Death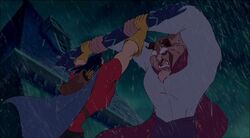 Though roughly even with his adversary, Gaston soon learns that he cannot rely on brute strength alone to kill the Beast, and instead begins taunting him over his ugly and grotesque exterior and love for Belle. Gaston even pushed the final button by claiming that Belle is his to take and no one else's, but this immediately backfires as the Beast snaps out and head-butts Gaston in the chest. The furious Beast then gets Gaston at his mercy by holding him above the castle roof by the throat, threatening to drop him into the deep castle moat for the trouble he caused. With his life at stake, Gaston abandons his pride and pathetically begs the Beast not to hurt him by claiming that he will do anything for him. At first, the Beast initially attempts to ignore Gaston's pleads but realizes that he ought to be better due to his genuine love for Belle. Seeing that Gaston is nothing more than a reflection of what he would've become like a cruel and aggressive monster, the Beast reluctantly spares Gaston by ordering him to leave the castle and never return. However, when Gaston sees the Beast embracing Belle on the castle balcony, his hatred and envy arises again. Rather than leaving the castle, Gaston instead climbs onto the balcony and stabs the Beast in the back with a knife. The Beast swings his arm backwards at Gaston as he roars in pain, which Gaston tries to dodge, but unfortunately, he loses his balance and drops his knife below the castle. As both he and the Beast are on the verge of falling, Belle saves the Beast by grabbing onto his collar and helping him up to safety, where Gaston plunges into the deep moat below as he fearfully screams to his death.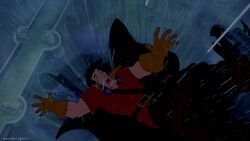 Despite laying a fatal stab on the Beast, Gaston would permanently die alone that night; just as the Beast nearly succumbed to his wounds, Belle confessed her love for him just before the last petal of the enchanted rose that kept him bound to his beast form fell, breaking the spell and reviving the Beast. This also allows the Beast and the castle servants to transform back to their human forms, much to their joyful delight. All in all, Gaston had learned the hard way that pride literally comes before a fall.

Other Appearances
Beauty and the Beast (musical)
In the musical, Gaston's role remains the same as in the movie. Unlike in the film, however, Gaston is hinted to be extracurricular and adulterous in nature, as he states to the Bimbettes that his "rendezvouses" with them will continue after he marries Belle, implying that his belief of marriage is based on ownership rather than of love and affection. Gaston also gave Belle an unwanted kiss when she refuses his proposal again as her father is being taken away by D'Arque, resulting a furious Belle to slap him in the face before proving Maurice's sanity with the magic mirror. Also, during the fight against the Beast, Gaston arrogantly claimed that Belle sent him over to kill the Beast. However, Belle's return to the castle made the Beast realize that what Gaston said is a lie.
House of Mouse
Despite his death in the movie, Gaston has gained a recurring role on House of Mouse as a guest character, once again voiced by Richard White.
His most notable appearance, in the episode "Daisy's Debut", had a running gag in which he frequently injected himself into other people's conversations to say that "No one [verbs] like Gaston!" This gag would later go through the entire series and would become a memorable catchphrase for Gaston, as well as becoming something of an internet meme.
Notable examples of this are when Daisy compliments Ariel's singing voice. He walks by and says "No one sings like Gaston!". Another one is when Timon and Pumbaa are making a face in a spoon. Gaston leans over and says "No one makes faces in spoons like Gaston!" with an annoyed Timon answering back, "Actually, no one asked the opinion of Gaston!".
He also overhears Goofy complementing Mickey and Minnie on their performance after Daisy pretended to break her leg so that Minnie could perform, saying that he should pretend to break his leg to help Mickey with Gaston misunderstanding and saying "No one breaks their leg like Gaston!" He then goes off screen and a tremendous crash is heard leaving Goofy and Daisy stunned, which is assumed that he literally tried to break his own leg by injuring himself.
In the episode "Halloween With Hades", he eats one of the Queen's poisoned apples, saying "No one eats candied apples like Gaston!", and falling into the Sleeping Death, to which Daisy says "and now no one needs a wake-up kiss like Gaston".
Gaston was one of the many villains to join the takeover orchestrated by Jafar, Captain Hook, Ursula, Cruella De Vil, and Hades in Mickey's House of Villains. He is seen on the conga line during the song "It's Our House Now!". He is last seen watching the final showdown between Mickey Mouse and Jafar. When Jafar is defeated, he flees out of the House with the rest of the villains.
Once Upon a Time
Gaston is featured in the ABC series in a very minor role played by Sage Brocklebank. Here, he was engaged to Belle through an arranged marriage, but just like the film, she did not love him because she found him quite "shallow". Unlike his Disney counterpart, he appears to be more noble, focused, and dependable, as shown when he expressed concern for Belle's agreement to go with Rumpelstiltskin and when she refused his marriage proposal. He attempted to reclaim her from Rumpelstiltskin regardless but was transformed into a rose and given as a gift to Belle.
Descendants
| | | |
| --- | --- | --- |
| " | Before you go, tell your mom that Gaston says hi, and also tell your dad that my dad wished he finished off your dad when he had the chance. | " |
| | ~ Gil talking to Ben about his father in Descendants 2. | |
Gaston was revived, and it was also revealed that he had 2 twin sons, who he named after himself (which is not surprising); their names are Gaston Jr. and Gaston the Third, but his two sons have not inherited his obsession with girls. He also has a third son named Gil, who appeared in Descendants 2 as a supporting antagonist.
As Old As Time: A Twisted Tale
Main article:

Gaston LeGume (As Old as Time)
Personality
| | | |
| --- | --- | --- |
| " | He's handsome, all right, and rude and conceited and...Oh, Papa, he's not for me. | " |
| | ~ Belle commenting to Maurice about Gaston's chauvinistic nature. | |
Gaston happens to be a handsome and burly hunter, and he certainly likes to brag of his abilities toward others for pleasure in the first place. However, beneath his charming looks is an extremely rude, impatient, manipulative and narcissistic person who is ready to appeal to his own ego by any means necessary.
He's very conservative and narrow-minded to the extent that he disapproves intellectualism as he regards ideas as "dangerous pastimes"; he is also extremely misogynistic and lascivious, as he believes that ladies' sole purpose in life is to serve and obey men. Because of his charming looks, he is well-respected in the village (in spite of rarely, if ever hiding his more unpleasant traits) as he was able to rouse up a mob to assist him with slaughtering the Beast, although it was clear that he cared nothing for the villagers in general as he was using them all as pawns to justify his own needs.
He is also shown to be completely lustful and provocative towards Belle, as he plans to marry her because of her beautiful looks as opposed to her nonconformist and unconventional personality. Even when Belle made it clear that she doesn't feel like being with Gaston (with LeFou pointing out that the different ladies in the village are quite fond of Gaston), the latter still wants to marry Belle to satisfy his own ego, proving to be quite insenstive towards the feelings of her or anybody else.
He even feels extremely possessive and envious after learning that Belle has feelings for the Beast, which only incites him in hunting down the Beast so that he can have Belle for himself. He is also very abusive, discourteous, vituperative, uncomplimentary and quarrelsome towards LeFou and his four buddies, as he would subject them to pain and suffering whenever things go wrong (even if it is not their fault).
Despite his anti-intellectualism, Gaston is also shown to be very rational and knowledgeable, as he can come up with clever plans to get what he wants, such as throwing Belle's father Maurice into the local asylum in order to blackmail Belle into marriage, as well as manipulating the villagers into assisting him with slaughtering the Beast in case his plan would fail. In spite of his brilliance, Gaston can also be quite spontaneous and impulsive, as shown when he tried to grope Belle by menacingly cornering her announcing "Say you'll marry me", before attempting to kiss her, which forced a disgusted Belle to throw him out of her house in retaliation.
In addition, he is extremely devious, reckless, and passionate, as shown during the climax when he took his chance to fatally ambush the Beast without assessing any perilous risks, which ultimately led to his own demise and even ignoring the Enchanted rose that the beast is actually Prince Adam under the curse of The Enchantress. That said, his peak-human strength along with his superior experience, resulted in him doing well against the Beast despite the latter's superior strength.
Reception
Gaston is considered one of Disney's most popular villains. He's ranked #11 in an official poll, and the Nostalgia Critic placed him as the 5th best Disney villain, citing him as being different from most other Disney villains in that he was not evil from the start. Fans on the Internet often jokingly idolize him similar to how the townspeople do in the movie, giving birth to the "No one (X) like Gaston" meme, and the "Gaston" song is a very popular source for YouTube Poop in particular.
Relationships
Allies
The Bimbettes (unrequited love on his side)

Claudette (red dress)
Laurette (yellow/amber dress)
Paulette (green dress)

LeFou (1991 film) - Best Friend and Former Minion
Enemies
Beast - Arch-nemesis, love rival, attempted killer and attempted victim
Belle - Former Love interest (on his side), would-be trophy wife turned arch-nemesis
Quotes
| | | |
| --- | --- | --- |
| " | How can you read this? There are no pictures. (Belle: Well, someone has to use their own imagination.) Belle, it's about time you got your head out of those books and paid attention to more important things, like me. The whole town's talking about it. It's not right for a woman to read, first she starts getting ideas and thinking... (Belle: Gaston, you are positively primeval.) Why thank you, Belle. | " |
| | ~ Gaston makes a lousy attempt to woo Belle. | |
| | | |
| --- | --- | --- |
| " | This is the day your dreams come true. (Belle: What do you know about my dreams, Gaston?) Plenty. Picture this: A rustic hunting lodge, my latest kill roasting on the fire, and my little wife massaging my feet, while the little ones play on the floor with the dogs. We'll have six or seven. (Belle: Dogs?) No, Belle. Strapping boys like me. (Belle: Imagine that.) And do you know who that little wife will be? (Belle: Let me think...) You, Belle. (Belle: Gaston, I'm..... speechless. I really don't know what to say.) Say you'll marry me. (Belle: I'm very sorry, Gaston, but.... but..... I just don't deserve you.) | " |
| | ~ Gaston making his wedding proposal to Belle (to no avail). | |
| | | |
| --- | --- | --- |
| " | Who does she think she is? That girl has tangled with the wrong man. No one says no to Gaston. (LeFou: Darn right.) Dismissed, rejected, publicly humiliated... why it's more than I can bear. (LeFou: More beer?) What for? Nothing helps. I'm disgraced. (LeFou: Who? You? Never. Gaston, you've got to pull yourself together.) | " |
| | ~ Gaston grumbling over his failed wedding proposal to Belle. | |
| | | |
| --- | --- | --- |
| " | It's like this: I got my heart set on marrying Belle. But she needs a little.... persuasion. (LeFou: Turned him down flat.) Everyone knows her father's a lunatic. He was in here tonight raving about a beast in a castle. (D'Arque: Maurice is harmless.) The point is... Belle would do anything to keep him from being locked up. | " |
| | ~ Gaston forming a plan to blackmail Belle into marrying him. | |
| | | |
| --- | --- | --- |
| " | They have to come back sometime. And when they do, we'll be ready for them. LeFou, don't move from that spot until Belle and her father come home. | " |
| | ~ Gaston orders LeFou to stay at Belle's house to wait for Belle and Maurice's return. | |
| | | |
| --- | --- | --- |
| " | Poor Belle, it's a shame about your father. (Belle: You know he's not crazy, Gaston.) I think I might be able to clear up this little misunderstanding.... if..... (Belle: If what?) ..... if you marry me. (Belle: What?) One little world, Belle. That's all it takes. (Belle: Never.) Have it your way. | " |
| | ~ Gaston trying to blackmail Belle into marrying him as Maurice is about to be taken away to the asylum. | |
| | | |
| --- | --- | --- |
| " | If I didn't know better, I'd think you had feelings for this monster. (Belle: He's no monster, Gaston. You are.) She's as crazy as the old man. | " |
| | ~ Gaston snapping at and fibbing to Belle after learning that she's in love with the Beast. | |
| | | |
| --- | --- | --- |
| " | The Beast will make off with your children! He'll come after them in the night! (Belle: No.) We're not safe 'til his head is mounted on my wall! I say we kill the Beast! | " |
| | ~ Gaston rallying the villagers to kill the Beast. | |
| | | |
| --- | --- | --- |
| " | Kill the Beast! (Belle: No. I won't let you do this.) If you're not with us, you're against us. Bring the old man! (Maurice: Get your hands off me.) We can't have them running off to warn the creature. (Belle: Let us out.) We'll rid the village of this beast. Who's with me? | " |
| | ~ Gaston as he locks Belle and her father in their house. | |
| | | |
| --- | --- | --- |
| " | We'll lay siege to the castle and bring back his head! | " |
| | ~ Gaston leads the townspeople to ambush the Beast's castle. | |
| | | |
| --- | --- | --- |
| " | Take whatever booty you can find, but remember... The Beast is mine. | " |
| | ~ Gaston orders the townspeople to raid the Beast's castle under the condition that he will kill the Beast by himself. | |
| | | |
| --- | --- | --- |
| " | Get up! Get up! What's the matter, Beast? Too kind and gentle to fight back? | " |
| | ~ Gaston torments the Beast. | |
| | | |
| --- | --- | --- |
| " | Come on out and fight! Were you in love with her, Beast? Did you honestly think she'd want you when she had someone like me? | " |
| | ~ Gaston taunts the Beast. | |
| | | |
| --- | --- | --- |
| " | It's over, Beast. Belle is mine! (Gaston gets knocked down by the Beast, who holds him up on the roof over the moat) Let me go. Let me go. Please, don't hurt me. I'll do anything. Anything! | " |
| | ~ Gaston's final words before his demise. | |
Trivia
In early drafts, he was known as Gaston LeGume; his original last name came from the French word "legume", which means "vegetable" in French.
Gaston was created for the film and does not appear in the original fairytale Disney based the film on. In fact, Beauty's sisters (who were cut from the film) are the antagonists of the original fairytale.

Gaston was instead directly inspired by an antagonist alongside Belle's siblings in Jean Cocteau's 1946 fantasy film adaptation of the original story, named "Avenant", who is a friend of Belle's brother. At the end of the film, he is punished by the Roman goddess Diana to take on the form of the Beast when Belle and the Beast profess their love for each other.
Ironically, in a planned sequel for the 1991 film, Gaston would've had a younger brother, Avenant, who would've tried to avenge Gaston by attempting to ruin the lives of Belle and the Prince, and eventually kill them, before meeting his death at the hands of the Prince.

He is ranked #11 in the Top 30 Disney Villains.
Gaston was going to be voiced by Rupert Everett, the same actor who also played Doctor Claw in the 1999 live action film adaptation of Inspector Gadget by Walt Disney Pictures, and voiced Prince Charming in the two DreamWorks films Shrek 2 and Shrek the Third. However, Everett was turned down because he did not sound arrogant enough, something that he would later keep in mind when voicing Prince Charming.

Donny Osmond, Michael Keaton and the late Patrick Swayze were considered for the role of Gaston before Richard White was cast. Osmond would later go onto play Gaston in the stage version of Beauty and the Beast and provide the singing voice for Li Shang in Mulan.

The animators researched high school and college jock stereotypes to create Gaston's menacing and arrogant mannerisms.
Gaston acts as a foil to the Beast, as they are both egotistical men who want to have Belle for selfish reasons (the Beast wants Belle to help break his curse while Gaston wants her as his trophy wife). However, the Beast proves himself to be capable of change, compassion and courage as he is willing to ensure Belle's happiness and safety (such as saving her from a wolf pack, giving her a library, and letting her go to help her father), which allowed him to earn her love to break his curse. On the other hand, Gaston refuses to change his ways out of his own arrogance and prefers to use dirty tricks to get what he wants, making himself far more evil than the Beast. Gaston serves as an example of what the Beast would become if he had never met the Enchantress and Belle.
Gaston was not present in Kingdom Hearts II, despite being the main antagonist of Beauty and the Beast. Xaldin, a member of Organization XIII, serves as this world's main antagonist and reprises the role of Forte.

However, Gaston finally debuted in the Kingdom Hearts series in Kingdom Hearts chi.

Originally, Gaston was going to say to The Beast: "It's over Beast! Time to die!". However, this was changed, because it was slightly out of character, as Gaston is attempting to kill the Beast so that he can have Belle for himself.

When he says "Belle is mine!", Gaston instead syncs his lips to "Time to die!", implying that the filmmakers changed the line late in development.

In two mockbusters of the Disney version of The Hunchback of Notre Dame, namely the Golden Films version and The Secret of the Hunchback, the respective main villains are clearly based off of Gaston, especially the Golden Films version.
Though Gaston persuaded the villagers to hunt the Beast by lying that he was a threat to the entire village (even though the Beast only left his castle twice to rescue Belle from a wolf pack and a lake of thin ice), Gaston ultimately decided to deal with the Beast himself, likely due to seeing him as a rival for Belle's affections and the villagers would potentially discover the Beast's peaceful nature if they discovered him before Gaston.
During his fall off of the castle, skulls can briefly be seen in the pupils of his eyes, firmly implying that he did not survive the fall. This can only be seen in the Gallery page.
During the production of the 1991 film, there were several alternative versions to Gaston's death:

After wounding the Beast, Gaston fell from the castle into the woods, where he has survived with a broken leg. However, he is confronted by several wolves who previously pursued Maurice and Belle. Without hesitation, the wolves close in on Gaston and mauled him to death. This scene was removed for being too horrific, but was later reused for the death of Scar in The Lion King (the wolves were replaced by Shenzi, Banzai, Ed, and the Hyena Clan). Ironically, the original version of Scar's death, in which he defeated Simba and threw him off of Pride Rock before being engulfed in flame was scrapped for the same reason.
The earliest version of Gaston's death had differences with the above mentioned version. In this version, Gaston and Beast fight in the woods, and Beast gets shot by Gaston. Having witnessed the event, a furious Belle violently throws a rock at Gaston's head, causing him to fall over a cliff to his death. Again, this has similarities with The Lion King in which the hero (Simba and Belle) throws the villain (Gaston and Scar) off a cliff where they meet their demise. However, this was rewritten as the filmmakers believed that the idea of Belle killing Gaston is too dark. Ironically, this type of scene was used in the series Once Upon A Time, where Lacey French (the Storybrooke counterpart of Belle) saved Mr. Gold (the Storybrooke counterpart of the Beast) by pushing Gaston to his death in the River Styx.
Another alternative version of his death was for Gaston to lay multiple stabbings on the Beast and commit suicide by falling to his death laughing maniacally, as he feels that no one else would have Belle if he cannot have her for himself, but not before he lashes out at Belle for ruining his pride and preferring the Beast over him. However, this was edited out since it was too dark, rewritten to have Gaston lose his footing after stabbing the Beast and only requiring one stab to finish him off.

Before Prince Hans from Frozen, who is confirmed to be 23 years old, Gaston was the youngest major Disney villain to date, as most believe him to be around 25 years old.
In the 2011 Youtube comedy series called The Frollo Show, Gaston is the deuteragonist and is Frollo's best friend. Ironically, he is portrayed as a rather heroic character, though otherwise, he is similar to personality to his Disney counterpart.
Gaston's supervising animator is Andreas Deja, famous for animating Jafar (who came out one year later), Scar, and Hercules.
Gaston is set to appear Disney's Heroes: Battle Mode game, as a playable hero, despite being a villain, this trait follow by Emperor Zurg, Maleficent, Scar, Hades, and Ursula, who had already appear in the game.
Gaston is the first Disney villain to have two completely different songs.
Gaston is pictured on one of the 10 USA non-denominated commemorative postage stamps celebrating "Disney Villains", issued as a pane of 20 stamps on July 15, 2017. The set was issued in a single sheet of 20 stamps. The price of each stamp on day of issue was 49 cents. The other villains depicted in this issue are the Evil Queen from Snow White and the Seven Dwarfs, Honest John from Pinocchio, Lady Tremaine from Cinderella, the Queen of Hearts from Alice in Wonderland, Captain Hook from Peter Pan, Maleficent from Sleeping Beauty, Cruella De Vil from 101 Dalmatians, Ursula from The Little Mermaid, and Scar from The Lion King.
Throughout the movie, Gaston commits the Seven Deadly Sins

Pride: Possibly his most defining sin as he is utterly egotistical, does not apologize for any transgression he does, and whenever someone takes a blow at him, he does not let it go in the slightest. This is also a flaw of his that costs him his life as he tries to attack the Beast after the latter spares his life but falls off the castle, which could be seen as a representation of the biblical quote "Pride comes before the fall."
Greed: Next to pride, this is the second sin that best describes him as he is hell-bent on making Belle his wife, but he considers her a trophy wife rather than a person to prove his worth to. It 's implied that his career as a hunter is a way to make as much cash as he can, though he has no monetary values.
Sloth: A more trivial example as shown during his 'proposal' scene as he does not wipe his dirty boots before stepping into Belle's home. Beyond that, it's also implied that his buffy muscles came from eating a bunch of eggs rather than working out. He isn't a slouch when it comes to hunting however, meaning it is possible that he does work out or at the very least, keeps himself in decent shape.
Lust: He is completely obsessed with Belle, though he wants her as a wife and not for sexual purposes. He is more concerned with her outer beauty rather than her personality and most likely wanted to marry her just for her looks. This vice is expanded on in the musical where he is revealed to be adulterous as he is willing to cheat on Belle after he marries her with another woman.
Envy: When he notices that Belle has feelings for the Beast, Gaston becomes determined to murder him in order to avoid any competition for Belle's affections, to the point where he hides his envy from the villagers by playing on their fear to help him kill the Beast.
Wrath: When he gets rejected by Belle, he angrily doubles-down on his obsession with her and he unleashes all of his wrath on the Beast when trying to kill him. He also snaps at LeFou several times throughout the film.
Gluttony: Quite possibly his least dangerous vice as he stated that he eats 5 dozen eggs (he ate 4 dozen eggs a lot when he was a kid), but this is more to increase his size than anything. Gluttony can also be interpreted as selfishness as Gaston is a very selfish person.

Gaston is often theorized to be the true identity of the hunter who killed Bambi's mother, due to the fact that he brings a dead deer into his cabin when he first appears.

Villains
Animated Features
The Evil Queen | Magic Mirror | Honest John | Gideon | Stromboli | The Coachman | Coachman's Minions | Monstro | Chernabog | Zeus | Vulcan | Boreas | Man | Ronno | Aconcagua | Toy Bull | The Wolf | Tetti-Tatti | Willie the Giant | Lumpjaw | Rustlers | Mr. Winkie | Weasels | Brom Bones | Headless Horseman | Lady Tremaine | Anastasia Tremaine | Drizella Tremaine | Lucifer | Queen of Hearts | Card Soldiers | Cheshire Cat | Walrus & Carpenter | Captain Hook | Neverland Pirates (Mr. Smee) | Tick Tock | Rat | Si & Am | Maleficent | Diablo the Raven | Maleficent's Goons | Cruella De Vil | Jasper and Horace | Madam Mim | Shere Khan | Kaa | Bandar Log (King Louie) | Edgar Balthazar | Prince John | Sheriff of Notthingham | Sir Hiss | Captain Crocodile | Rhino Guards | Wolf Arrowmen | Trigger & Nutsy | Heffalumps and Woozles | Madame Medusa | Mr. Snoops | Brutus & Nero | Amos Slade | Chief | Horned King | Horned King's Army (Creeper & Gwythaints) | Cauldron Born | Orddu, Orwen & Orgoch | Arawn | Professor Ratigan | Thugs (Fidget & Felicia) | Bill Sykes | Roscoe & DeSoto | Ursula | Flotsam & Jetsam | Percival C. McLeach | Joanna | Gaston LeGume | LeFou | Asylum D'Loons (Monsieur D'Arque) | Tom, Dick, Stanley & Walter | Prince Adam | Jafar | Iago | Razoul | Prince Achmed | Gazeem | Cave of Wonders | Oogie Boogie | Lock, Shock and Barrel | Scar | Hyena Clan (Shenzi, Banzai & Ed) | John Ratcliffe | Frollo | Frollo's Soldiers (Captain Phoebus, Brutish Captain, Oafish Guard, Pierrat Torturue & Henriet Cousin) | Hades | Pain and Panic | Fates | Cerberus | Titans (Lythos, Hydros, Pyros, Stratos & Arges) | Nessus | Hydra | Nemean Lion | Shan Yu | Hun Army (Hayabusa & Elite Hun Soldiers) | William Cecil Clayton | Sabor | Clayton's Pirates | The Firebird | Jack-in-the-Box | Black Triangles | Snooty Flamingos | Kron | Bruton | Kuzco | Yzma | Kronk | Lyle Tiberius Rourke | Rourke's Mercenaries (Helga Sinclair) | Leviathan | Vikings | Captain Gantu | John Silver | Pirates (Scroop, Onus, Hands, Turnbuckle, Blinko, Longbourne, Fayvoon, Grewnge, Krailoni, Hedley, Torrance, Mertock, Verne, Crex & Zoff) | Nathaniel Flint | Alameda Slim | Rico | Willie Brothers | Mr. Wesley | DOR-15 | Bowler Hat Guy | Dr. Calico | Dr. Facilier | Lawrence | Facilier's Shadow | Shadow Demons | Ian the Gator | Marlon the Gator | Reggie, Darnell & Two Fingers | Friends on the Other Side | Mother Gothel | Stabbington Brothers | Turbo/King Candy | Cy-Bugs | Sour Bill | Wynnchel & Duncan | Prince Hans | Duke of Weselton | Erik & Francis | Robert Callaghan | Alistair Krei | Mr. Yama | Dawn Bellwether | Doug Ramses | Woolter | Jesse | Sheep Cops | Ram Thug | Duke Weaselton | Mr. Big | Polar Bear Thugs (Koslov, Raymond & Kevin) | Te Kā | Tamatoa | Kakamora | Arthur the Insecurity Virus | King Runeard | Druun | Namaari | Soldiers
Live-Action Films
Giant Squid | Captain Nemo | Prince John (1952) | Sheriff of Nottingham (1952) | Red Gill | Red Stick | Amos Thorpe | Santa Anna | Bigfoot Mason | Chato | Samuel Mason | Harpe Brothers | The Marten | Wilse Owens | Pony Sugrue | Sheelah Sugrue | Banshee | Dullahan | Kuala | Vicky Robinson | Ute Chief | Jacques Lebeau | Makoos | Durante | Barnaby | James Haggin | Cattlemen | Alonzo Hawk | Comanche Chief | Apaches | Mr. Dawes Sr. | Tanamashu | Judge Higgins | Mountain Ox | Peter Thorndyke | Havershaw | Vince Heber | Mrs. Satterfield | A.J. Arno | Chillie Walsh | Colonel Pierson | Ab Cross | Colonel Heller | King Leonidas | Bookman | Swinburne | Mr. Eben | Mark Pierson | Hugh McRae | Sam Eagle Speaker | Kerwood Krinkle | Frank Sitwell | Hnup Wan | Dr. Terminus | Gogans | Charles Olympus | Mr. Stallwood | Mr. Smith | Omar | Wooly Bill Hitchcock | Big Mac | Hans Reinhardt | The Watcher | George McKinzie | Alec Frost | Bluto | Vermithrax Pejorative | Tyrian | Master Control Program | Sark | Ed Dillinger Sr. | Program Guards | Mark Jennings | Kelly | Mr. Dark | Autumn People (Dust Witch) | Mike | Rosie Little | Hunters | Nome King | Princess Mombi | Connie | Bullwhip | Parker | Buzz | Wolf's Owner | Timber Wolf | Hunter | Eagle | Alistair Patton | Patton Sr. | Judge Doom | Toon Patrol (Smartass, Greasy, Psycho, Wheezy & Stupid) | Abdullah | Mr. Patel | Nigel | John Merrick | Beauty Smith | Luke & Tinker | Sykes | Cherokee | Lip-Lip | Fritz | Neville Sinclair | Lothar | Nigel Snyder | Joseph Pulitizer | Delancy Brothers | Charles Hendrickson | Terence Wheeler | Winifred Sanderson | Mary Sanderson | Sarah Sanderson | John Ricketts | The King and the Duke | Pap Finn | Cardinal Richelieu | Captain Rochefort | Milady de Winter | Borg Guillarson | Leland Drury | Heath | Miners | Lloyd Halverson | William Boone | Buldeo | John Wilkins | Tabaqui (1994) | Sergeant Harley | Bandits | Sergeant Clairbourne | Shere Khan (1994) | Bandar Log (1994) (King Louie (1994) & Kaa (1994)) | Gilbert Sipes | Juice | Ranch Wilder | Injun Joe | Emmett | Tony Perkis | Agent Woods | Jack and Ralph | Ashcan and Pete | Long John Silver | Aunt Sponge | Aunt Spiker | Rhino | Skeleton Pirates | Shark | Cruella De Vil (1996) | Jasper and Horace (1996) | Mr. Skinner | Jean-Pierre Le Pelt | Alonzo | Norman Snively | Ricky King | Lyle Van de Groot | Max & Thor | Lion | Beatrice Stanhope | Stepmother | Chester Hoenicker | Wilson Croft | Smith & Wesson | Bennett Hoenicker | Luanne LeSeur | Meredith Blake | Natalya | Popov | Frank Slater | Shere Khan (1998) | Tabaqui (1998) | Bandar Log (1998) | Kalabar | Eddie Taffet | Andrei Strasser | Elliot Coleye | Dr. Claw | MAD Cat | Kramer | RoboGadget | Miss Hannigan | Rooster and Lily St. Regis | PAT | Malcolm | Dimitri Denatos | The Phantom | Snerbert | Lana Thomas | Josh Bryant | Elliot T. Jindraike | Dobbs | Evil Ice Cream Man | Kal | Alex | Professor Siles | Reed Thimple | Jennifer Stone | Toy Santa | Sally & Kowalski | Louise Walker | Mr. Sir | Charles "Trout" Walker | Kissin' Kate Barlow | Linda Walker | Sheriff | Doug & Gordon | Hector Barbossa | Crew of the Black Pearl (Bo'sun, Scratch, Pintel & Ragetti) | Master Gracey | Madame Leota | Ramsley | Zombies | Werecat Lady | Carla Santini | Lord Kelvin | Black Scorpions (General Fang) | Inspector Fix | Viscount Mabrey | Ian Howe | Bill Fawcett | Zaphod Beeblebrox | Frankie & Benjy | Prostetnic Vogon Jeltz | Vogons | Humma Kavula | Gag Halfrunt | Royal Pain | Stitches | Lash | Speed | Penny Lent | Trip Murphy | Jadis the White Witch | Jadis' Secret Police (Maugrim & Vardan) | Ginarrbrik | General Otmin | Thantos DuBaer | Dr. Kozak | Jack Frost | Yan-Lo | Crew of the Flying Dutchman (Davy Jones, Maccus & Kraken) | Cutler Beckett | East India Trading Company (Mr. Mercer) | Dark Master | Janice Avery | Queen Narissa | Mitch Wilkinson | Simon Bar Sinister | Cad Lackey | El Diablo | Henry Burke | Miraz | Telmarines (Glozelle & Sopespian) | Nikabrik | Hag & Werewolf | Kendall Duncan | Tess Tyler | Speckles | Lucinda | Oswald Granger | Red Queen | Knave of Hearts | Card Soldiers | Jabberwock | Jubjub Bird | Hamish Ascot | Morgana le Fay | Morganians (Maxim Horvath, Abigail Williams, Sun Lok, Drake Stone & Marrok) | Nizam | Ms. Stout | CLU 2 | Rinzler | Gem | Black Guards | Blackbeard | Angelica Teach | The Spaniard | King Ferdinand VI | King George ll | Tex Richman | Moopets | San Than | Matai Shang | Tal Hajus | Jenny | Deimata | Myra Santelli | Latham Cole | Butch Cavendish | Jay Fuller | Thanos | Evanora | Theodora | Constantine | Dominic Badguy | Maleficent (2014) | Diaval | King Stefan (2014) | King Henry | The Giant | The Witch | The Wolf | Lady Tremaine (2015) | Grand Duke (2015) | Anastasia Tremaine (2015) | Drizella Tremaine (2015) | Lucifer (2015) | David Nix | Kylo Ren | General Hux | Captain Phasma | Supreme Leader Snoke | Shere Khan (2016) | Bandar Log (2016) (King Louie (2016)) | Kaa (2016) | Fleshlumpeater | Giants (Bloodbottler & Bonecruncher) | Orson Krennic | Grand Moff Tarkin | Darth Vader | Pramod Kadam | Beast (2017) | Gaston LeGume (2017) | LeFou (2017) | Asylum D'Loons (Monsieur D'Arque (2017)) | Tom, Dick & Stanley (2017) | The King (2017) | Armando Salazar | Crew of the Silent Mary (Lesaro) | Scarfield | BB-9E | DJ | It | Dryden Vos | Tobias Beckett | Darth Maul | Sugar Plum Fairy | Tin Soldiers | William Weatherall Wilkins | V.A. Vandevere | Neils Skellig | Rufus Sorghum | Jafar (2019) | Iago (2019) | Cave of Wonders (2019) | Scar (2019) | Hyena Clan (2019) (Shenzi, Kamari & Azizi) | Queen Ingrith | Gerda | Borra | Rat (2019) | Devon & Rex | Isaac | Emperor Sheev Palpatine | Allegiant General Pryde | Chesille Sabrond | Chandra | Artemis Fowl | Opal Koboi | Briar Cudgeon | Troll | Princess January | Aaron Burr | Thomas Jefferson | James Madison | James Reynolds | King George III | Bori Khan | Hun Army (Xian Lang) | Cruella De Vil (2021) | Jasper and Horace (2021) | Baroness von Hellman | Prince Joachim | Lope de Aguirre | Zelly and Stacy
Other Animated Movies
Br'er Fox & Br'er Bear | Giant Magnet | Evil Clown | Judge Doom | Toon Patrol (Smartass, Greasy, Psycho, Wheezy & Stupid) | Merlock | Dijon | Aunt Sponge | Aunt Spiker | Rhino | Skeleton Pirates | Shark | Bill Bluff | BluffCo Industries (Guy Graham, Bob & Bluff Agents) | Phillium Benedict | Anti-Recess Legion (Kojak, Fenwick, Anti-Recess Agents, Anti-Recess Ninjas, Anti-Recess Scientists, Agent Henderson, Agent Smithson, Agent Underville, Agent Franklin, Agent Morrisey, Agent Goodman, Dr. Rosenthal, Dr. Lazenby & Dr. Steinheimer) | Gelman | Gloomius Maximus | Dr. Ivan Krank | Von Talon | Cufflingk and Underlingk | Kazar | Wildebeests (Blag) | Scab and Scraw | Vidia | Jacob Marley | Old Joe | Supervisor | Mr. Whiskers | Shelley | Were-Rat | Sea Monkeys | Mr. Burgermeister | Ripslinger | Zed | Ned | Zarina
Direct-to-video/Disneytoon Studios Sequels/Disney+ Originals
Abis Mal | Abis Mal's Thugs | Sa'Luk | Forty Thieves | Maestro Forte | Jesters | Zira | Outsiders (Nuka & Vitani) | Mack McCro | Jim Bob | Supreme Commander | Morgana | Undertow | Cloak & Dagger | Bradley Uppercrust III | The Gammas | Buster | Sarousch | Pom-Pom | Jacques von Hämsterviel | Erik Hellstrom | Ashton Carnaby | Edgar Volgud | Krakken | Lil' Lightning | Bandits | Mama Gunda | Uto & Kago | Marina Del Rey | Cad Spinner | Orson | Sweet Pete | Captain Putty | Jimmy the Polar Bear | Bob the Viking
Animated Television
Fat Cat | Fat Cat's Gang | Norton Nimnul | Aldrin Klordane | Baby Thaddeus | Ratso Ratzkiwatzki | Mozenrath | Mirage | Mechanicles | Ivy DeVil | Judge Dimsdale De Vil | Gelman | Tad White | James Stone | Dr. Slicer | Gilda | Mayor Phillip Fitzhugh | SAL 3000 | DeSilvo | Earl Raymond | Al Roker | Chuckles | Huntsman | Huntsgirl | Dark Dragon | Lucius Heinous VII | Brad Buttowski | Bill Cipher | Li'l Gideon | Stanley Pines | Donald Duck's Raw Anger | Jordan Buttsquat | Suzi | Lord Dominator | Lord Hater | Commander Peepers | Rippen | Toffee | Ludo | Meteora Butterfly | Mina Loveberry | Solaria Butterfly | Tom Lucitor | Commander Heist | Lazlo | Zhan Tiri | Lady Caine | Varian | King Edmund | Cassandra | Bradford Buzzard | Flintheart Glomgold (2017) | Magica De Spell (2017) | General Lunaris | Obake | Diane Amara | Noodle Burger Boy | Globby | Chris | High Voltage | Baron Von Steamer | Momakase | Mel Meyer | Mad Jacks | Trina | Hardlight | Chip Whistler | Gwendolyn Zapp | Hunter De Vil | Cuddles | Clarissa Corgi | Portia Poodle | Canal Crew (Fergus, Sid Squirrel & Big Fee) | Bessie the Cornish Cow | King Andrias | Captain Grime | Sasha Waybright | The Core | King Aldrich | Emperor Belos | Hunter | Lilith Clawthorne | The Collector | The Chairman | The Barrister Ghosts
Live-Action TV
Miss Hendra | Victoria Kayne | Gorog | Dominic | Evil Alex | Dr. Evilini | The Mummy | Ronald Longcape Jr. | Kaita | Lanny Parker | King Kalakai/Yamakoshi | Zadoc | Farhog the Fierce | Lexi Reed | Susan Skidmore | Sensei Ty | Rhoda Chesterfield | Creepy Connie Thompson | Darla Shannon | Madeline | Bryn Beitbart | McD | Brooke | Victor Krane | Crash Bernstein | Helga Rooney | Missy Bradford | Dawn Buckets | Laughy Cat | Brad & Brads | Agent Johnson | Brett Willis | Zane Willis | Mitch Bishop | Gladys | Hazel Swearengen | Dr. Sharon Chen
Literature
King Nicholas
Video Games
Mizrabel | Oswald Gardner | Admiral Evar | Cogs | Herbert P. Bear | Atticus Thorn | Foxy Loxy | Goosey Loosey | Jolly Roger | Shadow Blot | False Shadow Blot
Shorts
Peg Leg Pete | Kat Nipp | Old Man Tree | Skeletons | Grim Reaper | Mad Doctor | Demon Cats | Gustav the Giant | Lonesome Ghosts | H. U. Hennessy | Witch | Pluto's Devil | Zeke Midas Wolf | Boogeymen | Captain Katt | Mortimer Mouse | Butch the Bulldog | Foxy Loxy | Ajax Gorilla | Witch Hazel | Adolf Hitler | Nazi School Teacher | Little Hans | Julius | Dr. Frankenollie | Grace Goodwin | Molly
Comics
Phantom Blot | Doctor Vulter | Solego the Chaos God | Arpine Lusène | Eli Squinch | Sylvester Shyster | Fantomius | Inquinator | Spectrus | Zafire | Emil Eagle | Sr. X | X-1, X-2 and X-3 | Professor Nefarious | Fliplip, Sidney and Armadillo | Neighbor Jones | Anacleto Faina | Anacleto Mitragli | Beagle Boys
Manga
Ansem, Seeker of Darkness | Xemnas
Attractions
Alien | Lava Monster | Mara | Mad Hatter | Nebula Ghosts | Professor J.T. Wu | S.I.R. | Yeti (Expedition Everest) | Yeti (Matterhorn Bobsleds)
See Also
101 Dalmatians Villains | 2010 Marvel Animated Universe Villains | 20th Century Studios Villains | A Twisted Tale Villains | Air Bud Villains | Aladdin Villains | Alice in Wonderland Villains | Amblin Entertainment Villains | American Dragon Jake Long Villains | Amphibia Villains | Artemis Fowl Villains | Atlantis Villains | Beauty and the Beast Villains | Big Hero 6 Villains | Buena Vista International Villains | Buzz Lightyear of Star Command Villains | Camp Lakebottom Villains | Cars Villains | Chip 'N' Dale: Rescue Rangers Villains | Cinderella Villains | Club Penguin Villains | Darkwing Duck Villains | Descendants Villains | Disney Chills Villains | DuckTales Villains | Fantasia Villains | Fillmore! Villains | Frankenstein Villains | Frozen Villains | FX Villains | Gargoyles Villains | Gravity Falls Villains | Halloweentown Villains | Hamilton Villains | Haunted Mansion Villains | Hercules Villains | Ice Age Villains | Incredibles Villains | Jack London Villains | Jerry Bruckheimer Villains | Jimmy Two-Shoes Villains | Kim Possible Villains | Kingdom Hearts Villains | Lilo & Stitch Villains | Little Einsteins Villains | Lucasfilm Villains | Marvel Animated Movie Universe Villains | Marvel Cinematic Universe Villains | Medfield College Villains | Mighty Ducks Villains | Milo Murphy's Law Villains | Monsters, Inc. Villains | Mulan Villains | Muppet Villains | Narnia Villains | New Mutants Villains | Once Upon A Time Villains | Peter Pan Villains | Phineas and Ferb Villains | Pinocchio Villains | Pirates of the Caribbean Villains | Pixar Villains | Randy Cunningham Villains | Recess Villains | Robin Hood Villains | Sherlock Holmes Villains | Sleeping Beauty Villains | Snow White Villains | Sofia the First Villains | Star Wars Villains | Star vs. the Forces of Evil Villains | Super Robot Monkey Team Hyperforce Go! Villains | Tangled Villains | Tarzan Villains | The Emperor's New Groove Villains | The Hunchback of Notre Dame Villains | The Jungle Book Villains | The Lion King Villains | The Little Mermaid Villains | The Owl House Villains | The Princess and the Frog Villains | The Princess Diaries | The Proud Family Villains | Tim Burton Villains | Toy Story Villains | Treasure Planet Villains | Tron Villains | Wander Over Yonder Villains | Winnie the Pooh Villains | Wreck-It Ralph Villains | X-Men Movie Villains | Yin Yang Yo! Villains | Zootopia Villains