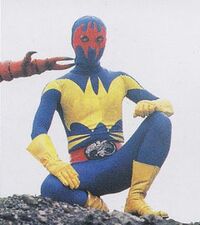 Gel-Shocker Combatmen are the main soldiers of Gel-Shocker and antagonists in the final quarter of Kamen Rider. They were created to replace the Shocker Combatmen following the merge between Shocker and Geldam. They wear bright purple and yellow costumes, covering their entire bodies from head to toe. Aside from the Shocker Combatmen's standard disguise abilities, they were also capable of traveling from one place to another by transforming into sheets that would drop down onto unsuspecting victims and turning themselves invisible. They were also physically superior and authoritative to their predecessors, able to take more blunt violent abuse without lowering combat performance.
Community content is available under
CC-BY-SA
unless otherwise noted.