We're Getting Mutants in the MCU - The Loop
Play Sound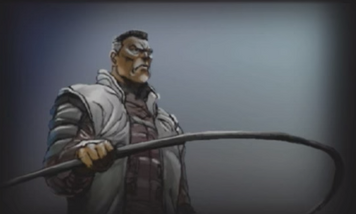 General Gyozen is a supporting antagonist in the video game Godzilla: Unleashed. He was a hardcore military general who had happened to be involved in a fateful battle with Godzilla, which costed him a scar on his face. This incident also prompted Gyozen of bearing his hatred towards the monsters.
He was voiced by Dennis Bateman.
Biography
Not much was known about General Gyozen's past but he was once a hardcore military general who fought in the battle against the giant monsters. However during the fateful battle with Godzilla, Gyozen himself was wounded as he received a scar on his face from the devastating battle he was in. From then until now, he immediately beared a antagonistic grudge against the monsters whom he deemed as the "devil beasts".
Gyozen made his first appearance when he was first seen in the meeting with the council of the GDF as he suggested that using the Atoragon will effectively combated with the giant monsters. However, his idea was simply dismissed by the council.
During his time with the GDF, Gyozen also have the antagonistic relationship with Kenji Miku, a technician of the GDF who have a devoted relationship with Godzilla and the other Earth Defenders as both of them often clashed with each other of knowing Godzilla's existance.
Later, he commanded Dr. Shiragami to experiment with G-Cells, which resulted in the creation of the plant monster called Biollante.
Later, he immediatelly went rogue and acted against the council's plan of bringing the balance of the planet to normal as he rode the Atoragon himself towards Osaka, where he then faced against the player's monster character. He was eventually killed when the monster character destroyed Atoragon.