Jurassic World: Dominion Dominates Fandom Wikis - The Loop
Play Sound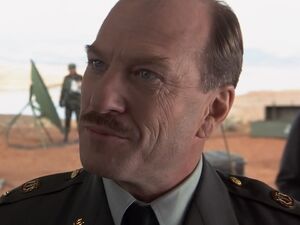 | | | |
| --- | --- | --- |
| " | You deserve to be here? You're lucky anyone's even let you near a science lab again, Ira. You're a disgrace, and a dangerous one at that. | " |
| | ~ General Woodman, to Ira Kane. | |
General Russell Woodman is the secondary antagonist of the 2001 sci-fi/comedy film Evolution.
He was portrayed by Ted Levine, who also played Buffalo Bill in The Silence of the Lambs, Karkull in Superman: The Animated Series, Rusty Nail in Joyride, Bloodbath McGrath in Wild Wild West, and Ken Wheatley in Jurassic World: Fallen Kingdom.
Biography
Prior to the events of the film, Woodman worked with Dr. Ira Kane, the film's protagonist, at the Pentagon (though he asserts that Ira used to work for him alone) until Ira tested an anthrax vaccine on hundreds of soldiers with devastating results and was dismissed from the US Army.
When Ira and his colleague Professor Harry Block investigate a meteor that crash-landed in the desert outside of Glen Canyon and discover single-celled extraterrestrial life-forms that are rapidly evolving, Woodman leads a research team (that includes Dr. Allison Reed from the Centers for Disease Control) in taking over the crash site. When confronted by Ira and Harry, Woodman reveals that, after Ira left the Pentagon, he kept taps on Ira by monitoring his computer (which was how he found out about the meteor). Woodman then bars Ira and Harry from the site and the investigation. When Ira protests, Woodman coldly tells him that he's lucky anyone has ever let him near a science lab again, then dismisses Ira as a "disgrace, and a dangerous one at that." In response, Ira moons Woodman in Harry's jeep. Ira and Harry take Woodman and his team to court, but are unsuccessful after the truth about Ira's past testing of the anthrax vaccine comes to light during a cross examination conducted by Allison.
Later, when Governor Lewis learns of the presence of aliens in Arizona and travels to the crash site to confront the team about not notifying him earlier, Woodman, despite Allison's protests, tells Lewis that Ira and Harry were interfering with them. When Ira, Harry and Wayne Grey enter the meeting room, Woodman demands that the men be arrested and falsely claims that they spread the aliens outside the contained area. An argument ensues until Lewis stops them and demands to know what they're going to do to deal with the alien threat.
Woodman then reveals his plan to drop napalm on the aliens, something that Ira protests as they don't know how the aliens will react to such an attack; Woodman, however, remains adamant in his course of action. After an attack by blue-furred alien primates, Lewis gives his full support to Woodman to proceed ahead with using napalm to eradicate the aliens, and Woodman replies everything will be ready the next day at noon. After Lewis leaves, Woodman orders Ira, Harry and Wayne to leave, after which Allison calls him an "asshole" and sides with Ira.
When Ira and his team discover that heat and fire causes the aliens to evolve quicker, Allison tries calling Woodman to warn him of the danger, but Woodman refuses to speak with her. The next day, Woodman finds that they are able to proceed with their plans earlier than they expected. Thus, the military ignites napalm on the aliens, causing all of them to evolve into a gigantic blob that emerges out from underground, demolishing much of Glen Canyon in the process. Woodman orders his ground troops to fall back. He later watches as Ira and his team drive a fire engine under the blob and wonders aloud what they're doing to it, to which Lewis comments they're about to administer "a jumbo enema."
After Ira and his team kill the alien blob using Head & Shoulders shampoo (containing selenium, which is deadly to the aliens) and cause it to explode, Woodman is last seen covered in slime and screaming in rage.
Trivia
A deleted scene from the film shows Woodman being talked by Colonel Flemming into starting a war with the aliens in order to advance his career.

Villains
Animated Features
General Mandible | Colonel Cutter | Pharaoh Rameses | Hotep and Huy | Baka | Pharaoh Seti I | Tzekel-Kan | Hernán Cortés | Mrs. Tweedy | Mr. Tweedy | Lord Farquaad | Thelonious | Captain of the Duloc Guards | Merry Men (Monsieur Hood) | Unidentified Witch | George Armstrong Custer | The Colonel's Cavalry | Roy, Bill, Jake, Pete and Joe | Eris | Cetus | Roc | Fairy Godmother | Prince Charming | Arm Guards | Elves (Jerome) | Pirates (Captain Hook) | Cyclops | Headless Horseman | Steve and Ed | Witches | Gnomes | Lola | Sharks (Don Lino & Frankie) | Luca | Fossas | Nana | Victor Quartermaine | Philip | Vincent | Gladys Sharp | Dwayne LaFontant | The Toad | Le Frog | Spike & Whitey | Thimblenose Ted | Fat Barry | Ladykiller | Henchfrogs | Rapunzel | Evil Queen | Stromboli | Mabel | Black Knights | Layton T. Montgomery | Ken | Tai Lung | Criminals | Makunga | Teetsi | Tour Guide | Poachers | Gallaxhar | Robot Probes | Red Death | Rumpelstiltskin | Griselda | Baba | Pied Piper | Megamind | Minion | Tighten | Lord Shen | Lord Shen's Wolf Army (Boss Wolf) | Jack and Jill | Humpty Alexander Dumpty | Chantel DuBois | DuBois' Men | Pitch Black | Nightmares | Chunky | Guy Gagné | Ms. Grunion | Maximilien de Robespierre | Ay | Northern Alliance (Drago Bludvist, Drago's Bewilderbeast & Eret) | Octopi (Dave) | The Boov (Captain Smek & Officer Kyle) | Kai the Collector | Chef | Creek | King Gristle Sr. | Francis E. Francis | Eugene Francis | Professor Poopypants | Benjamin Krupp | Melvin Sneedly | Turbo Toilet 2000 | Tara Ribble | Talking Toilets | Bank Robbers | Grimmel the Grisly | Deathgrippers | Warlords | Dr. Zara | Burnish | Goon Leader | Queen Barb | Rock Trolls | The K-Pop Gang | Reggaeton Trolls | Spiny Mandrilla | Punch Monkeys | Hendricks | Dr. Erwin Armstrong | Bellroc | Skrael | Zong-Shi | Professor Marmalade | Cuddles
Live-Action Films
The Mouse | Sadako Yamamura | Ocean Entity | Dr. Reingold | Benny | Ruby | Commando Elite (Major Chip Hazard, Butch Meathook, Nick Nitro, Brick Bazooka, Link Static, Kip Killigan, & Gwendy Dolls) | Gil Mars | Steamboat Willie | Vivian Thompson | Frank Fitts | General Roth'h'ar Sarris | Commodus | Jacob | Norman Spencer | Genus | General Granger | General Russell Woodman | Voltan | Morlocks (Über-Morlock) | Lamar Burgess | Connor Rooney | Harlen Maguire | Dietrich Banning | Samara Morgan | Anna Morgan | Galem Burke | Frank Abagnale Jr. | Dean Gordon Pritchard | Larry Quinn | James Rethrick | Madame Vandersexxx | Claire Wellington | Vincent | Paco | Felix Reyes-Torrena | Count Olaf | Hook-Handed Man | Henchperson of Indeterminate Gender | Bald Man | White-Faced Women | Officer LeFlore | Jack Byrnes | Chris Wilton | Martians | Dr. Bernard Merrick | Tom Lincoln | Jackson Rippner | Hatsumomo | Curtis Taylor, Jr. | Jean-Baptiste Grenouille | Norbit's Parents | Rasputia Latimore | Big Black Jack Latimore | Blue Latimore | Earl Latimore | Deion Hughes | Buster Perkin | Stranz Van Waldenberg | Fairchild Van Waldenberg | Katie Van Waldenberg | Robert Turner | Decepticons (Megatron, Starscream, Barricade, Frenzy, Blackout, Scorponok, Bonecrusher, Brawl, Dispensor, The Fallen, Soundwave, Sideways, Grindor, Ravage, Alice & Scalpel) | Constructicons/Devastator (Demolishor, Rampage, Long Haul, Mixmaster, Scrapper & Scavenger) | Lila Cantrow | Assef | Sweeney Todd | Nellie Lovett | Judge Turpin | Beadle Bamford | Jonas Fogg | Adolfo Pirelli | Predatory Vines | Tran | Les Grossman | ARIIA | Jake | Max | Anna Ivers | Theodore Galloway | George Harvey | Hilly Holbrook | Setrakus Ra | Jerry Dandridge | Evil Ed | Tak Mashido | Farra Lemkova | Ricky | Zeus | Julian Assange | Dino Brewster | Deja Thoris | Louis | Carl, Rudy, Stevie and Vern
Animated Television
Fearless Leader | Boris Badenov | Natasha Fatale | Snidely Whiplash | Dr. Blowhole | Coverton | Sta'abi | Johann | Dragon Flyers (Krogan, Mr. Murderous Pile of Yak Dung & Flyer Leader) | Dragon Hunters (Viggo Grimborn, Ryker Grimborn, Cleve, Ingar Ingerman, Dragon Hunter Commander & Fight Master) | Dagur the Deranged | Amos | Gruffnut Thorston | Slitherwings | Firecomb Crasher | Hookfang's Nemesis | D-Structs | Skrap-It | Splitter | Blayde | Pounder | D-Stroy | Goldtrux | Galra Empire (Emperor Zarkon, Prince Lotor, Haggar, Sendak & Lotor's Generals) | Morgana | Gunmar | Angor Rot | Bular | Stricklander | Nomura | NotEnrique | Queen Usurna | Dictatious Maximus Galadrigal | Zoe | Stu | Maria | Patty Pupé | Bloodwolf | The Splotch | Socktopus | Theodore Murdsly | Smartsy Fartsy | Melvinborg | Teachertrons | Croco-bats | Butt-erflies | Dr. Disgruntled | Bootsy Calico | Wendi McCraken | Frederic Estes | Turtleneck Superstar | Happy Sedengry | Odlulu | Hordak | The Horde (Catra, Shadow Weaver, Scorpia, Double Trouble & Entrapta) | Horde Prime | Galactic Horde | Light Hope | First Ones | General Morando | Zeron Alpha | Colonel Kubritz | Gaylen | Cleve Kelso | SH1FT3R (Shashi Dhar & Layla Gray) | Rafaela Moreno | Mitsuo Mori | Moray | General Dudley | DANN | Dominic Toretto | Scarlemagne | Mod Frogs (Jamack & Mrs. Satori) | Newton Wolves (Bad Billions and Good Billions) | Scooter Skunks | Humming Bombers | Tad Mulholand | Fun Gus | Human Resistance (Dr. Emilia, Greta & Zane) | King Arthur | Mantah Corp (Daniel Kon & Kash D. Langford) | Henry Wu | Indominus rex | Eddie | Mitch & Tiff | Hawkes | Reed | Eli Mills | OCB | Pyg And Tam | Maria Maria | M-M-R-T-B | Bug The Pug
Video Games
King Fossa | Arachne | Doom Syndicate (Psycho Delic)
Shorts
Mr. Chew | Tour Guide | Boneknapper | Wu Sisters | Le Chuchoteur
See Also
20th Century Studios Villains | Aardman Villains | Amblin Entertainment Villains | Buena Vista International Villains | Farrelly Brothers Villains | Fast and the Furious Villains | Fright Night Villains | How to Train Your Dragon Villains | ImageMovers Villains | Jurassic Park Villains | Kung Fu Panda Villains | Madagascar Villains | Netflix Villains | Nickelodeon Movies Villains | Norbit Villains | Paramount Villains | Ridley Scott Villains | She-Ra 2018 Villains | Shrek Villains | Small Soldiers Villains | Sony Pictures Villains | Steven Spielberg Villains | Sweeney Todd Villains | Tales of Arcadia Villains | The Boss Baby Villains | Tim Burton Villains | Turbo Villains | Transformers Cinematic Universe Villains | Universal Studios Villains | VeggieTales Villains | Wallace and Gromit Villains | Warner Bros. Villains

Villains
Animated Features
Wicked Wazir | Grifter the Ringmaster | Snivley | Mugger | Green Goose | Tanya Malachite | Ali and Bobo | Madame Hecuba | Tulip | Loc-Nar | The Girl | The Queen | Captain Lincoln F. Sternn | Dark Heart | Marvin McNasty | Lumpy and Bones | Rothbart | Bridget | Alligators | Eva Friedal | Tyler | Lambert | Odin | The Crystal | Boyd | Monty | Rock Holmes | Duke Red | Vincent Volaju | Dr. Edward Steam | Sephiroth | Remnants of Sephiroth (Kadaj) | Rufus Shinra | The Beast | Constance Nebbercracker | Seijiro Inui | Shaw | Tank Evans | Frederic Downing | Curtis Miller | Ron Davis | Fifi | Mayor Shelbourne | General Grawl | Professor Kipple | Doug | Ivan Ivanovitch Sakharine | Allan | Tom | Pedro | Falcon | Aristides Silk | Red Rackham | Queen Victoria | Black Bellamy | Budzo | Cecil | Arachnids | Quasimodo Wilson | Esmeralda | Ada Wong | Svetlana Belikova | Unidentified Tyrant series | Lickers | Ezekiel Stane | Chester V | Live Corp (Chester V's Holograms & Barb) | Punisher | Black Widow | Leviathan (Orion) | Cain | Bela | Bat Cronies | Ed and Edna | King Leonard Mudbeard | Green Pigs (Ross, Foreman Pig, Chef Pig & Corporal Pig) | Titus Drautos | Ardyn Izunia | Somnus Lucis Caelum | Douche | Gargamel (2017) | Azrael (2017) | Monty | Akihiko Kayaba | Glenn Arias | Diego Gomez | Maria Gomez | A-Virus | Zombies | Smiler | Anti-Virus Bots | Hunter | King Herod | Thaddeus and Rufus | Abraham Van Helsing | Ericka Van Helsing | Wolfram | Swordkil | Daigo | Nobu | All For One | Kingpin | Doctor Octopus | Prowler | Green Goblin | Scorpion | Tombstone | Vanessa Fisk | Richard Fisk | Zeta | Debbie | Glenn | Brad | Axel | Carl | Jerry | Kira | Hank | Nine | Slice | Mummy | Chimera | League of Villains (Tomura Shigaraki) | Pockets | Mr. Wong | Queen Ilvira | Enmu | Akaza | PAL Labs (PAL, PAL Max, Glaxxon 5000 & PAL Max Prime) | Lutador | Lapin | Barry | Pigmies | Luther | Hamsters
Live-Action Films
Wilhelm Tanz | Colonel Sandauer | French Taunter | Bridge Keeper | Rabbit of Caerbannog | Knights Who Say Ni | Three-Headed Giant | Black Beast of Argh | Black Knight | The Animator | Unidentified Knight | Travis Bickle | John Neville | Judge Fleming | Miss Hannigan | Rooster and Lily St. Regis | Reginald Dyer | Nathuram Godse | Christine | John Kreese | Cobra Kai (Johnny Lawrence, Dutch, Bobby Brown, Tommy & Jimmy) | Gozer | Stay Puft Marshmallow Man | Terror Dogs (Zuul & Vinz Clortho) | Library Ghost | Murray Plotsky | Central Park Thief | Billy Chapman | Mother Superior | Killer Santa | Ricky Chapman | Lieutenant Colonel Podovsky | Marshall Murdock | Sergeant Yushin | Captain Vinh | Lieutenant Tay | River Pirates (Trong Kinh) | Lifer | Ericson | Jerry Dandridge | Billy Cole | Evil Ed | John Ryder | Jareth | Goblin Army | Chozen Toguchi | Sato Toguchi | Toshio & Taro | Felice Dunbar | The Blob | Dr. Meddows | Regine Dandrige | Colonel Zaysen | Sergeant Kourov | Tomask | Shop Assistant | Terry Silver | Mike Barnes | Snake | Dennis | Vigo | Janosz Poha | Scoleri Brothers | Jack Merridew | Roger | Vilos Cohaagen (1990) | Mars Colony Security Force (Carl Hauser, Richter, Lori, Helm, Everett, Benny & Harry) | Dr. Edgemar | Annie Wilkes | Raymond Zhang | Nigel Griffith | Moon | Kara | Luis Cali | Jack Thrope | Carlos | Ruiz | Jorge | T-1000 | Douglas | Skynet | Abigail Craven | Tully Alford | James Hook (1991) | Mr. Smee (1991) | Catherine Tramell | Luc Deveraux | Andrew Scott | Colonel Nathan R. Jessup | Jonathan Kendrick | Matthew Markinson | Eric Qualen | Richard Travers | Kynette | Delmar | Kristel | Ryan | Heldon | Mike | Ray | Mitch Leary | Leland Gaunt | John "Ace" Merrill | Jed Hill | Koga | Ishikawa | Glam | Vinnie | Slam | Darren | Gerald Thomas | Stewart Swinton | Colonel Dugan | Ned Randall | Charlie | Gabe | Morgan | Bogs Diamond | Byron Hadley | Elmo Blatch | Samuel Norton | Sisters | Jack Harding | J.J. | Jimmy | Eddy | Joe St. George | Fouchet | Casper | Ferguson | Prince Malagant | Ralf | Iago | Roderigo | Van Pelt | Dracula | Mark Cordell | Cable Guy | Agatha Trunchbull | Harry Wormwood | Byron De La Beckwith | King Claudius | Ultimate Evil | Jean-Baptiste Emanuel Zorg | Edgar the Bug | Egor Korshunov | Andrei Kolchak | Vladimir Krasin | Agent Gibbs | Boris Bazylev | Sergei Lenski | Igor Nevsky | Ivan Radek | Arachnids | Mary Ann Rogers | Lothar Zogg | C.J. | Carl | Buelow | Zed | Klaus | Lars | Eric | Zilla | Baby Zilla | Don Rafael Montero | Harrison Love | K. Edgar Singer | Huxley | Bill the Bug | Pesties | Alley Cats (Smokey, Monty, Lucky, Red & Unnamed Gray Cat) | Snowbell | S.E.T.H. | Deacon | William Tavington | Eric Knox | Vivian Wood | Altaaf Khan | Hilal Kohistani | Judith Fessbeggler | Genus | General Granger | Russell Woodman | Green Goblin | Dennis Carradine | Harry Osborn | J. Jonah Jameson | Falcon | Chuck Cedar | Mac McGrath | Serleena | Scrad & Charlie | Jarra | Dog Poop | Corn Face | Pineal Eye | Mosh Tendrils | Flesh Balls | Jeff | Creepy | Kylothians | Devlin Bowman | Alistair Pratt | Jeannine Richardson | Rachel Wright | Arnold Gundars | Zhu Tam | Colonel Idris Sadick | Commander Terwaze | Fulani Rebels | Gwyneth Harridan | Jenny | Bruce | T-X | T-1 | Johnny Tapia | James Hook (2003) | Mr. Smee (2003) | Don Price | Grigori Rasputin | Karl Ruprecht Kroenen | Ilsa Von Haupstein | Sammael | Ogdru-Jahad (Behemoth) | Punisher | Howard Saint | Quentin Glass | Livia Saint | John Saint | The Russian | Harry Heck | Mickey Duka | Warren Vandergeld | Vandergeld Sisters | Heath and Russ | Doctor Octopus | Kayako Saeki | Toshio Saeki | Takeo Saeki | Brother Sum | The Beast | The Harpists | Big Al | Boogeyman | Warden Hazen | Mr. Electric | Minus | Count Armand | Jacob McGivens | Zorgons | Robot | Hatsumomo | Jerry McDowell | Calvin Sims | Mr. Walken | Rosco | Bruno | Concussion | Aubrey Davis | Mrs. Kawamata | Vanessa Cassidy | Trish Kimble | Venom | Sandman | Jigsaw | James Russoti | Carmine Gazzera | Ink | Maginty | Lance Warner | Camp Canola (Robert Jeffrey Warner) | Fatoush | Grant Walbridge | Salim Yousfobdal | Derek Huff | Ted Jones | Budlofsky | Matheson | Carol Brazier | Carl Anheuser | Veck Simms | James Kent | The Tornado | T-RIP | Serena Kogan | Koobus Venter | Piet Smit | Obesandjo | Ted Winter | Master Li | Cheng | Liang | Roger Wesley | David Ershon | Benjamin Chudnofsky | Frank Scanlon | Shane | Gargamel (2011) | Azrael (2011) | Boris the Animal | Weasel | Lilly | Obadiah Price | Mr. Wu | Boglodites | Martin Vanger | Gottfried Vanger | Vilos Cohaagen (2012) | United Federation of Britain (Carl Hauser, Lori, Harry & Police Synthetics) | Lizard | Gustav Fiers | Cash Register Thief | Norman Osborn | Satan | Danny McBride | Jonah Hill | Demons | Ursa | Skrel | Eli Raphelson | Martin Walker | Emil Stenz | Skip Tyler | Muriel Walker | Frat boy Andy | Vexy and Hackus | Electro | Green Goblin | Donald Menken | Rhino | Ashley Kafka | Felicia Hardy | Vladimir Pushkin | Nicolai Itchenko | Slavi | Agent Kruger | Jessica Delacourt | John Carlyle | Guy Danlily | Miss Hannigan | Annie's Fake Parents | Jungler | Vincent Moore | Hippo | Amerika | Ninja | Yolandi | Vincent Sofel | Donkey Kong | Pac-Man | Eddie Plant | Lady Lisa | Slappy the Dummy | Monsters (Giant Praying Mantis, Will Blake, Lawn Gnomes, Madame Doom, Brent Green, Haunted Car, Count Nightwing, The Haunted Mask, Igor, Headless Horseman, Nila Rahmad, Grim Reaper & Bride of Frankenstein) | Norman Nordstrom | Rowan North | Mayhem | Martin Heiss | Electrocuted Ghost | Gertrude Aldridge | Bartholomew Bogue | McCann | Denali | Francis Begbie | Sick Boy | Bestman Salvage (Vulture, Tinkerer, Shocker #1, Shocker #2 & Randy Vale) | Mac Gargan | Aaron Davis | Jason Van Horn | Doc | Darling | Bats | Eddie No-Nose | Griff | Wallace Corporation (Niander Wallace & Luv) | Russel Van Pelt | Tommy Madigan | Dave York | Thomas McGregor | Mr. McGregor | Mrs. McGregor | James Tod | Slender Man | Eddie Brock/Venom | Carlton Drake/Riot | Life Foundation (Roland Treece) | Cletus Kasady | High-T | The Twins | Riza Stavros | Luca Brasi | The Hive | Mysterio's Crew (Mysterio, William Ginter Riva, Victoria Snow, Gutes Guterman, Janice Lincoln, & Doug) | Elementals (Molten Man, Hydro-Man, Sandman, Cyclone & Elemental Fusion) | John Bosley | Hodak | Alexander Brock | Jurgen the Brutal | Fiona Landers | Melinda Landers | Sam Landers | Isabel Aretas | Armando Armas | Melanie Cole | Dr. Emil Harting | Jimmy Dalton | Marcus Tibbs | Barnabas | Samuel Whiskers | Tom Kitten | Mitten | Raylan | Carnage | Shriek | Kasady Family | Ivo Shandor | Braddock | Santiago Moncada | Michael Morbius | Milo Morbius
See Also
007 Villains | Aardman Villains | Amblin Entertainment Villains | Angry Birds Villains | Bad Boys Villains | Blade Runner Villains | Blumhouse Productions Villains | Buena Vista International Villains | Castle Rock Entertainment Villains | Cloudy with a Chance of Meatballs Villains | Cowboy Bebop Villains | Community Villains | DreamWorks Villains | Final Fantasy Villains | Fright Night Villains | Ghostbusters Villains | Ghost Rider Villains | Godzilla Villains | Goosebumps Villains | Hellboy Villains | Hotel Transylvania Villains | Jackie Chan Adventures Villains | Jerry Bruckheimer Villains | Jumanji Villains | Karate Kid Villains | Marvel Cinematic Universe Villains | Men in Black Villains | Morbius: The Living Vampire Villains | Muppet Villains | Netflix Villains | New Line Cinema Villains | Punisher Villains | Paramount Villains | Rambo Villains | Resident Evil Villains | Ridley Scott Villains | Robocop Villains | Sony's Spider-Man Universe Villains | Spider-Man Villains | Steven Spielberg Villains | Stuart Little Villains | Syfy Villains | Stephen King Villains | Terminator Villains | The Boondocks Villains | The Boys Villains | The Dark Crystal Villains | The Grudge Villains | Total Recall Villains | Trainspotting Villains | Tim Burton Villains | Underworld Villains | Universal Soldier Villains | Venom Villlains | Village Roadshow Pictures Villains | Warner Bros. Villains | XXX Villains