| | | |
| --- | --- | --- |
| " | If you think I won't shoot, you're in for a big surprise | " |
| | ~ General Wade Eiling | |
General Wade Eiling is a military tactician who blackmails the accused Nathaniel Adam into participating in an atomic experiment. This turns Nathaniel into the nuclear being Captain Atom. It causes Adam to disappear for 18 years. This is considered a failure by Eiling and Megala, the project's main scientist. They would attempt the experiment again, which ends up with the creation of Major Force, a murderous villain. He is the main villainous archenemy of Captain Atom.
Biography
Origin
During the eighteen years in which Adam is gone, Eiling marries his wife and acts as father to his two children. Eiling manipulates Captain Atom into serving the military. His first attempts, a chance for Adam to view his children in exchange for retrieving a lost submarine, falls apart. This embarrasses Eiling in front of his superiors. The same issue details the cover story for Captain Atom that Eiling helps create, one that is, in his words, "a scenario just far-fetched and hokey enough to sound authentic". Eiling would also form an intensely adversarial relationship with Megala.
Fall from Grace
When Eiling is diagnosed with an inoperable brain tumor, he sends a military team to salvage the indestructible body of the first Shaggy Man from the Pacific Ocean. Green Lantern and Aquaman attempt to stop the Corps from retrieving the body, but their efforts are thwarted when Green Lantern's ring-generated protection is ultrasonically disrupted and Aquaman suffers a case of the bends.
The General returns to his base of operations, Threshold. From there he orchestrates a military assault on the Justice League. Answering a call for help in Phoenix, Arizona, the Justice League are attacked by American military forces. Spearheading the offensive is a new superhero team called the Ultramarine Corps. Recruited and genetically enhanced by Eiling's lab team, The Ultramarines already exhibit signs of terminal illness. Meanwhile, Batman, the Huntress and Plastic Man track Eiling to Threshold, where they discover that the general transferred his brain patterns into the indestructible body and took his own life. Eiling's personal computer reveals his military plans, the flawed Ultramarine Project, and the Shaggy Man brain transfer blueprints. Suddenly, Eiling emerges from an adjoining room and attacks.
The JLA battle the military and the Corps. Eiling's forces consider mutiny as doubts against attacking the League come to a head. Superman, whose super-senses have diagnosed the Ultramarine's disease, persuades the Ultramarine Corps that Eiling has used and betrayed them. The Corps members, who volunteered for service in good faith, switch sides and speed with the JLA toward Threshold.
Even against the combined might of the JLA and the Ultramarines, the General is unstoppable. Batman notices that Eiling's tactical edge and focus are diminished in his new artificial form. Working together, the team fights the monster onto a bulk-matter teleport platform. Eiling is transported to 433 Eros, a 'rocky needle', six miles in length, at the heart of the Sol system's asteroid belt.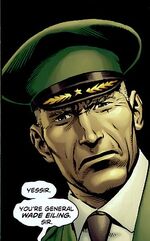 Injustice Gang
He stays there for several months until Queen Bee recruits him into Lex Luthor's new Injustice Gang. Eiling battles against the Justice League a second time as part of a coordinated attack, this time utilizing a large-scale machine gun. At least once he declares that the League was wrong to banish him to the asteroid with no trial whatsoever. During the battle, Eiling almost bites off Steel's hand. The battle moves to one of the White Martian warships that is currently inside the Phantom Zone. There, Eiling states his plan to utilize the weapons of mass destruction on various Earth itself. Orion's war dog Sturmer participates in a trick against Eiling. The canine tackles the man through a ship's airlock, into the Phantom Zone, where Eiling is lost for some time.
Suicide Squad
Having somehow escaped, he has since appeared in the JSA comics fighting Hal Jordan. He is one of the hundreds of villains recruited into the Society. He is a participant in the Battle of Metropolis, the first step of the Society's war on the heroes. This effort fails. He now serves as a member of the Suicide Squad, which mainly consists of villains performing dangerous missions for the benefit of the U.S. Government.
In Other Media
Justice League
Main article: General Wade Eiling (DC Animated Universe)
Arrowverse
Main article: General Wade Eiling (Arrowverse)
General Wade Eiling is the secondary antagonist of Season 1 of the 2014 series The Flash. He is two-star U.S. Army general. He is portrayed by Clancy Brown, who also voiced Lex Luthor.
He worked with Harrison Wells (Eobard Thawne in disguise) in S.T.A.R Labs to develop a means to create physic interrogators until Wells shut down the experiment. During which he was abusive towards their test subject Grodd.
Five years later, he returns to Central City to lead a task force to capture Plastique. He causes the death of her and learns of The Flash's existence.
Later, he captures Martin Stein to utilize Firestorm. But he fails to capture Firestorm and when he learns that Barry is The Flash. He is abducted by the Reverse Flash to the sewers where he is abducted by Grodd.
He is placed in Grodd's control and poses as a masked supervillain named Goldfinger (by Joe), robbing an armored car. He is captured by Team Flash and is placed in their meta human cell. When he is freed from Grodd's control, he expresses willingness to defeat the Reverse Flash with The Flash.
Gallery
New Earth
Gallery
Other Media

Villains
Comics
Abra Kadabra | Amanda Waller | Amos Fortune | Amazo | Anarky | Angle Man | Anti-Justice League | Anti-Monitor| Appellaxians | Aquarius | Asmodel | Atomic Skull | Axis America | Barbatos | The Batman Who Laughs | Black Adam | Black Hand | Black Lantern Corps | Black Manta | Black Spider | Blockbuster | Brainiac | Bronze Tiger | Brother Eye | Brotherhood of Evil | Cadre | Calculator | Calendar Man | Captain Boomerang | Captain Cold | Castle Bat | Catalyst | Catman | Cheetah | Chemo | Cheshire | Circe | Clayface | Clock King | Cluemaster | Copperhead | Construct | Cosmic King | Crazy Quilt | Crime Syndicate of America | Crucifer | Cybogirl | Darkseid | Dark Supergirl | Deadline | Deadshot | Deathstroke | Demolition Team | Demons Three | Despero | Doctor Alchemy | Doctor Destiny | Doctor Double X | Doctor Impossible | Doctor Light | Doctor Manhattan | Doctor Phosphorus | Doctor Polaris | Doctor Poison | Doctor Psycho | Doctor Regulus | Doctor Sivana | Dominators | Doomsday | Dragon King | Dumas | Earthworm | Eclipso | Electrocutioner | Elite | Epoch the Lord of Time | Evil Star | Fatal Five | Felix Faust | Fiddler | Floronic Man | Funky Flashman | Gamemnae | General Eiling | Genocide | Gentleman Ghost | Golden Gilder | Goldface | Gorilla Grodd | Gunhawk | Hector Hammond | Hellgrammite | Human Flame | Hyena | Ibac | Icicle | Imperiex | Injustice League | Intergang | I.Q. | Johnny Sorrow | Joker | Key | Killer Frost | Killer Moth | Kite Man | Kobra | Kobra Cult | Krona | League Buster | League of Assassins | Legion of Doom | Lex Luthor | Libra | Lobo | Mad Hatter | Mageddon | Magpie | Manchester Black | Manhunters | Matter Master | Maxwell Lord | Mekanique | Merlyn | Mirror Master | Mister Atom | Mister Mind | Mister Nebula | Mongul | Mordru | Morgaine Le Fey | Neron | Neutron | Nightshade | Obsidan | Ocean Master | Parademons | Parasite | Penguin | Perpetua | Pied Piper | Plastique | Poison Ivy | Professor Ivo | Professor Zoom | Prometheus | Psycho-Pirate | Queen Bee | Queen of Fables | Ra's al Ghul | Rainbow Raider | Rama Khan | Red Death | Red King | Red Panzer | Red Volcano | Riddler | Roulette | Royal Flush Gang | Satanus | Scarecrow | Science Squad | Secret Society of Super Villains | Shadow-Thief | Shaggy Man | Shark | Simon Stagg | Sinestro | Solomon Grundy | Star Sapphire | Starbreaker | Starro | Steppenwolf | Suicide Squad | Superboy-Prime | Tattooed Man | Terra-Man | T.O. Morrow | Ultra-Humanite | Vandal Savage | Volcana | Warp | Weather Wizard | White Martians | Wizard
Theatrical Movies
Justice League: Steppenwolf | Parademons (Parademon Scout) | Black Clad (Black Clad Alpha) | Lex Luthor | Deathstroke | Ares
Zack Snyder's Justice League: Darkseid's Elite (Darkseid, Steppenwolf, DeSaad, Granny Goodness, & Parademons) | Lex Luthor | Deathstroke | Black Clad (Black Clad Alpha) | Ares | Joker
Direct-to-video Movies
Justice League: The New Frontier: The Centre | Captain Cold
Justice League: Crisis on Two Earths: Crime Syndicate of America (Owlman, Ultraman, Superwoman, Johnny Quick, Power Ring, J'edd J'arkus, & Black Power) | Lex Luthor | White Martians | President Slade Wilson | Rose Wilson
Justice League: Doom: Legion of Doom (Vandal Savage, Bane, Cheetah, Ma'alefa'ak, Metallo, Mirror Master, & Star Sapphire) | Royal Flush Gang (King, Queen, Jack, Ace, & Ten)
Justice League: The Flashpoint Paradox: Professor Zoom | Wonder Woman | Aquaman | Ocean Master | Black Manta | Deathstroke | Lex Luthor | Clayface | Rogues (Captain Cold, Captain Boomerang, Top, Heat Wave, & Mirror Master) | Joker | Yo-Yo
Justice League: War: Darkseid | Desaad | Parademons | Ocean Master
Justice League: Throne of Atlantis: Ocean Master | Black Manta | The Trench | Lex Luthor
Justice League vs. Teen Titans: Trigon | Legion of Doom (Lex Luthor, Cheetah, Solomon Grundy, Toymaster, & Weather Wizard) | Atomic Skull | Ra's al Ghul
Justice League vs. the Fatal Five: Fatal Five (Emerald Empress, Mano, Persuader, Tharok, & Validus) | Bloodsport | Two-Face | Harley Quinn | Poison Ivy


Villains
Community content is available under
CC-BY-SA
unless otherwise noted.