Click to help Cruella!

This scum Genie Lamp is driving Cruella insane!
IT MUST BE REWRITTEN OR ADDED TO!!
So sayeth the great Lord of Darkness Sauron, or he will send Darth Vader to terminate you.

Help improve this article by rewriting, expanding, updating the poorly written text of the article. ✓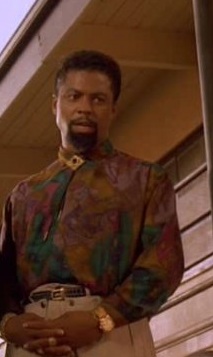 The Kansas City smackman (also known as Genie Lamp) was a merciless mobster and drug lord trying to take over drug business in South Central in the very movie named for that neighborhood (1992).
He was played by Kevin Best.
His villainaries are shown by the very beginning of his first scene, when he pays Bobby Johnson and Rey-Rey Dewitt a visit to make trouble, apparently in an attempt to coerce them to submit to his crime syndicate. The next villainary is when they're at his nightclub, and he insults Bobby. He apparently rapes Bobby's wife and drugs her. This is after he drugs Bobby, while threatening him to send Rey-Rey a message. He gets killed in the end in revenge.
Community content is available under
CC-BY-SA
unless otherwise noted.