We're Getting Mutants in the MCU - The Loop
Play Sound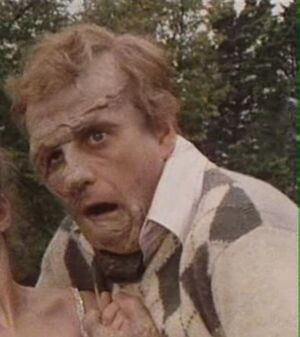 George Cranleigh is the main antagonist of the Doctor Who story "Black Orchid".
He was portrayed by Gareth Milne, who also played a member of Crimson Permanent Assurance in Monty Python's Meaning of Life.
Biography
George Cranleigh was a famous botanist and explorer who, on one of his trips to the Amazon, located the fabled black orchid, which he had sent to his ancestral home. However, in doing so he earned the wrath of the Kojabe tribe of South American natives, to whom the flower was sacred and who saw his actions as sacrilege. They captured George and proceeded to torture and mutilate him as punishment, leaving him mute and insane. He was rescued by a rival tribe, whose leader, Latoni, took him home. His mother, Lady Cranleigh, with assistance from his younger brother Charles, hid him away in a secret wing of their ancestral home. He was watched over by Latoni and a male nurse, Digby.
As far as anyone else was concerned, George had disappeared during his expedition and was presumed dead. His fiance, Ann Talbot, moved on and became engaged to Charles. However, George remained obsessed with her, ultimately killing Digby so he could sneak out and catch a glimpse of her. He was found by Latoni and returned to his wing but escaped again, using a secret passage. He founded the masked costume that the Doctor had been planning to wear to a costume ball and donned it in order to approach Ann. He invited her to dance with him and brought her into the hall but his behaviour began to frighten her. She called to a servant, James, for help but George killed him, causing Ann to faint. He took her to one of the bedrooms and tended to her, also replacing the Doctor's costume, resulting in him being accused of the murder when he was seen wearing it. Ann fled the bedroom without noticing George, who was again returned to his room by Latoni and tied up.
However, George managed to get free again and killed Latoni, although not before Latoni had pushed the key to the room through the floorboards. In order to get out, George set fire to the door, with the fire soon spreading. George was able to get through the blaze however and, confronted by a large crowd, grabbed Nyssa, who resembled Ann and who he believed to be her, and fled to the rooftop. He was followed by the Doctor and Charles, and the Doctor convinced him to release Nyssa. As Charles approached to embrace his brother, the startled George took a step backwards and fell to his death.
Trivia
The image of Michael Cochrane, who played Charles, was used to show George pre-mutilation in photographs and portraits.